Lambert aware of the risks
Paul Lambert appreciates the support he has received from Aston Villa owner Randy Lerner - but accepts football is a results-driven business.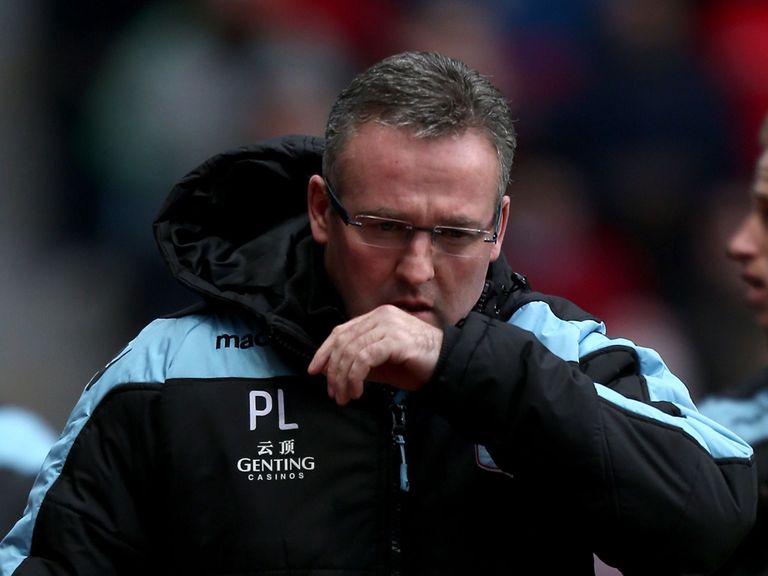 Lerner reiterated his faith and belief in Lambert after the Capital One Cup semi-final setback against Bradford on Tuesday.
It is understood the Scot would even be given the chance to restore the club to the Barclays Premier League should they be relegated.
Lambert insists he has always had a "good relationship" with Lerner and Villa chief executive Paul Faulkner.
But the Villa boss is keen for his side to recapture the winning habit ahead of Friday's FA Cup tie at Millwall and next Tuesday's home Barclays Premier League clash with fellow strugglers Newcastle.
Lambert said: "I trust Randy. That's the kind of relationship I have with him.
"I spoke with him after the game the other night and we have a good conversation every time.
"I have a good relationship with him and Paul. Randy and Paul have been great with me.
"But I also know the realism of football. That's one thing I will never shy away from.
"I also know what can happen and what doesn't happen in football. You've got to get results.
"People say it's nice to hear your job is safe. I don't think anything is set in stone in football. I know everything can turn and change.
"But, as I've said, I get on really well with Randy and Paul. As long as people are clear with me and have face-to-face value, I don't have a problem - never."
Lambert added: "I came in with the remit to rebuild the club. It was that from day one. Until I'm told any different I'll keep going.
"I know what has to be done here and I know you will take knocks left, right and centre.
"There's two ways you can do it - you accept it or you come out fighting. That's the way I look at it. I won't roll over."
Lambert admits he does not have the option to rest many players against Millwall, if he had wanted to go down that path, but in any case he is determined to pay full respect to the FA Cup.
He said: "The lads will need to go again and again for me, and that's a big thing.
"We cannot rest four, five or six players. You can't do it and so you have to go with the current group and hope they stay injury-free.
"But in any case you have a duty to take the competition seriously because people come and watch it. I don't think you could take it lightly.
"You can't go into it thinking, 'we'll just get knocked out of this and concentrate on the league'.
"It's not my way. You have to try to win as many games as you can.
"It will be a great atmosphere at Millwall and we will have a lot of fans there. We have a duty to those who come and watch."
Lambert is still striving to add to his squad before the transfer window closes but said: "Whatever happens next week will happen.
"If we can't get anybody in then there's no point me dwelling on it or worrying about it. You just go with the lads who are here.
"Can I be sure I will get people in? No. You can only play with the hand you've got, and if that's the case I will go with it."
---
Click here for completely free £10 bet with Sky Bet & £5 free every week
---