Suarez criticised by Rodgers
Liverpool striker Luis Suarez's diving admission brought swift admonishment from manager Brendan Rodgers, who described the comments as "unacceptable".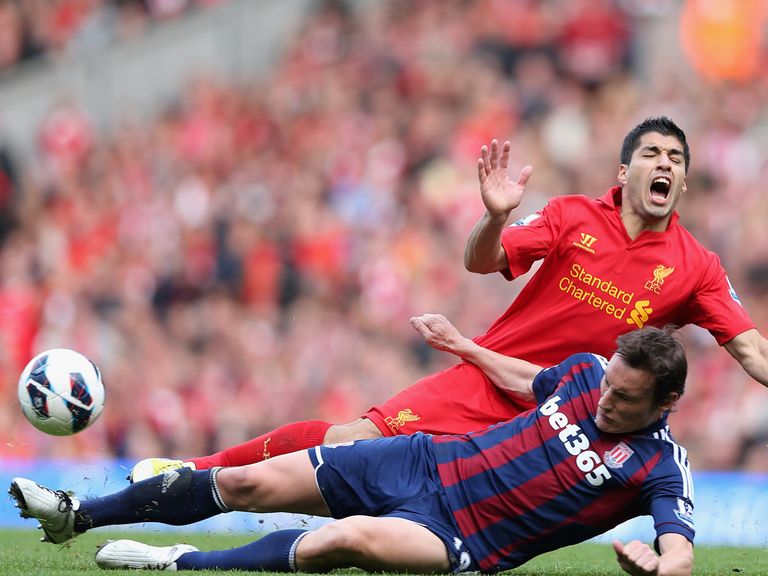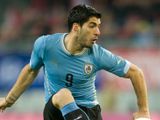 9. Luis Suarez
| Title | Number |
| --- | --- |
| Appearances | 35 (1) |
| Goals | 26 |
| Assists | 12 |
| Yellows | 9 |
| Reds | 1 |
*Current Season
In a television interview, the Uruguay international confessed he had tried to win a penalty in October's goalless draw with Stoke by going down in the area.
He was unsuccessful in his attempts - although he escaped punishment - and his actions brought stinging condemnation from Potters boss Tony Pulis at the time.
Rodgers has staunchly stood behind his star striker when criticism has come his way, but following this latest admission there was no defence.
The 25-year-old has been spoken to by the Reds boss, who stressed the issue will be "dealt with internally" - although the club would not confirm what that would involve.
"I've seen the comments and I think it is wrong. Certainly from our perspective it is unacceptable," said Rodgers.
"It is not something we advocate here. Our ethics are correct.
"I've spoken to Luis and he is totally understanding, and knows where I'm coming from as manager of the club.
"This is a big club and whatever people do say goes around the world, and what was said was wrong and not acceptable - he takes that and we move on.
"There is no-one bigger than the club or the club's image.
"The comments, from our point of view as a club, are not what we would want to hear.
"This is something which was obviously wrong and is not something we associate with as a club of this standing."
In his interview with Fox Sports Argentina, Suarez admitted he even questioned himself after the tumble against Stoke.
"Sometimes you do things on the field that later you think 'Why the hell did I do that?"' he said.
"I was accused of falling inside the box in a match, and it's true I did it that time, because we were drawing against Stoke at home and we needed anything to win it."
Only a week ago, in the wake of Suarez's handball goal in the FA Cup win at Mansfield, Rodgers said he had spoken to the striker regularly about the criticism he receives and how to deal with it.
The signs this season were that those chats were having a positive effect, as Suarez has been in scintillating form with 19 goals so far.
However, the Uruguayan's admission of diving prompted Rodgers to pull him in for another talk, as he is concerned what effect the comments may have on the team - and referees' opinions - for the remainder of the season.
"You normally find players, when their careers are finished, admit to all these kind of things - he just happened to be honest in the middle of his career," said the Reds boss.
"My main concern is the team. As long as it doesn't affect our chances - we've only had one penalty this year anyway - but as long as it doesn't damage our prospects in the future that is the most important issue.
"Anything that is detrimental towards that is something I don't take too lightly and if that is something I think affects it, that (his chat with Suarez) was a clear message."
Rodgers insists the focus which falls on Suarez, and the headlines which follow, is not an issue for his man-management skills.
"He is a real topic of conversation, football and media-wise, and as a manager my responsibility and leadership I have to make comment when I have to," he said.
"It has been quite nice most of this season when it (speculation and criticism) hasn't been about.
"He is tough-minded and, irrespective of what is out there, media-wise he gets on with his job. On the football side there are no complaints.
"I work with Luis every day so I know the character he is. I know he is a good man who wants to do the best for the club."
Away from the Suarez issue, Rodgers confirmed there would be no other big-money January signing to follow the £12million acquisition of Daniel Sturridge earlier this month.
He also dismissed links with Inter Milan midfielder Wesley Sneijder.
"I couldn't see that happening," he said.
"Daniel was our main priority so we'll see what else is available."
---
Click here for completely free £10 bet with Sky Bet & £5 free every week
---