Napoli appeal points deduction
Napoli are preparing an appeal for "true justice" after being handed a two-point deduction for their alleged involvement in match-fixing by the Italian Football Federation (FIGC).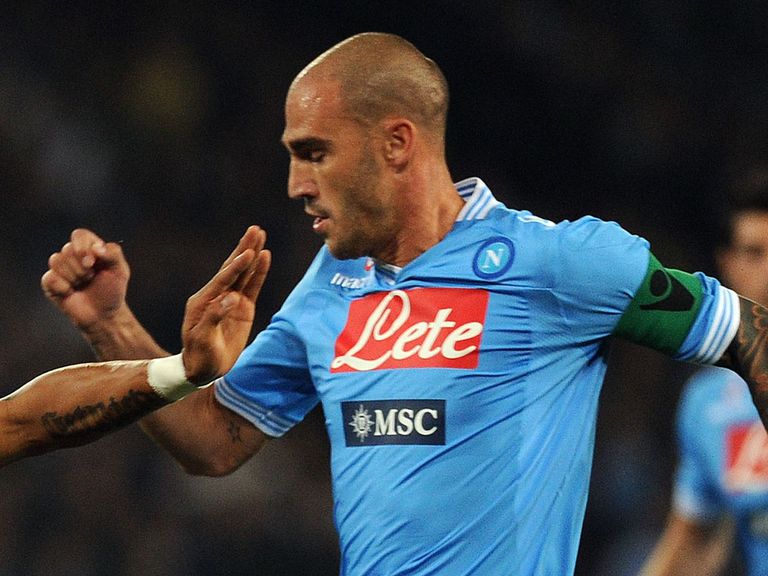 The Azzurri have slumped to fifth place in the Serie A table, 10 points shy of league leaders and reigning champions Juventus, after the FIGC ruled the club "objectively responsible" for the actions of their former player Matteo Gianello, who confessed to attempting to fix a match between Napoli and Sampdoria in 2010.
The two players he allegedly approached, Paolo Cannavaro and Gianluca Grava, have been suspended for six months for failing to report Gianello's actions while the ex-Napoli goalkeeper has been banned from the game for 39 months.
Napoli, who were also fined 70,000 euros, were slow to react to this morning's news but come midday a statement appeared on the club's official website denying any wrongdoing and objecting to the timing of the punishment, without confirming having lodged an appeal with the FIGC's justice court.
It read: "The president Aurelio de Laurentiis, the head coach Walter Mazzarri and the whole team are calm, being confident that no violation could be attributed to Napoli.
"While not entering into the obsolete and outdated principle of objective responsibility, and reserving any comments on legal action for the appropriate forums, Napoli does not agree with the decisions of the National Disciplinary Committee, considering that they should not be able to irretrievably alter championships that are already in progress.
"Any decision must be made before the start of a tournament or at the end of it. There has been enough time to evaluate and make a decision since the 2009-10 season.
"We are confident that true justice can be applied to the separate decisions, based on law and equity, not on Justicialism (a theory of government involving government intervention)."
Napoli had originally been warned by FIGC prosecutor Stefano Palazzi that a one-point deduction was the likely outcome of their implication in the 'Calcioscommesse' scandal, with club captain Cannavaro and fellow defender Grava facing possible nine-month bans.
But this morning's official statement revealed the significant amendments to Palazzi's recommendations, most noticeably extending Gianello's predicted 16-month ban by almost two years.
The statement from the FIGC disciplinary commision read: "Two penalty points for Napoli and a 70,000 euro fine.
"A ban of three years and three months for Matteo Gianello and bans of six months for Paolo Cannavaro and Gianluca Grava."
Napoli - and the players - can first appeal for a reduced ban through the FIGC before approaching the TNAS tribunal court in Rome should they be unsuccessful.
Quoted in various Italian newspapers, club lawyer Mattia Grassani told Radio 24: "There is no liability from the club.
"Gianello did not play a single a minute during the 2009-2010 season, yet the club has been sentenced for failing to supervise or control their players.
"I think this is an unjust sentence and completely inadequate.
"The Neapolitan club have suffered financial losses and also damages to their image and on the field of play - these are all reasons for compensation once the justice system has finished its investigation."
The separate punishments come as a serious blow to Napoli's ambitions of catching Juventus.
An indifferent run of form saw Mazzarri's men slip to third place and eight points behind Juve, with today's deduction dropping the club behind Inter Milan, Lazio and Fiorentina and just two points clear of sixth-placed Roma.
The FIGC's wide-ranging investigation into match-fixing saw Juventus head coach Antonio Conte suspended from the game for four months for failing to report his knowledge of match-fixing during his time in charge of Siena.
---
Click here for completely free £10 bet with Sky Bet & £5 free every week
---