Italian FA condemn attacks
The president of the Italian Football Association (FIGC) has sent a letter of apology to FA chairman David Bernstein following a "disgraceful attack" on Tottenham fans in Rome.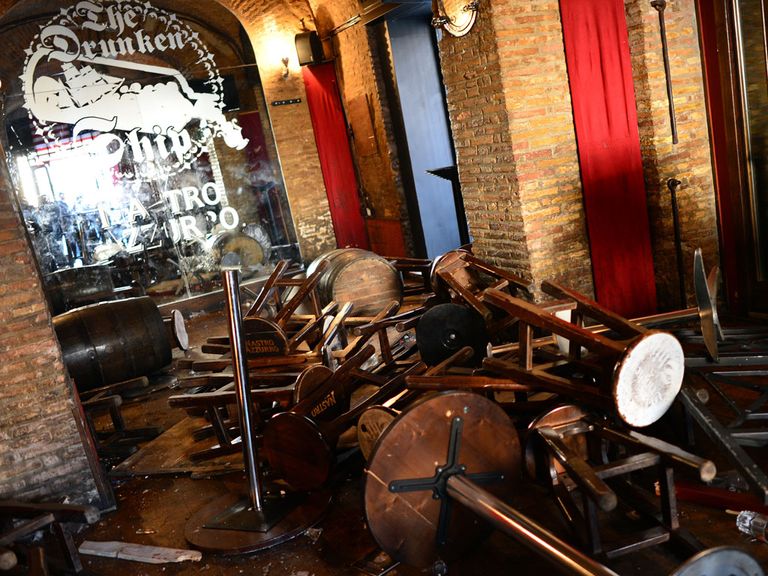 Two men have been charged with attempted murder after 50 masked thugs launched an assault on Spurs fans at a bar in Campo dei Fiori in central Rome at 1am on Thursday.
Ashley Mills, 25, was stabbed in the leg and head, with at least 10 other fans and bystanders injured, and now FIGC president Giancarlo Abete has expressed his firm condemnation of violence widely reported to be motivated by anti-semitism.
An FIGC statement read: "Once again, football has given a handful of delinquents the excuse to take out their racist and anti-semite anger.
"There is evidence of this undoubted motive, which is detrimental to the image of Italian football and doesn't match with the traditional hospitality and welcome of the city of Rome.
"The city authorities and I publicly express our firm condemnation, with my personal indignation at these events.
"I beg you to send our apologies to all Tottenham's fans - and in particular to those families directly involved.
"I will personally follow the investigation's development and remain at your disposal should my assistance in any further matters be required."
Mills was enjoying a drink with fellow Tottenham fans at 'The Drunken Ship' in central Rome before falling victim to what officials have called a targeted and planned assault.
The 25-year-old was stabbed as the hooligans - known as Ultras - stormed the pub, with a bystander stemming the bleeding before paramedics arrived and helped to save him.
On Friday, Mills, who is being treated at the Eternal City's San Camillo Hospital told London's Evening Standard: "They came out of nowhere.
"I didn't see the guy who stabbed me. There were too many of them."
The builder, from Hutton, Essex, said there was a good atmosphere in the bar, in which he and friends were enjoying a few drinks, but the situation changed quickly.
He added: "I was standing outside drinking and the next thing I knew there were loads of them.
"It happened very quickly, I don't remember much.
"I remember being pulled out, along the ground, after I had been stabbed."
The attack, which wrecked the pub, happened as Spurs fans prepared to watch their team play Lazio in the Europa League.
Initial reports suggested Lazio fans were exclusively to blame for the assault which was apparently launched with shouts of abuse about the English team's historical Jewish roots.
Before the match, Lazio club president Claudio Lotito denied his fans were responsible.
But shortly afterwards, as the game got under way, Lazio fans chanted "Juden Tottenham" - using the German word for Jew, and also unfurled a "Free Palestine" banner.
UEFA is expected to decide on Friday if Lazio should answer for its alleged anti-semitism, after the chanting.
However, tonight, two fans from the city's other Serie A club, Roma, were charged with attempted murder.
Officers said Francesco Ianari, 26, and Mauro Pinnelli, 25, were in custody and would appear in court tomorrow.
A police spokeswoman said: "They have been charged with attempted murder for involvement in riots and causing serious injury with a knife and are due to appear in court soon."
Thursday morning's bloodshed only ended when teams of Carabinieri descended on the popular square after calls for back-up from local police.
Arrests were made and tonight police continue to assess evidence as well as examine suspects' backgrounds for any possible previous association with football violence.
A Tottenham club spokesman on Friday night released a statement on Mills' recovery and promised the club would remain in contact with the family.
"Mr Mills remains in a serious but not life threatening condition in hospital after suffering a ruptured artery in his upper thigh as a direct result of a wound sustained in an attack in the early hours of Thursday morning in Rome," said the statement.
"Mr Mills is the only one of our supporters that remains hospitalised in Rome following this incident. The club remains in contact with his family and we shall offer updates as and when it is appropriate to do so. The family requests that their privacy is respected at this time.
Everyone at the football club wishes Mr Mills a speedy recovery."
---
Click here for completely free £10 bet with Sky Bet & £5 free every week
---