Benitez ready to work for Roman
Rafael Benitez has declared working for Roman Abramovich will be "easier" than for George Gillett and Tom Hicks, despite admitting he had never even spoken to the Chelsea owner.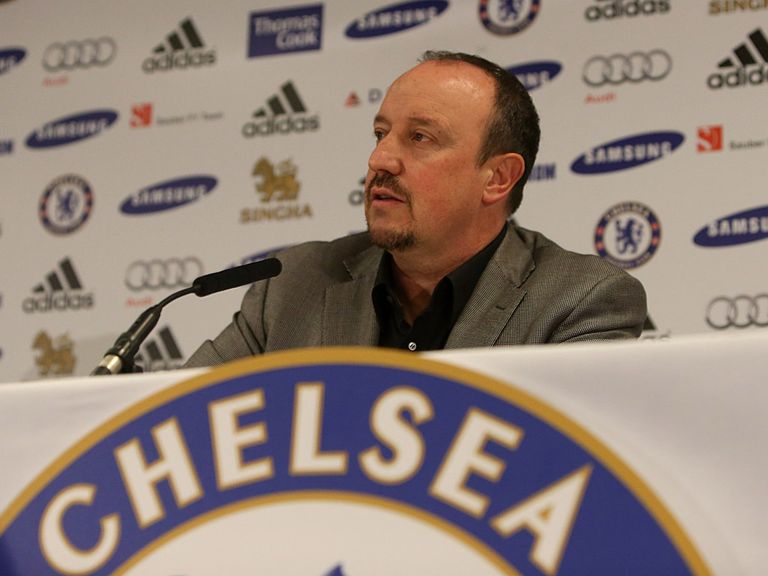 Benitez had no fears about putting himself in the crosshairs of football's most demanding boss or that he had only been appointed manager on an interim basis until the end of the season.
But it was the revelation of him having had no contact whatsoever with Abramovich that raised the most eyebrows considering reports of how intently the Russian courted Pep Guardiola prior to settling on his fellow Spaniard.
"I will meet him today," Benitez said before heading off to dinner with Abramovich after being unveiled as the Russian's ninth manager in just over eight years.
"The main thing is that I have spoken to Michael Emanalo, the technical director, and he's my link. I like to speak about football with him. That's my priority."
Roberto Di Matteo was the latest victim of Abramovich's trigger finger in the early hours of Wednesday morning but his replacement claimed it would be less stressful working for the Russian than under his former bosses at Liverpool.
Benitez's relationship with ousted Anfield chiefs Hicks and Gillett eventually led to his departure two years ago and he said: "If you have two bosses who aren't talking to each other, it's difficult.
"You want a striker and one of them says: 'I don't know...'
"This will be easier."
However, Benitez's lack of contact with Abramovich was telling, especially as he reportedly rejected the chance to become interim manager prior to Di Matteo's appointment in March.
Despite being given the same terms this week, he signed on, having been out of the game for two years.
He said: "I don't care about short-term. I have to win every game.
"We have five trophies to fight for. I will try from day one.
"In football and life, you never know. If we win some trophies in seven months, everybody will be delighted."
Delighted enough for Benitez to keep his job when former Barcelona boss Guardiola ends his one-year sabbatical from the game?
"At this moment, I'm here, I got the job," Benitez said.
"Winning games is a guarantee for everything. If you can do it in a row, you can win trophies.
"We have won nine trophies. Can we win more? If I go to another country or continent, or a mid-table team, I could do a great job and not win trophies.
"Here there are five trophies to win. We will see."
Benitez could not escape the suggestion he was only keeping the seat warm for Abramovich's number one target.
"I have a very good relationship with Guardiola, a great manager," he added.
"What will happen in the future, you never know.
"For nearly two years, I was waiting for the right opportunity. Now I have this chance.
"I have to do my best to try and take it."
He added: "I don't need to win trophies. I would like to win trophies."
Even that has not proven to be enough for Abramovich, who sacked Jose Mourinho, Carlo Ancelotti and Di Matteo after they all delivered unprecedented success to Chelsea.
The Russian is said to want to see 'Barcelona in blue shirts' at Stamford Bridge.
"I don't know about the style he wants, but he'll be happy with the team winning," said Benitez, who has a reputation for playing a more cautious game.
"It's not about one way to play.
"Michael told me we have a good team and they trust me.
"He knew me at Valencia, and we played against Chelsea so many times.
"At Valencia, winning the Spanish league after 31 years, it wasn't bad.
"If we play like Valencia, we can win and he'll be happy anyway."
Abramovich is also said to have another demands, such as playing Fernando Torres and turning the striker from a £50million flop into the man Benitez helped make one of the best players in the world.
The new Chelsea boss insisted he had been told nothing specific about tactics or selection but had no fears over Torres.
"He is a top-class player and, with his attitude, he will do it," he said, confirming he had spoken to the former Liverpool star after taking his first training session today.
"I know how good he can be, as I know how good David Luiz or Ramires can be.
"He's one of the important players in this team, and I'll try and improve him, like I will the other players."
Benitez confirmed former Chelsea and Liverpool midfielder Boudewijn Zenden had joined his coaching staff, along with Xavi Valero and Paco di Miguel.
He also insisted it was too early to talk transfer targets and said that John Terry would remain captain.
The Terry race row was just one instance of Chelsea making headlines for all the wrong reasons under Abramovich but Benitez said he was ready for whatever was thrown at him.
He said: "After almost two years waiting for a top side, I had the opportunity and said, 'Yes'.
"I wasn't worried about the press.
"I analysed the squad and thought we could do things.
"Five opportunities to win trophies? Okay, carry on."
---
Click here for completely free £10 bet with Sky Bet & £5 free every week
---