Roy: Rooney is captain-in-waiting
Roy Hodgson says Wayne Rooney is England's captain-in-waiting.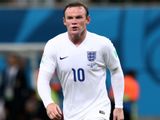 10. Wayne Rooney
| Title | Number |
| --- | --- |
| Appearances | 24 (12) |
| Goals | 6 |
| Assists | 11 |
| Yellows | 7 |
| Reds | 0 |
*Current Season
With Steven Gerrard suspended and Frank Lampard injured, Rooney was given the job for Friday night's 5-0 win over San Marino.
The 26-year-old responded with two goals that took him to 31 for the Three Lions, and fifth on the all-time list, ahead of Alan Shearer, Tom Finney and Nat Lofthouse.
Although doubts have been expressed over Rooney's ability to handle the extra responsibility, World Cup final hat-trick hero Sir Geoff Hurst is confident the Manchester United man can carry it off.
And whilst Gerrard will get the job back in Poland on Tuesday, Rooney is next in line.
"Yes," said Hodgson, when asked if Rooney was a future England captain.
"He was my vice-captain at the Euros from the moment he could start playing again. He does take playing for England unbelievably seriously. I know being captain is something he's very proud of and something he wants to do.
"Frank Lampard has captained the team when both Steven (Gerrard) and Wayne were absent. But I always had in my mind that Wayne would be the vice-captain and when Frank comes back I suppose I've got a decision to make."
With his regular flashes of temper, Rooney has not always come across as likely captaincy material.
Though Fabio Capello first gave him the job for the friendly with Brazil in Doha in 2009, the Italian did not seem to think Rooney was mature enough to be considered for the role full-time.
Hurst's theory is that the Liverpudlian would be one of those who thrived on the additional responsibility and Friday's contribution backed up that assessment.
And whilst Hodgson's first-hand knowledge of Rooney is limited to just four of his 10 matches in charge so far, it is not one he disputes.
"At the moment I am seeing the best of Wayne Rooney," he said. "Maybe in the earlier games he could play for me he wasn't at that level.
"Now I have to hope now he stays at his best and that he stays fit and healthy and continues to do what he is doing for Manchester United at the moment, which means he'll do it for us as well."
It is as near as Hodgson is ever likely to get to accepting the general view that Rooney was off the pace at Euro 2012.
Sir Alex Ferguson thought so, on the basis of how long it normally takes the former Everton man to find his form after a break.
Rooney does not though - and neither does his international manager.
"I don't like to talk about him before I took the job," said Hodgson.
"All the time I've been with him, including in the Euros, I don't think he was as sharp and playing as well as he is now.
"But in terms of his commitment and his desire and wanting to do the job he's very bit the same man today as he was then."
Rooney said: "As a young player, your dream is to play for England and once you do actually play, the next step is to try and captain your country.
"I've done it now, it was a great honour and a great feeling, and hopefully one day in the future it can be full-time.
"But I also want to help England to be successful. To be successful is a dream, not just myself but everyone in the dressing room.
"Can I hold a trophy up (as captain)? I hope so. It's a long way away. But that's the stuff of fairytales."
Only record holder Bobby Charlton (49) Gary Lineker (48), Jimmy Greaves (44) and Michael Owen (40) are now ahead of Rooney in terms of goals for England.
He said: "It is a great feeling for me to be in the top five and to overtake some great players as well. I'm still only 26 with hopefully a lot more years of international football to come and hopefully I can get more goals."
Rooney accepts it will not be a disaster if England share the spoils in Tuesday's testing encounter with Poland in Warsaw although he insists they will be striving for a victory.
He said: "We have to move on from the San Marino game and the victory and we know it will be a tough game on Tuesday.
"I think if we play with the enthusiasm, belief and determination we had against San Marino, then we will be fine.
"It will be tough but we will going there confident and hopefully we can get a victory.
"Nowadays there is no easy game in international football and sometimes a draw can be the point that takes you through the group.
"We want to go and try and get the three points but it may be we have to take a point there.
"You never know, it might be a good point but we will be trying to get the three points."
---
Click here for a completely free £10 football bet with Sky Bet
---