Rooney named England captain
Manchester United striker Wayne Rooney will captain England against San Marino in Friday night's World Cup qualifier at Wembley.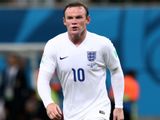 10. Wayne Rooney
| Title | Number |
| --- | --- |
| Appearances | 13 (6) |
| Goals | 2 |
| Assists | 5 |
| Yellows | 3 |
| Reds | 0 |
*Current Season
The 26-year-old has inherited the armband due to regular captain Steven Gerrard's suspension following his sending-off in the last qualifier against Ukraine and because of a knee injury suffered by official vice-captain Frank Lampard.
After that it was seen as a straight fight between Rooney and Manchester City goalkeeper Joe Hart for the honour, and the Football Association has now confirmed Rooney is the man.
He has captained England just once before, in a friendly against Brazil in Doha in 2009.
Rooney has spoken of his pride at being made skipper for the first time in a competitive match - and vowed to get the best out of his team-mates.
The Manchester United star said: "It is a great honour. I'm really proud and excited. It will be a big night for me and my family.
"It is a big challenge for myself. I don't know what sort of captain I am and I already speak with all the players whether it is younger or older.
"But I will try and get the best out of myself and the other players - and hopefully they can get the best out of me.
"Hopefully it will be a great result for us and I'm looking forward to the game."
Rooney reiterated the need to show his best form for his country in what has been a chequered international career after an explosive start highlighted by his performances at Euro 2004.
He said: "Am I unfulfilled at international level? That is fair. I haven't been at my best for England and that is something I'm desperate to put right.
"I think us as a team and as a country, we need to be more successful and better in tournament football."
It is also 10 years since Rooney announced his arrival as an extra special talent with his wonder goal for Everton against Arsenal.
He said: "I think things have gone well and been successful. At club level I've won nine trophies and the only thing missing is being successful and to win things with England.
"That is what we are aiming to do. There are new coaching staff and a lot of young players have come into the squad and the future is bright for us.
"If we keep working hard and working together, I'm sure we'll have a great chance in the future of being successful."
Rooney admitted: "From my point of view, the first few years were the hardest to live up in terms of expectations.
"The first few years are the most difficult part to adjust your life.
"Now I'm not too concerned about it. I don't go out, I go to a restaurant with my wife and family and keep myself to myself."
Rooney has his sights on becoming one of England's top five goalscorers.
He is currently on 29 and two more against the side ranked 207th in the FIFA world rankings would lift him into fifth spot and above Alan Shearer, Nat Lofthouse and Tom Finney, who have all netted 30 times for England.
Rooney said: "People have mentioned I will get into the top five (goalscorers) if I get a couple more and that would be great.
"Obviously, the result is more important but it's an opportunity for us to try and get a few goals. We have to make sure we don't take them too lightly and we don't relax during the game.
"We have to forget they are ranked 207th, focus on ourselves, try and play the football we've been trying to do.
"We've seen a couple of things (about San Marino) and to be honest there is a great chance for us to win the game and score goals.
"We've seen lower league teams knocking big teams out of cup competitions and we need to stay focused - but we expect ourselves to win."
Hodgson is delighted to have Rooney back available for a game England should win with ease against a side ranked 207th in the FIFA world rankings.
He said: "I'm really pleased about to have him back. I enjoy working with Wayne. We had a good Euros. I was a bit disappointed when he got that terrible gash in his leg and I was even worried at the time it might keep him out in October as well as September.
"Luckily he has made a quick recovery and he will captain the team in the first game."
Lampard and Ryan Bertrand will definitely sit out the San Marino clash due to injury and illness respectively but Hodgson hopes both players could yet be fit to face Poland.
"Frank had a scan earlier in the week and tried to train apart from the team but do a bit more on Wednesday morning, and he still felt a slight problem with his calf," he said.
"It was re-scanned and they found a few fibres where there's been a slight tear. It's not a major problem but it was decided the best thing is to let him go back to his club to get treatment on a daily basis there, and we'll re-assess on Sunday.
"When Ryan Bertrand fell ill we were hoping it would just be one of those 24-hour things but it's turned out to be a bit more of a serious illness than that.
"It is purely illness and again, we hope to recover him on Sunday along with Frank."
Bertrand's illness was initially reported as merely a sore throat, prompting him to issue a clarification on Twitter featuring an expletive for which he later apologised.
And Hodgson said: "I think his sentiments were laudable, telling how much he wants to play for England and being a bit irritated that someone should suggest he doesn't play when he gets a sore throat, but his choice of words was wrong.
"I'm pleased to see he's apologised for it and it just reminds us how careful players of this profile have to be.
"I believe there's not really a question from the FA's point of view that he'll be charged but it's a lesson that needs to be learned and that we can all learn from."
---
Click here for a completely free £10 football bet with Sky Bet
---