Wenger defends Arsenal policy
Arsene Wenger has defended Arsenal's ambition as the Robin van Persie saga dragged on.
The Holland international announced after the European Championship he would not be renewing his current deal at the Emirates Stadium, which expires at the end of next season.
Van Persie made the carefully-worded announcement through Facebook, with his questioning of Arsenal's ambitions within it rankling many.
Before jetting off on the club's pre-season tour to Asia without Van Persie, Wenger was quick to defend the direction the club is headed in.
"We always defend the values of the club, and the model has to be self-sustainable, otherwise it can completely go out of shape and become very fragile," the Frenchman said.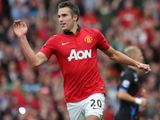 20. Robin van Persie
| Title | Number |
| --- | --- |
| Appearances | 3 (3) |
| Goals | 1 |
| Assists | 0 |
| Yellows | 0 |
| Reds | 0 |
*Current Season
"The financial solidity of the club is vital, for me, and therefore I have always supported that and I will continue to do that.
"I believe that the Financial Fair Play is about that. If UEFA push it through they will have a big supporter in me.
"I believe that football has to work like every single company, it has to work with the money it produces itself."
Wenger, who saw Cesc Fabregas and Samir Nasri leave last summer, added: "We are now 15 years on the trot in the Champions League and I believe that shows that our model works.
"On the other hand we are very ambitious, we want as well to win trophies.
"It's not enough just to be in the Champions League and we are focused on that of course.
"We work very hard to make the team stronger. In this job, when you have consistency in your attitude you can stay at a certain level.
"The most difficult thing is to be consistent and we have shown over the last 15 years that we can maintain that consistency.
"I am confident that we have to be faithful to what we believe is right in football and in the game - the way we play football."
Van Persie won both Professional Footballers' Association and Football Writers' Association player of the year prizes in recognition of his phenomenal 36-goal contribution for Arsenal in the 2011/12 campaign.
Manchester United boss Sir Alex Ferguson revealed on Friday his side tabled a bid to bring the Dutch striker, who has also been linked with Manchester City and Serie A outfit Juventus, to Old Trafford.
Although the sum is said to have fallen well short of Arsenal's valuation - believed to be around £30million - United revealing their interest could further unsettle Van Persie.
"I do not want to talk too much about that situation because I believe it is also important that every individual player is happy," Wenger said.
"What is even more important in pre-season is that we focus on the season to come.
"Robin was an exceptional leader last year, but we know how much we had to fight to come third because we missed out the start of the season.
"After seven games we had lost four and we have learned that for us it is vital for us to focus on the start of the season rather than on any transfers.
"If the transfers happen, they happen. As long as you are at the club you give your best for the club and that is the only pride you can have as a football player and as a manager.
"As long as you are somewhere you give your best every day for that club.
"If it changes, it changes. I am convinced that Robin is like that, he is completely focused every day on his job.
"He loves football, he loves the game and as long as he is here he will do that."