Chadli delighted with start
Nacer Chadli says he is delighted with how the season has started for himself and Tottenham under Mauricio Pochettino.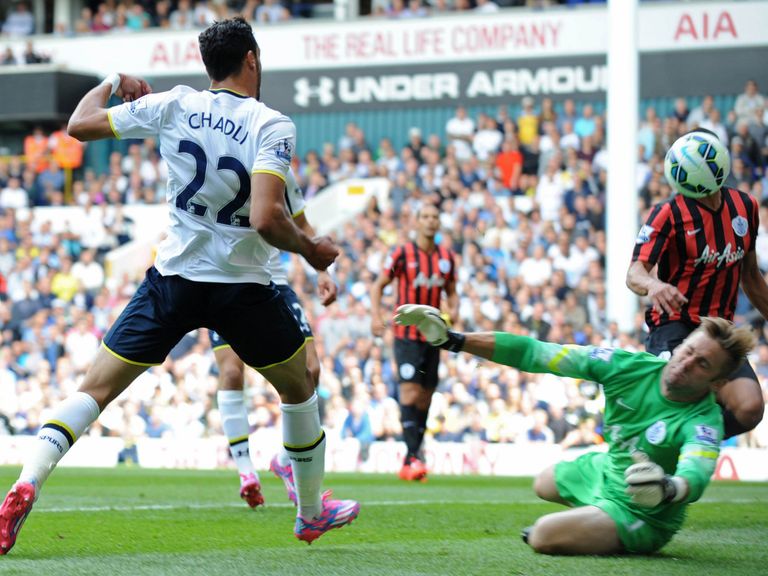 Chadli failed to make a major impact last season having joined from FC Twente last summer, but his two goals in Sunday's win over Queens Park Rangers were a clear sign of how things have changed over the summer.
Spurs have now won three games in a row so far this season and Chadli believes the new regime is hugely positive.
"I am very pleased. I am happy. Everybody is happy. Players have been given a chance and showed what they can do. I think we are now more confident and we showed that against QPR," said Chadli.
"We have Ade at the top and then behind him we had me, Christian Eriksen and Erik Lamela, who are all encouraged to change positions during the game.
"That makes it very difficult for the opponents to choose which one of us to pick up. It's a new way of playing and we are trying to play like that.
"It is very different and I have never played this way before, but we have to learn it and it can help us improve.
"Effectively, we have three No.10s. That is good because we can also get the full-backs into forward positions. It means that, at times, we can have five players supporting Ade."
Chadli had been linked with a summer departure from Tottenham, but he says he never thought about leaving White Hart Lane.
"I came back from the World Cup and nobody said I could leave. I didn't have the best time last season, but I didn't want to leave like that," said the Belgian.
"I would rather have taken my chances, stayed here and shown people what I can do. I didn't show people what I can do last season.
"I struggled with injury at the start of the season, came back and physically I was down.
"Therefore it became a very hard season and I was very disappointed with how it went. Now I am looking forward and with the new manager coming in, it gives me a new chance."