Allardyce: 10th is fair target
Sam Allardyce has told West Ham supporters that the club would be punching above their weight if they finish any higher than 10th in the Barclays Premier League.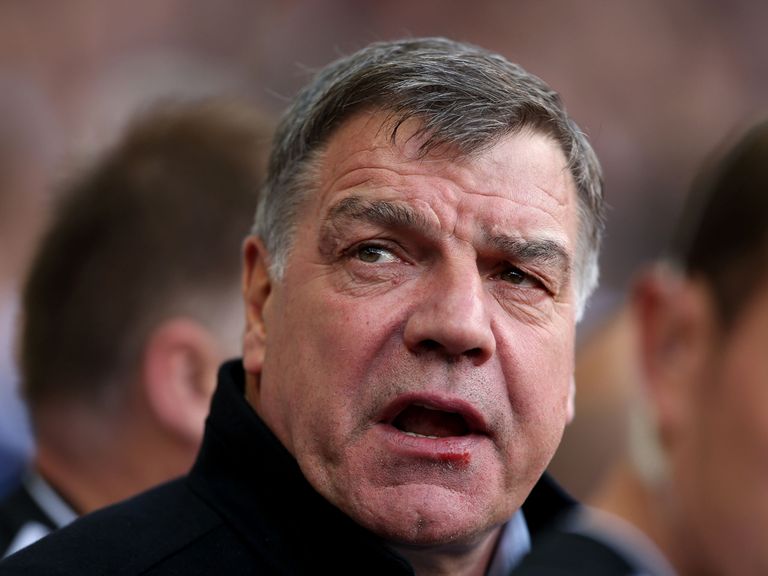 The club kept faith in him at the end of a season where the Hammers finished 13th and now Allardyce has been tasked with vastly improving on that this time around.
Co-chairmen David Sullivan and David Gold have said they want the team to be competitive, with the former aiming higher still.
'I don't want to just aim for the top 10. We should be aiming for the top six," he said in May.
"I want to be looking down the table not up it next season."
West Ham have only once managed a top six Premier League finish, under Harry Redknapp in 1999, with Allardyce having finished 10th in his second season in charge.
But, following on from an opening-day home defeat to rivals Tottenham, Allardyce believes competing for a repeat of their top-half finish two years ago is the limit of what the club can hope for.
"We're trying to build a team that gets where we want to go," he said.
"Let's not forget that year one was a massive overachievement which built expectation. Finishing 10th in your first year (after promotion) is a major success, and there's a backlash to that success always in the game - not just at West Ham, but wherever you are.
"Do fans think you should finish 11th? No, they think you should finish ninth, eighth or seventh. You've always got to live with the expectation but we have to stay real and say that if we have a very good season, we can finish better than 10th.
"We'll be around 10th or 11th in the Premier League I think. That's somewhere we want to try and achieve; it's year three for us - it's not year one or two - we should be looking more to establish ourselves rather than hopefully worrying about relegation."
Allardyce has been backed in the transfer market this summer and has brought in seven new faces, including big deals for Enner Valencia and Cheikhou Kouyate.
But the 59-year-old reckons budget and financial clout are the main factors as to what a club can realistically aim to achieve.
'Across the board, you generally finish around where your wage budget lies," he said.
"If you've got the biggest wage budget then you're more than likely to finish in and around the top four, generally. And then you've got your 10th or above, then you've got below 10th and then you've got the bottom end.
"Over the last five or 10 years, most teams finish around where their wage budget is. There are obviously some anomalies in that - some teams one season can have a particularly good season and some teams have a particularly poor season."
Sullivan's statement could be seen to put pressure on Allardyce's position if the Hammers do not make an early impression.
But Allardyce has backed his own experience in providing progress, although he did add a caveat that he needs better luck with injuries than he had last season.
"In terms of what the chairmen and the fans expect, all that's fine," he added.
"We can all say that and I want the same, but the reality is we know how to get there - whether we'll get there is another factor on various anomalies as we go through the season.
"For instance, this week - and it's only game two - we may only have one centre-half fit and that's the last thing you want when you're going into a new season when you're talking about the same problems you had last December. Already we're feeling the pinches on the value of the team and the selection process that make or break your season."
Winston Reid is the only central defender Allardyce definitely has at his disposal for Saturday's clash at Crystal Palace.
James Collins is suspended and James Tomkins is struggling with a hamstring injury, while full-backs Carl Jenkinson and Joey O'Brien could also be missing.