Fantasy Football top tips
Starting to get your Sky Sports Fantasy Football team ready for the new season? We've enlisted the help of expert Luke Williams from Fantasy Football Scout, who finished fourth out of 850,000 teams last season, to provide a guide to finishing at the top.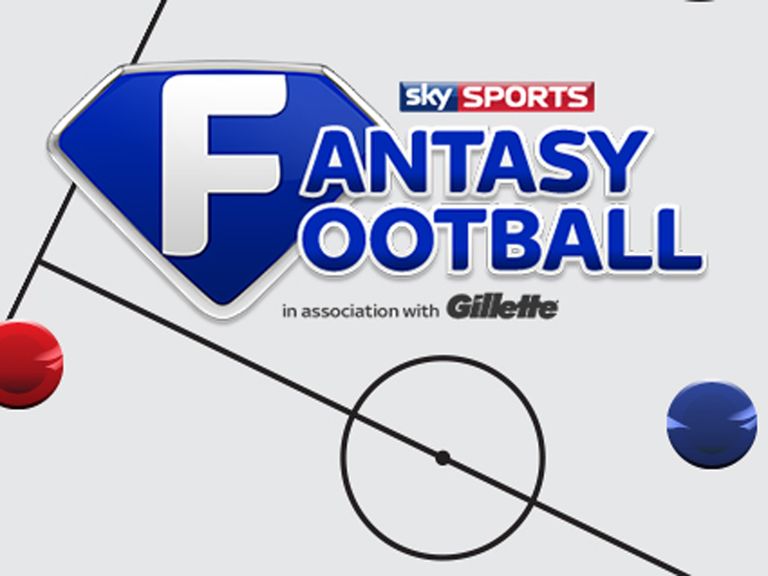 There are prizes to be won with Sky Bet offering a £150 free bet to the winner of the Sporting Life League and a £20 free bet is the reward for the top manager during every month of the season!
The boss finishing in second at the end of the campaign will get a £100 free bet, third receives a £75 free bet, fourth walks away with a £50 free bet and fifth takes home a £25 free bet.
You can take your place in the Sporting Life League by selecting your team and clicking on the join a league button with the pin 8036714!
Here are Luke's top 10 tactical tips on squeezing the most points out of your XI.
First and foremost, make sure you read the rules section back to front so you understand the mechanics behind the game; you will be surprised how many people don't give it the attention it requires.
It is best to rid yourself of your morals when it comes to your player picks, not selecting Liverpool players because you're a Manchester United fan for example; this won't win you any awards and certainly won't help in your quest for points.
Spend some time researching player stats from previous seasons - www.fantasyfootballscout.co.uk is your best bet here and can be a real asset throughout the season.
When selecting your formation I would opt for 3-5-2, this allows you to keep it tight at the back restricting the amount of defenders who can score you negative points for conceding a goal and flooding the midfield which offers the most value in terms of points per million. Midfielders are also most likely to benefit from the bonus points on offer for passing and tackling.
Try not to get itchy trigger fingers and use your transfers during the week, it's best to hold off right up until the first kick-off of the day just in case any news breaks of an injury or even your player's partner giving birth inconveniently! It also offers you a tactical advantage if you planned on bringing a player in from the first game as you can see the team line-ups before making your decision, therefore avoiding transferring in a player who's not in the starting eleven.
Speaking of transfers you are limited to 40 for the season, this may seem a lot but trust me it's not, the rate players get injured these days means you can burn through them in no time unless you keep a lid on it, ideally you shouldn't be using more than four a month. Having said that, some months like December and January have far more football matches and players are subject to a lot of rotation to keep them fresh, saving a few extra transfers for these months then should help you avoid your players getting benched.
Transfers are really key and sometimes you are better off not using them straight away, I'm talking mainly about minor injuries here. If your player is out for a few games its probably best you leave them in, using a valuable transfer to bring in another player will rarely gain you many extra points in that small period and especially if you want to use another transfer to bring the injured player back in at some point.
Following on from that, transfers are definitely more useful when used on the top attacking players from the better teams, they are far more likely to get big returns in a short space of time and transferring a forward in just as he hits a run of form will likely harvest far more points than replacing an injured defender who's not playing for a few games.
Probably the single most important factor in increasing your weekly score is the captain feature and using your ONE swap to its fullest potential. Make sure you plan your captain swap in advance so that your captain plays early in the gameweek and then you can use your swap to bring in a player who plays on the Sunday/Monday effectively giving you two captains in a single week. The planning doesn't stop there though as the cycle needs to repeat so the player who plays later in the gameweek should ideally play early in the next gameweek so you can rinse and repeat.
The second tactical element of the captain system is to utilise your transfers to change captains without using your ONE allocated swap. This means you can have a different captain for each match day of the gameweek and so when there is a Monday night game for example; you could have three different players hold the armband. This clearly gives you a great advantage and maximises your chances for big points!