Low: We can write history
Team news and pre-match comments ahead of the World Cup final between Germany and Argentina.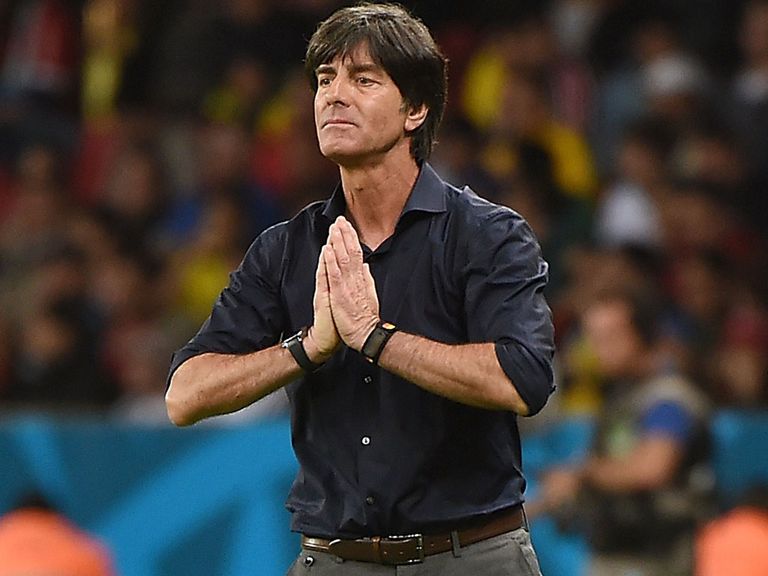 Fearless Joachim Low wants Germany to make history in the Maracana on Sunday and then dominate world football for many years to come.
After their 7-1 demolition of Brazil in the semi-final, Germany are big favourites to beat Argentina and win the World Cup in Rio.
If Germany are successful, it will be fourth time they have won the famous trophy - but it will be the only occasion they have triumphed on South American soil.
Indeed, no European nation has won the tournament on this continent in four attempts.
Czechoslovakia and Holland reached the final in 1962 and 1978 respectively, but Low hopes his team can go one better in Brazil this weekend.
"In the past we never had this, so we know we can write history," the Germany coach told a press conference on the eve of the final.
"Latin Americans, on this continent, have dominated all the time. So why can we not be the first?
"This could be considered an additional joy for us if we were to win as Europeans on Latin American soil."The ruthless way in which Germany ripped Brazil apart in the semi-finals sent shockwaves through world football.
Toni Kroos, Thomas Muller, Bastian Schweinsteiger and Sami Khedira were all outstanding - as was 23-year-old Andre Schurrle, who came off the bench to score a fine brace.
If the Germans win again to lift the World Cup on Sunday, Low is convinced it will not be the last time his players do so.
With an average age of 26, this Germany squad is the sixth youngest in Brazil. And two of their rising stars - Ilkay Gundogan and Marco Reus - are both missing through injury.
Low thinks the potential is there for Germany to dominate world football - just as Spain did when they won three successive major trophies, starting with Euro 2008.
"We have players right now who are playing at their peak, but we have young players also in the squad and others who aren't even here," Low added.
"We have players with a fantastic future: Gundogan, Reus, (Mesut) Ozil, Schurrle, Muller... they can go on to play for a number of years.
"We can play on top of the world for a good few years yet, with some young players coming in to reinforce the team."
Argentina's Sergio Romero, the Monaco keeper who was the hero of the hour in the penalty shoot-out against Holland in the semi-final, says the team is determined to join those who made history in 1978 and 1986.
It is 24 years since Argentina last made the final, where they were beaten 1-0 by West Germany in tense and dull affair. The shirts will be the same colours again in the Maracana on Sunday: Argentina in navy blue, Germany in white.
For Romero, however, the chance to join the icons of the Diego Maradona-inspired team of 1986, of that which triumphed on home soil eight years before, is driving this generation of players on, even if free-scoring Germany are the favourites.
Romero said: "The most important thing is that our team and our country provide the best image in the eyes of the world, that the world will speak well of Argentina.
"We will remember what the champions of 1978 and 1986 achieved but by we will also try to achieve glory by the fight and heart of this team," he said in Argentina newspaper Clarin.
"Maybe for many people it is not the dream final, because they wanted us to play Brazil, but it will be a fantastic game.
"They will be very tough opponents, they scored seven goals in the semi-final and they did not have to go to extra time so they have been able to save some energy for the final."
Romero saved two spot-kicks, from Ron Vlaar and Wesley Sneijder, to see Argentina through after the match ended 0-0 after extra-time.
The keeper said minds have now been re-focused after euphoria following the match, where clips emerged from the dressing room of the squad singing their fans' anthem 'Brasil decime que se siente' - 'Brazil tell me how it feels' - to the tune of Creedence Clearwater Revival's Bad Moon Rising.
"The boys enjoyed it, everyone was shouting and singing in the dressing room, but from the next morning we set our minds on what was coming and how hard it will be to face Germany," he said.
Germany have accounted for Argentina in the last two World Cups, winning the semi-finals in 2006 on penalties and trouncing the South Americans 4-0 in 2010.
Maxi Rodriguez is the only survivor from the 2006 team and he admitted he is desperate to avenge those defeats.
Rodriguez, one of only two outfield players in the Argentina squad to play his club football in the country's domestic league, said: "You bet. Since they knocked us out on the last two occasions, I can't deny that I'm out for payback.
"The first time was more painful because it was on penalties. In South Africa it was different, because we hardly got into the game. But now it's a final, the most important match we're going to play. Of course I want revenge."
Coach Alejandro Sabella's biggest dilemma is over whether to pick Angel di Maria, who is struggling with a torn thigh muscle.
Di Maria has been undergoing stem cell injections to try to speed his recovery and his father was quoted by Clarin as saying the Real Madrid winger is desperate to play even if he has not completely recovered.
Miguel di Maria said: "He has been making short sprints, doing everything ... and he's confident he will make it. I also think he will play in the final, even if it is just for a few minutes."