All-time great Di Stefano dies
Real Madrid legend Alfredo Di Stefano has died after suffering a heart attack on Saturday, the Spanish club have announced.
World Cup. Click here to bet.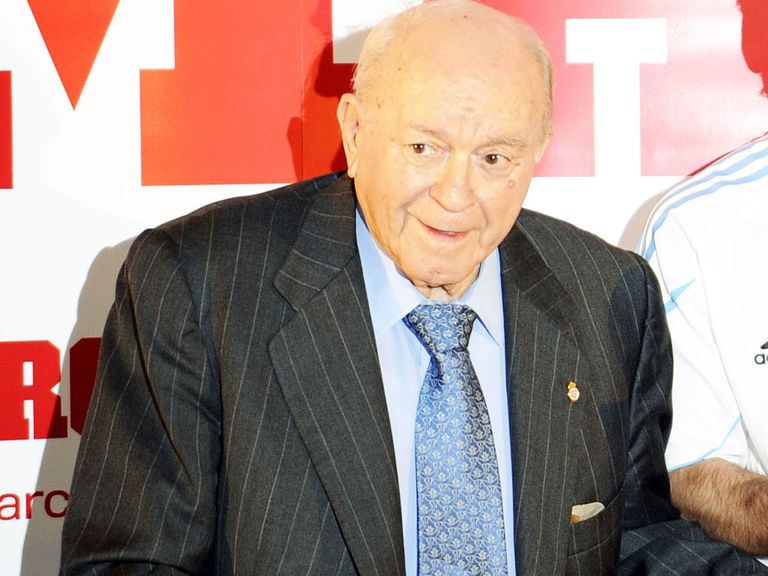 The 88-year-old was kept in an induced coma following his admission to General Universitario Gregorio Maranon Hospital but has since passed away.
The Argentina-born forward enjoyed a prosperous footballing career, most notably winning five successive European Cups with Real Madrid between 1956 and 1960.
Real hailed Di Stefano as the world's best-ever footballer following the news.
"Real Madrid CF regrets to announce that its honorary president, Alfredo Di Stefano, passed away today at 1715 in the General Universitario Gregorio Maranon Hospital in Madrid," a club statement read.
"The president of Real Madrid CF, Florentino Perez, and the club's board of directors would like to express their deepest sympathy and affection to his children, family and friends.
"Real Madrid CF extends these condolences to Madrid fans around the world and anyone who feels moved by the loss of the greatest player of all time."
Perez later addressed the media to pay further tribute to the man known as the 'Maestro'.
"Today is a day we thought would never come, a day of absolute sadness for Real Madrid and, dare I say it, the entire football world," he said.
"Di Stefano was the most important player in the history of Real Madrid and the best footballer of all time."
Having started his career at River Plate, Di Stefano also spent four years with Colombian side Millonarios before making his move to Spain.
He became an instant hit in Madrid, scoring 27 goals in 28 league games during his first season with the club and ending the campaign with a league winners' medal.
Di Stefano, who represented both Argentina and Spain at international level at different stages of his career, was the earliest star of the European Cup when it was first introduced in 1955.
He scored Real's first goal as they came from two behind to beat Stade de Reims in the inaugural final, starting an incredible run of personal and club success.
With goals in the 1957, 1958 and 1959 finals, Di Stefano had already etched his name into the history of the club before he lit up the 1960 final with a hat-trick in Real's 7-3 thrashing of Eintracht Frankfurt in Glasgow.
His long-standing record of 216 goals in 262 league appearances was only broken by Raul in 2009 and, although Raul - as well as Andrei Shevchenko and Ruud van Nistelrooy - have now scored more European Cup goals than Di Stefano, his ratio of 49 goals in 58 matches stands alone.
As well as the considerable honours he amassed with Madrid, Di Stefano was named winner of the Ballon d'Or in 1957 and 1959 although he never played in a World Cup.
"Alfredo was the best in every sense of the word, for how he revolutionised football and for the values he had," Perez added.
"He showed us that you should never give up and you have to play out of your skin for this badge. He gave so much to our club, he was an ambassador for our city, Spain and the rest of the world.
"Now it is our duty to tell those who never him saw him play that he changed everything. Madrid was his home and his life and we will give him the homage he deserves.
"He came here to stay and his presence in Madrid is eternal. Alfredo di Stefano, Real Madrid's honourary president, Real Madrid will never forget you."