FIFA study Zuniga challenge
FIFA's disciplinary committee is studying the challenge that led to Brazil's star player Neymar suffering a fractured vertebra to decide on action against Colombia's Juan Zuniga.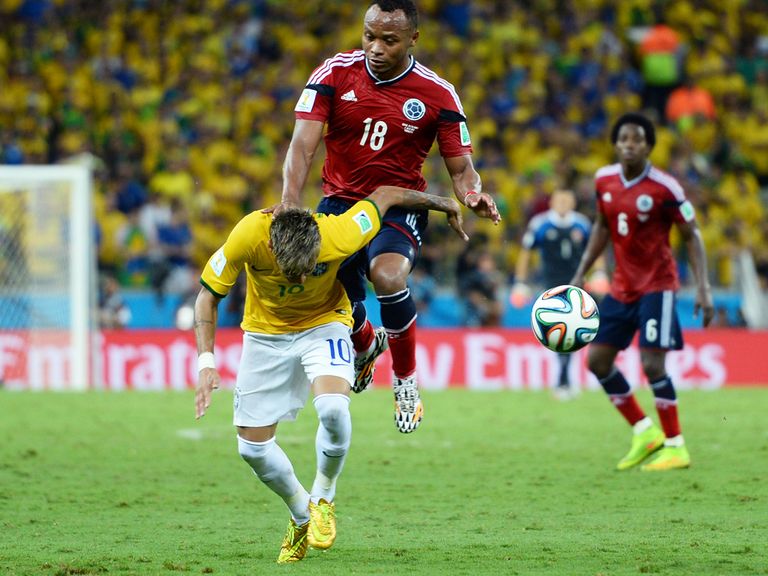 The Colombia defender caught Neymar with a knee in his back in a full-blooded challenge that went unpunished during Brazil's 2-1 quarter-final win.
FIFA head of media Delia Fischer said: "The disciplinary committee is analysing the matter. The spirit of fair play is very important and we want to avoid difficult things on the field of play."
Ronaldo, Brazil's former World Cup-winning striker, believes Zuniga had intended to hurt Neymar.
He told a news conference in Rio de Janeiro: "The challenge was a very violent one - I believe there was an intention by the Colombian player to cause some harm.
"I don't think it was normal football play, I don't know whether he had planned this beforehand but I do believe it was very aggressive, very violent."
Zuniga defended the challenge after the match, saying he had not deliberately hurt Neymar.
He said: "It was a normal move, I never meant to hurt a player. I was on the field, playing for the shirt from my country, not intending to injure anyone. I was just defending my shirt."
"I feel burdened by this situation. It resulted from a normal play and there was no bad intention, evil or
recklessness from my part."
Zuniga has also sent a letter of apology to Neymar, explaining that he is 'deeply sorry and sad' for causing the injury that has ended the Brazilian's World Cup.
"I admire you, respect you and consider you one of the best players in the world," Zuniga wrote.
"I hope you recover soon in order to continue to show us that, in football, there is a sport full of virtue and qualities, which I have put into practice since I was 12 years old and as a professional player."
Zuniga also expressed gratitude to the Brazilian fans.
He said: "To the Brazilian fans that have lost one of their players in the World Cup, I thank them for all the support they have given our national team in every game we have played here."
Despite his comments, abuse for Zuniga has snowballed on social media with some directing racist abuse and even death threats towards the Colombian.
Among the less offensive posts, contributors called the 28-year-old a "monster" and the "biggest villain in the history of football".