Hazard ready for Messi test
Eden Hazard says the key to beating Argentina is to stop Lionel Messi and believes Belgium can win perhaps the biggest match of his life.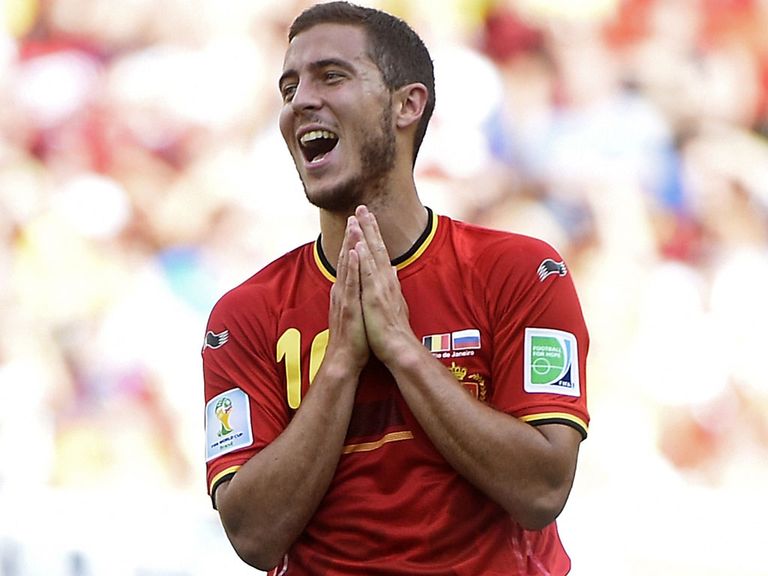 Belgium battled past USA to set up a quarter-final against Argentina and Hazard is looking forward to lining up against Messi, who has been their standout performer so far.
He knows there are other players to be wary of but feels Messi is by far their biggest threat and says Belgium will work on a plan to try and combat the Barcelona forward.
"We know the best player in the world is in this team, but we are not afraid," Hazard said. 
"We can win. Argentina have done well, but they have one big player who can make the difference every game. If we can stop him, we have a chance, but it will not be easy. 
"For me, he is the best in the world. I don't know how we can stop him, but we will watch videos and we will try to win. 
"They have Angel di Maria as well, but Messi is the difference. 
"I haven't played against him before and I will think about it the night before.
"But once I am on the pitch, I don't care who I play against. I do what I do, but I try to do my best." 
Chelsea's Hazard has experience of playing on the big stage at club level but he accepts that the clash with Argentina is maybe the most important moment of his career.
The 23-year-old is staying calm, though, and feels Belgium have the potential to at least equal their best ever run at a World Cup, when they reached the semi-finals in 1986.
"The whole team is tranquil," Hazard said. "We do not feel pressure, we play like we do in training, and that is why we are here. 
"But we know Argentina is a big game for this generation. It is very important because we can make history and I hope we can win. 
"We play against the best players in the world in the Champions League as well when you play Barcelona, Real Madrid. 
"But this is the same. It's a big game, maybe the biggest game in my life, and I hope to continue in the World Cup. 
"We have four victories in four World Cup games and there are not many teams who have managed this. Now we have to keep it going. 
"Matching the team of 1986 is an objective. It's not impossible and is there to fight for. We have to win the match with Argentina."