Platini leads Taylor tributes
Michel Platini has paid tribute to David Taylor's "boundless enthusiasm" and love of football after the former UEFA general secretary died aged 60.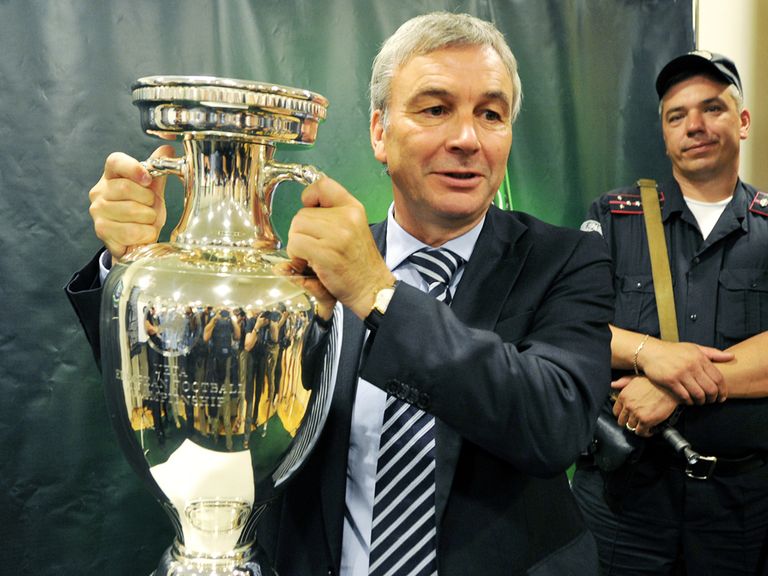 Taylor took up one of European football's top posts in 2007 after eight years as chief executive of the Scottish Football Association, during which time he appointed Berti Vogts and then Walter Smith and Alex McLeish as Scotland managers.
The Forfar-born lawyer was latterly UEFA corporate business advisor after spending time as chief executive of UEFA Events SA, a subsidiary set up to look after the European governing body's business and events operations.
UEFA president Platini said: "Together with the European football family, I am deeply saddened to hear of David's passing.
"He was an invaluable addition to UEFA when he first joined us as general secretary, and brought us considerable experience and wisdom as a football administrator of the highest calibre.
"In addition, he gave us his boundless enthusiasm as a lover of football, who adored the game and enjoyed many memorable moments following Scotland's fortunes.
"We will all greatly miss his outstanding professional competence, as well as his countless qualities as a colleague and a person. On behalf of the European football community, I wish to convey my heartfelt condolences to David's wife Cathy, and their children, James and Alan."
Taylor, who died on Tuesday, took over at the SFA after working as a solicitor and for the Scottish Development Agency and Scottish Trade International.
His new role combined his professional expertise with his passion for football - the qualified football coach had followed Scotland to five World Cups and had won the West of Scotland Amateur Cup while playing for Glasgow-based Westerlands.
SFA president Campbell Ogilvie said: "He was great company, had an astute business mind and a forward-thinking approach to the game that, allied to his patriotism as a member of the Scotland Supporters Club, helped take the Scottish FA forward administratively."
Scottish Professional Football League chief executive Neil Doncaster said: "David's death is a great loss to Scottish football. The work that he did in modernising the Scottish FA continues to be built on today.
"His interest in Scottish football did not diminish when he moved to UEFA. Indeed he was a regular attender at Scottish international and club matches; most recently at the Scotland v Nigeria match in Fulham last month. Our thoughts are with his family at this time."
SPFL secretary Iain Blair added: "First and foremost David was a football fan. This passion for the game enabled him to bring an understanding to matters which went well beyond his business and legal acumen."
PFA Scotland president and FIFPro board member Tony Higgins said: "I was so shocked and saddened to hear of David's passing as I spoke to him recently at a London airport and he was in fine fettle.
"I knew David well from both his roles at the SFA and UEFA and I found him to genuinely believe that proper dialogue with the players' was fundamental to good governance in football. He was also very popular with staff at UEFA and was held in the highest esteem. Football will sorely miss his presence."
Taylor suffered near-fatal heart problems in 2011 when he collapsed while playing football with UEFA colleagues at their Swiss headquarters in Nyon.