Smalling wants starring role
Chris Smalling wants to cement his position as starting centre-back for Manchester United and England after making his World Cup bow.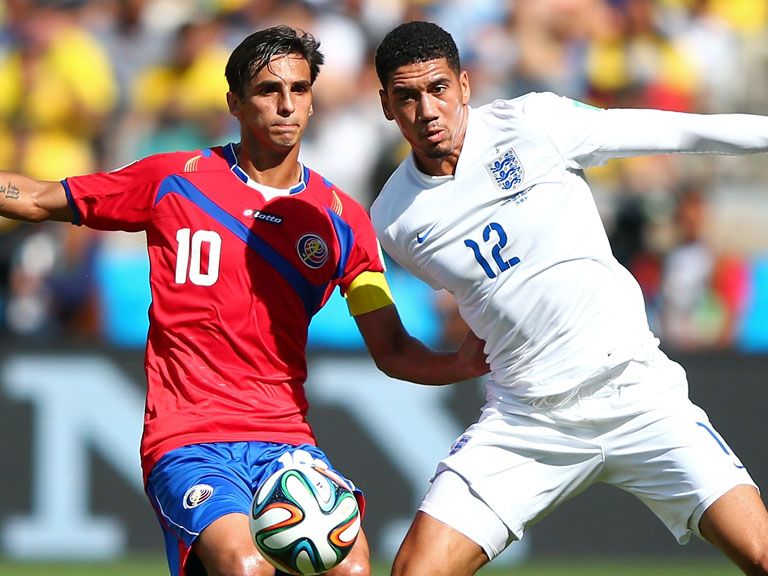 Six years on from playing for non-league Maidstone, the 24-year-old stepped out on the world stage in the Three Lions' 0-0 draw with Costa Rica.
It was a match that meant little given both sides' fates had been sealed, but one which whetted the appetite of Smalling.
The defender is now entering his fifth season with United and is keen to impress new manager Louis van Gaal enough to also ensure a starting spot at centre-back for England.
"It's the end of the season so obviously we will go on a break and next season I will look to really kick on and cement my position," Smalling said.
"Roy knows that I am a centre-back and I really want to cement it and be that number one.
"I feel that if I get my chance like I did today, I can go out there and deliver.
"Hopefully if I can go back to my club in the summer and really cement it, I can hopefully cement it for England as well. I am ready for this chance and it is about time I took it."
Smalling did not put in the best of performances in Belo Horizonte but enjoyed the game and the fact England were able to secure a first clean sheet of the tournament.
The overriding feeling, though, was one of disappointment, albeit with the mood lifted as England fans stayed behind at the Estadio Mineirao to give the players an impressive, and rather surprising, ovation.
"It was a really touching moment that they were really right behind us at the end," Smalling said.
"Even when we got to the hotel in Belo Horizonte, they were cheering us all the way despite the disappointment.
"You could accept it if they turned on us but they didn't - they have been terrific all the way through, it was great to see and it will drive us on for next time to make sure we deliver."
So desperate is Smalling to make amends that he wishes England's European Championship qualifier in Switzerland could "come around again tomorrow" rather than three months from now.
That match will herald the start of a new era for Roy Hodgson's side, with the likes of Raheem Sterling, Ross Barkley and Luke Shaw likely to be given a starring role after their World Cup experience.
Furthermore, the international future of Steven Gerrard and Frank Lampard will have become clear by that point - experienced players Smalling hopes choose not to call time to their England careers.
"Stevie has been terrific and Frank as well," he said.
"You need those players around us young players - you like to see those players and it makes you really step up your own game when you see Frank and Stevie - it really eggs you on."