Mexico buoyed by Ochoa Heroics
Mexico will go into their final Group A game against Croatia on Monday with their confidence sky high after a brilliant performance from goalkeeper Guillermo Ochoa against Brazil.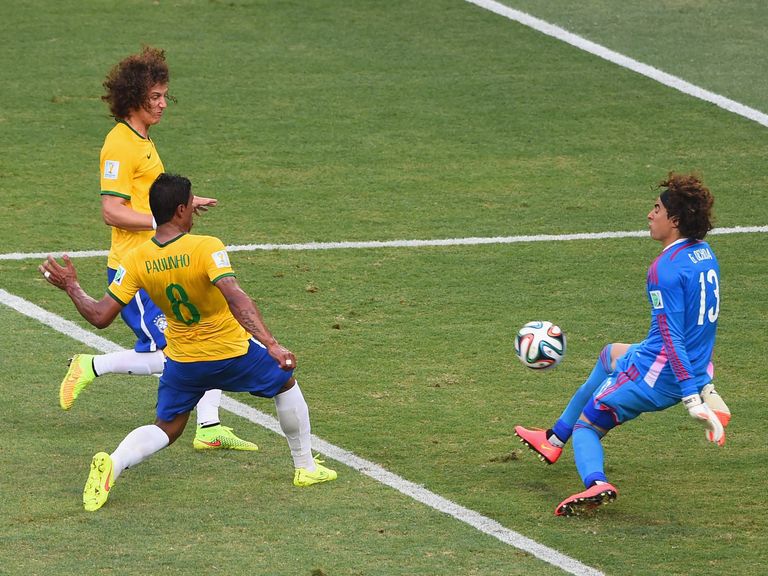 El Tri coach Miguel Herrera and all of the players are dreaming big after Ochoa made several stunning saves to earn his team a point in a goalless draw in Fortaleza on Tuesday.
"There's no goalkeeper in a World Cup that has done what Ochoa did against Brazil," Herrera said. "Memo (Ochoa) makes great saves and gives us a lot of security at the back."
Mexico captain Rafael Marquez also hailed Ochoa.
"Memo was our saviour," he said.
Brazil thought they were going to score on several occasions but were left frustrated by Ochoa, who is a free agent after spending last season at French side Ajaccio.
"Both defences were solid, in particular that of Mexico, with a great match from Ochoa," Brazil captain Thiago Silva said. "He had already made splendid performances in the French league, especially against PSG (Paris St Germain, Silva's club).
"He deserves to be congratulated, and has all of our respect."
Brazilian defender Dani Alves said Ochoa was so good that it seemed as if divine intervention was at work.
"It felt as though the Virgin of Guadalupe (patron saint of Mexico) was with Ochoa all the way," the Barcelona defender said. "He saved everything."
Ochoa stayed on the pitch for an extended period after the match to wave to the Mexican crowd as they celebrated the draw.
The Mexicans are second in Group A, level on four points with Brazil heading into their final pool game.
Herrera emphasised that while Ochoa was the hero, Mexico's entire team put forth an extraordinary effort to boost their chances of advancing from the group stage for the sixth straight time.
"Memo did it against Brazil but tomorrow it could be Giovani (Dos Santos) or someone else," Herrera said. "They are all working very hard.
"I would give a reward to each of my 23 players, including those that were on the bench because they are also working to the maximum of their ability."
Herrera stressed that the performance against the Brazilians bodes well for Mexico.
"This team has the guts to do a different World Cup," he said.
"We played a great game against a great rival in their stadium.
"The attitude shown by my players gives me peace of mind."
Brazil, meanwhile, are also upbeat.
"Despite the result, we have taken a small step forward towards qualification," Alves said. "Our possibilities to go through to the next round remain intact.
"I don't think our fans are disappointed.
"They saw a great game of football between two teams that played well and each had chances to win.
"This is a World Cup, nothing comes easy."
Brazil take on Cameroon in Brasilia on Monday.