Sneijder out for revenge
Wesley Sneijder admits he is still haunted by the Netherlands' loss to Spain in the World Cup final four years ago ahead of their Group B opener on Friday.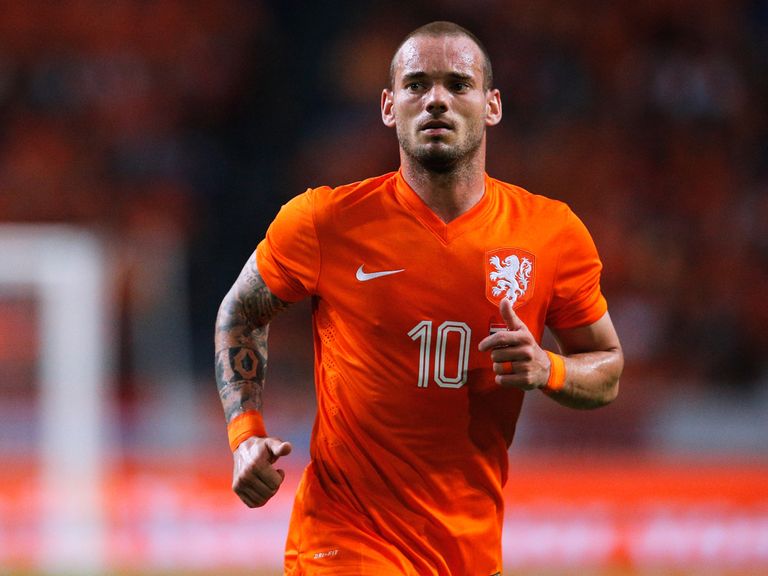 Sneijder, who is line to win his 100th cap for Holland, was part of the side that lost 1-0 to Spain in the 2010 final in South Africa.
The Netherlands have the opportunity to exact some kind of revenge when the two teams meet at the Itaipava Arena Fonte Nova in Salvador on Friday and Sneijder concedes the defeat in Johannesburg was the lowest point of his career.
"That's really the low point of my career," said Sneijder. "I had to walk past the cup but could not hold it. It felt very sour. That will always be my rock bottom.
"We were so close to penalties and the game was still there, just three minutes before the end of extra time.
"It was a shame because we had beaten Brazil in the quarter-final, a night when we turned the whole game. I scored twice. Two goals, one with my head, and a 1-0 deficit turned into a place in the semi-finals.
"You just felt at one point that we were going to win. And then the final against Spain just went wrong."
Galatasaray attacker Sneijder has played down the impact of having the captaincy taken off him, with Louis van Gaal naming Robin van Persie as his captain last year, and insists he plans to play on for Holland after the finals
"I'm not a captain, but still a leader," added Sneijder. "The team spirit is good, much better than two years ago (at Euro 2012).
"I will do everything to keep it that way. Because it's important at a major tournament. I know that from experience.
"These are my sixth major finals but I will keep going. You will see me in four years. This is a big week but it's only one game. We need a result against Spain. That's the point.
"We may not have a top team. But we play compact and can switch the ball quickly. We have a chance."