Buffon sets Italy target
Italy captain Gianluigi Buffon claims the Azzurri's minimum target at the World Cup is to reach the quarter-final stages.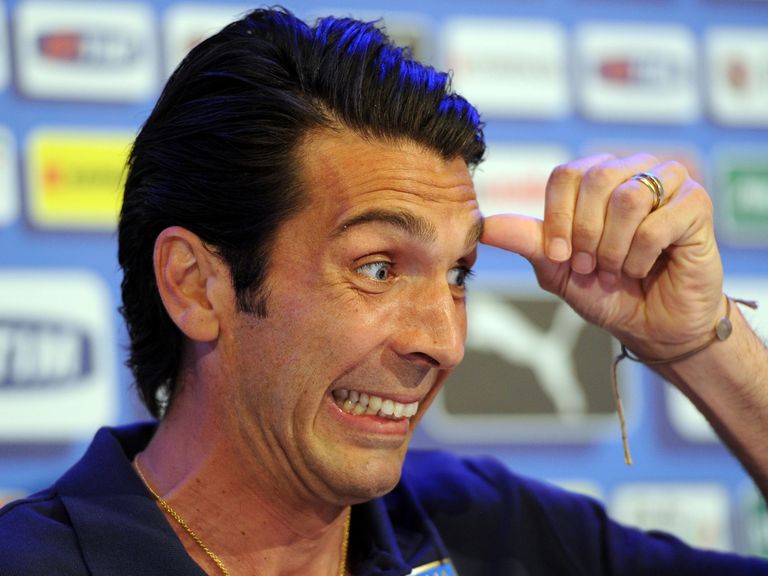 The 2006 winners, coached by Cesare Prandelli, finished runners-up in Euro 2012 and ended last year's Confederation Cup in third place.
"I can't say with absolute certainty that we will reach the final or the semi-finals," Buffon said in Thursday's press conference. "I believe that we are reliable team, in the sense we are able to win the games we have to win.
"At times, we are also able to surprise in games where we are not considered favourites.
"If we reach the quarter-finals, it will already be a good World Cup for us."
The Juventus veteran goalkeeper knows Italy are going to have to overcome some very good teams if they are to be a serious threat to win the competition for the fifth time.
"We are a matured team," Buffon said. "We have few limitations and for that reason, we are a reliable side.
"But we have to be honest and recognise the value of other rivals.
"When you talk about Spain, Argentina, Brazil and Germany, they are all a step ahead of us and hence, are favourites.
"We are behind them, alongside France, (a side) that has a big potential, and Belgium, who could reach the semi-finals and it wouldn't be a surprise."
Buffon has plenty of World Cup experience, having taken part in the last four tournaments with the Azzurri and lifted the trophy eight years ago.
"The World Cup is such a strange and brief competition that not always the value of a team is respected," the 36-year-old said. "Perhaps energy, freshness and fortune makes the difference.
"It will be my fifth? It's a good achievement but that doesn't mean I'm satisfied.
"Like in any top competition, you prepare to face it always with the aim to impress, not just as an individual but as a team.
"To play at a World Cup is the maximum reward that a player can get."
Italy have been drawn alongside England, Uruguay and Costa Rica in Group D in the tournament in Brazil.
Italy start their campaign against Roy Hodgson's England in Manaus.
"With respect to England and Uruguay, we can push further than them," Buffon said. "England has virtually gone through a revolution.
"They have a lot of youngsters, and hence, they are not favourites.
"However, if they are able to find balance immediately, then they might be able to pull off a surprise, but it's normal they are not favourites.
"Uruguay is also a trustworthy team like us.
"It's difficult to see them lose games they have to win."