Gerrard: I'm over Chelsea slip
England captain Steven Gerrard says he has laid the disappointment of not winning the title with Liverpool last season to rest and is fully focused on leading the country at the World Cup.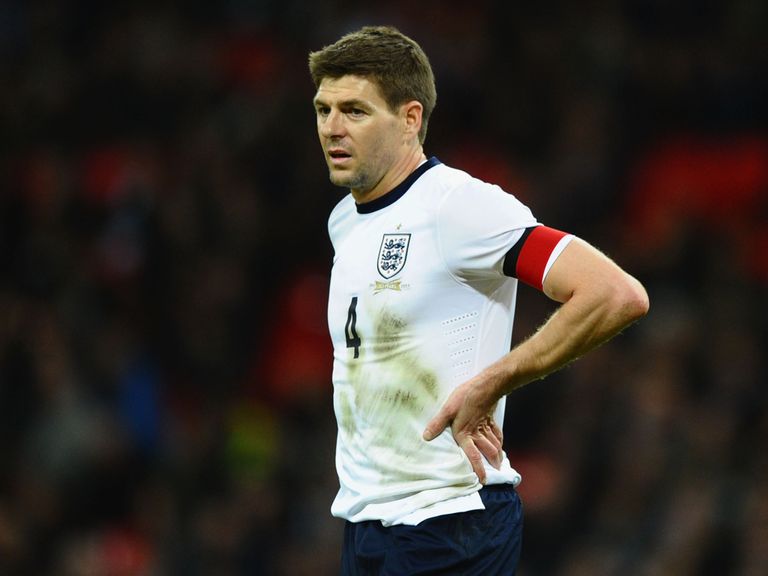 Liverpool led the Premier League with three games remaining but saw their title challenge slip away after a 2-0 defeat at home to Chelsea was followed by a 3-3 draw at Crystal Palace.
But Gerrard is keen to take away the positives from Liverpool's Premier League campaign and revealed he cannot wait for England's World Cup opener against Italy.
"I know everyone wants to know what frame of mind I'm in after the slip that happened to me against Chelsea," he said.
"I'm over it. It's gone. I can't change it, but of course I was disappointed in it from a personal point of view. The title slipping away from Liverpool with three games to go was a blow.
"But you've also got to look at the positives as well having Champions League football back, finishing second in what is the most difficult league in the world. I can't just focus on one mistake I made over 38 games.
"I'm in a good frame of mind. Everyone's starting to get really excited and looking forward to the tournament getting started.
"This is the important part, the preparation, making sure you get into peak condition. You try and find your form before that very important game against Italy."
Gerrard and vice-captain Frank Lampard are the most senior players in the squad with a combined 212 international caps between them.
Roy Hodgson will lean on the experienced duo to provide help and guidance to young trio Raheem Sterling, Ross Barkley and Luke Shaw who have just six caps between them.
And Gerrard wants the young players, particularly Sterling, to play with freedom, insisting they will benefit by not being weighed down by the burden of expectation.
"I was very pleased for Raheem," he said. "It is always important being an experienced player that you have good young attacking talent in the squad. That you have that no fear and that you are cable to surprise a few out there in Brazil.
"I think the stage is set for Raheem. He has no pressure on him at all. The pressure falls on the experienced players.
"We want the likes of Raheem, Ross Barkley and Luke Shaw to just go there and enjoy it and keep doing what they've been doing for their clubs.
"It's very exciting. The managers have picked a great mix of players. A good mix of players; good experienced players who have been around the block and young players who have had terrific seasons.
"He hasn't picked them because he wants young players on the squad but he's picked them because they are good enough and because they've shown excellent form throughout the Premier League games.
"They are here because they are very talented. They are here on merit."
With five Liverpool players in the squad, there are calls for Hodgson to adopt a similar playing style to the one adopted at Anfield.
Brendan Rodgers' men became only the third team in the Premier League era to score 100 goals in a season but Gerrard insists England will implement Hodgson's style of play.
"We can't play the Liverpool way," he said. "We are here to play the England way. The way that Roy Hodgson, Gary Neville and Ray Lewington want us to play.
"I'm very proud to have so many team-mates around, it tells me that as a group for Liverpool we've done very well."