Simeone v Ancelotti
We look at the careers of Carlo Ancelotti and Diego Simeone ahead of Saturday's Champions League final showdown in Lisbon.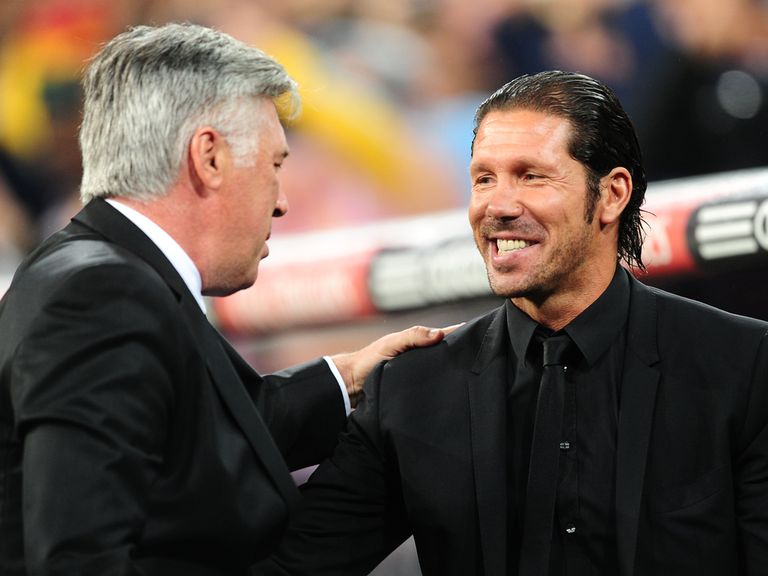 Atletico Madrid coach Diego Simeone will lead his team out at the Stadium of Light in Lisbon on Saturday in search of a first European Cup for him and his club.
The 44-year-old has only been a coach for eight years but has already assembled an impressive CV.
He can boast of two league championships in Argentina with Estudiantes and River Plate, plus the Europa League, UEFA Super Cup, Copa del Rey and now the Primera Division title in just two and a half seasons with Atletico, the team he played for over two separate stints.
The Argentine is one of the most talented young coaches in world football but in Lisbon he will lock horns with one of the most experienced and decorated tacticians left in the game.
When Simeone was still an Atletico midfielder, the current Real Madrid boss Carlo Ancelotti was already a European champion, winning the first of two Champions Leagues with AC Milan back in 2003, adding to the two gongs he won with the Rossoneri as a player.
As well as in his native Italy, Ancelotti has won the league in France (with Paris St Germain) and England (with Chelsea). If his Madrid side see off Atletico in Lisbon to win the club's 10th European Cup, he will become the first manager to have won the trophy three times in the Champions League era.
Yet despite taking Real to their first Champions League final in 12 years, and beating Barcelona in the Copa del Rey final, Ancelotti's first season in Madrid has not been without its dramas.
He received his biggest share of criticism back in October for his unorthodox tactics in a 2-1 defeat at Barcelona, picking Sergio Ramos in midfield and an unfit Gareth Bale as centre forward.
On the plus side, the Italian has been commended for unifying a dishevelled dressing room in the wake of Jose Mourinho's chaotic final season at the Bernabeu, and praised for producing more attractive football than his predecessor.
Winning the tactical battle with Pep Guardiola to topple Bayern Munich in the Champions League semi-finals ranks as his finest achievement so far in Spain, brushing over the fact that Madrid finished third in the Primera Division, their lowest result in a decade.
Simeone, however, continues to defy the odds with each passing month at Atletico.
It is not just his growing collection of silverware that sets the Argentine apart, but also the way in which he has moulded the side in his own image, prioritising the group over individuals and emphasising hard work and commitment over talent.
Immediately after his side clinched the Spanish title, Simeone said: "This means something for everyone; it means that you can win in different ways. It's always the players' characteristics that define how you play and we have won in a different way to Madrid or Barcelona."
Goalkeeper Thibaut Courtois added: "The biggest star of Atletico Madrid is the team."
An aptitude for governing a dressing room is a characteristic Simeone shares with Ancelotti, but there are notable differences, too: the Argentine lives every match like a supporter, while Ancelotti is more reserved on the touchline, Spanish newspaper Marca dubbing him 'Carlo Tranquilotti'.
Their playing careers throw up further contrasts: Ancelotti was an idol at AC Milan and Roma, the rivals of the two Italian clubs Simeone represented, Inter and Lazio.
But one thing is for certain, whoever is on the losing side in Lisbon will waste little time in plotting their way back towards the summit of European football.