Ciftci targets final success
Nadir Ciftci will gladly forego personal glory to ensure Dundee United win the William Hill Scottish Cup final against St Johnstone at Celtic Park on Saturday.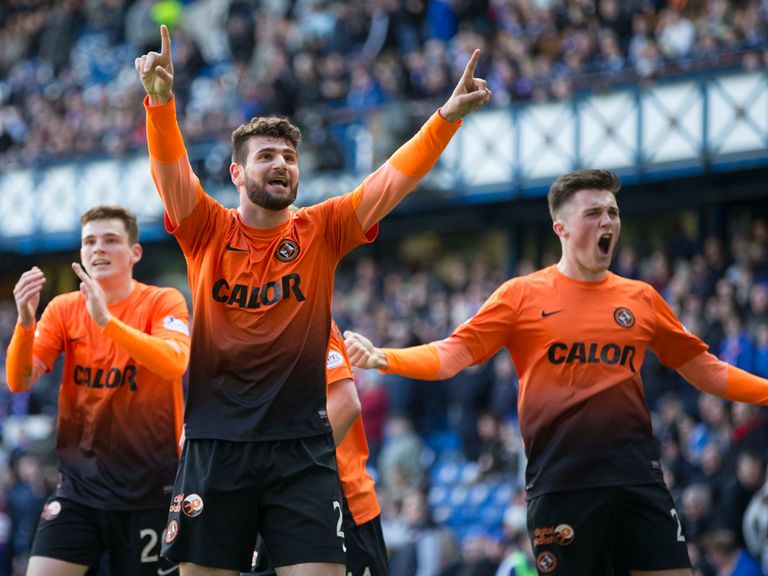 The abiding memory of the Terrors' semi-final win over Rangers at Ibrox last month was the 22-year-old Turkish striker celebrating with the United fans after he netted the clinching goal in the 3-1 win, following a mistake by goalkeeper Steve Simonsen.
It was one of 17 goals this season for the Taysiders after signing last summer and it underlined how key he is to United's chances of taking the trophy back to Tannadice for the second time in four years.
However, Ciftci played down his semi-final goal and insisted that he is not too bothered how the showpiece final is won.
"Until I watched the highlights I didn't realise I was celebrating before I scored," he said.
"After I scored I don't know what was going on in my head. The only thing I knew was that we were through in the cup and I was really happy.
"I hope we win the final. It's something special for any player to score in a game like this but the main thing is to win the cup.
"It doesn't mean a lot for me being the main goalscorer. If it wasn't for my team-mates around me then I wouldn't be in this position.
"Nobody in the squad is that greedy, we pass to each other and I think that's why the goals are shared around the team."
After taking around 13,000 fans to Ibrox for the last-four tie United can expect to be backed by close to 30,000 at Celtic Park, the biggest travelling support for the team in history.
Ciftci is hoping to give those fans a happy journey back to Tayside.
He said: "I saw them in the semi-final and I've heard how many tickets we've sold for the final.
"I hope we can give them something to celebrate at the end of the season.
"We expect a difficult game. We've lost three out of four matches against them in the league but this is a cup final.
"It's my first cup final so it will be a special occasion and I hope we're celebrating at the end."
United midfielder Stuart Armstrong is aware that most people outside of Tannadice will be looking for St Johnstone to end their 130-year wait to land the Scottish Cup for the first time.
However, the Scotland Under-21 player is confident that if United hit top form on the day then they will win the cup.
He said: "Yes, I think (the rest of Scotland) will be hoping they win.
"I think each team will want to win for their own reasons, St Johnstone to make history and we want to make a success of the season.
"Past results will be irrelevant, it will be about how each team plays on the day.
"Certainly they shouldn't be underestimated because they have had the beating of us this season. We should take that into account but it is a cup final and anything can happen.
"But we are very much of the opinion that if we put in the performance we will get the outcome we deserve."