Poyet eyes survival celebration
Gus Poyet admits it will feel like he has guided Sunderland to a trophy if they manage to complete their great escape.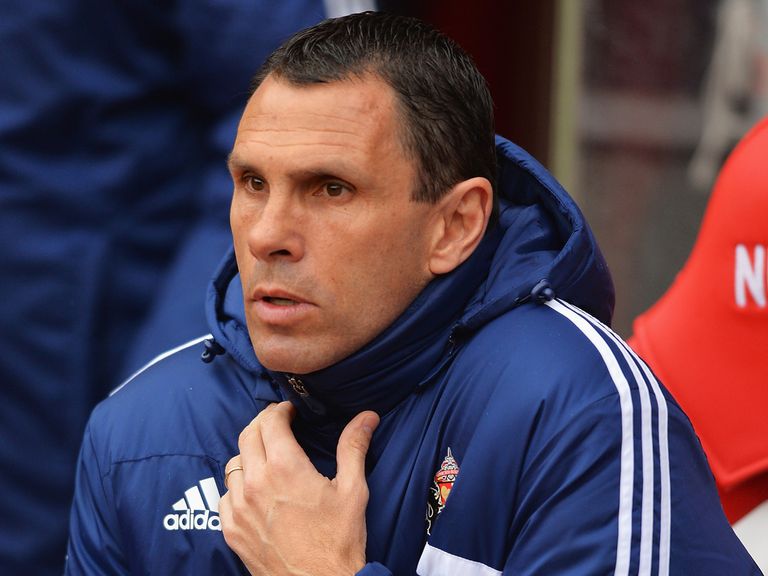 The Black Cats will be guaranteed another season of Barclays Premier League football if they beat West Brom at the Stadium of Light on Wednesday evening, and even a point is likely to be enough to keep them up regardless of what Norwich do against Arsenal on Sunday because of their superior goal difference.
For head coach Poyet, who took over in October last year with his side having collected just a single point from their opening seven league fixtures, that would represent a major achievement.
Asked if it would feel like winning something, the 46-year-old Uruguayan said: "Nearly, yes, it's a good shout. Probably.
"Normally you don't celebrate when you finish 16th or 15th in the league. We will. It's true, we will."
Sunderland, of course, came within 35 minutes of genuine glory on March 2 when they led Manchester City 1-0 in the Capital One Cup final at Wembley before eventually going down 3-1.
However, their next six league games yielded just one draw and as they slipped seven points adrift of safety, they looked to be destined for the Sky Bet Championship until they embarked upon an unlikely run of results.
Few commentators expected the Black Cats to improve their situation to any meaningful degree as they headed for City, Chelsea and Manchester United either side of a home game against Cardiff.
But a surprise draw at the Etihad Stadium - but for a late error by keeper Vito Mannone, they might have won there too - heralded a run of three successive victories, two of them famously at Stamford Bridge and Old Trafford, which have lifted them to the brink of salvation.
Poyet said: "The problem is if you use the word 'surprised', it looks like you cannot believe it.
"I was getting close to wondering what we needed to do to win a football game because we were, in my understanding, performing better even at home, but there was always something happening that meant we couldn't go on and achieve the results.
"Maybe the first goal at Manchester City after two minutes gave the team something that was missing to go on and start performing and winning.
"We are on a run now and we don't want to stop. We want to keep playing and winning."
Sunderland would effectively have been safe on Sunday had Norwich not managed to hold Chelsea to a surprise draw, and while Poyet would have been delighted to accept that, he is relishing the opportunity for his players to seal their fate in front of their own fans against either the Baggies or Swansea on Sunday.
He said: "It could be a different feeling. It is not the same when you are at home on your own watching the TV and somebody else gets a result.
"You don't know how to celebrate then on your own. When you are in a group together playing for something and winning a game - I hope we can win tomorrow and go on and finish the game and be all together.
"Yes, it's different - but it would take it anyway, I would take any kind of situation.
"But now the idea is we have got a big opportunity tomorrow. From three results in football (win, lose or draw), we have got two that are good for us - we need to take one of those two, and then we will see.
"I don't want to go ahead of the weekend because that could be really tense, for sure."