Aguero out of Villa clash
Manchester City top scorer Sergio Aguero will miss the title favourites' crunch clash with Aston Villa on Wednesday.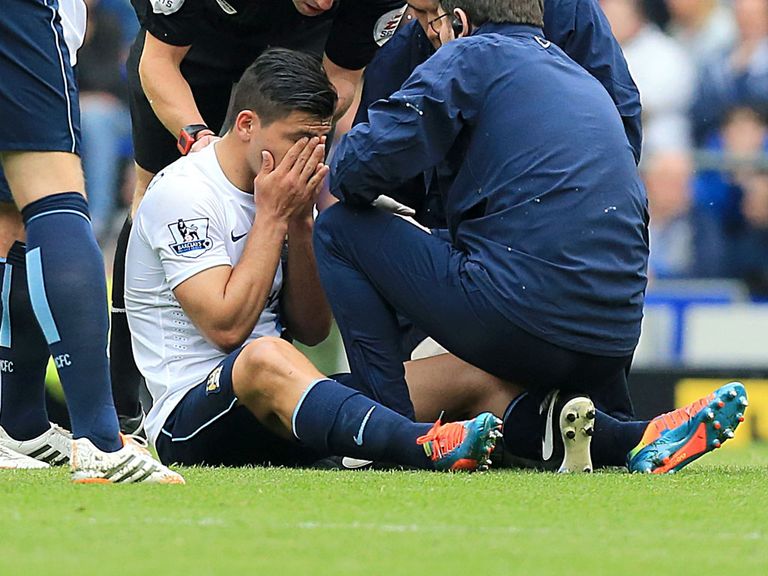 Argentina international Aguero, who has been plagued by injuries in the second half of the season, limped out of Saturday's victory at Everton with a groin problem.
City can move two points clear at the top of the Barclays Premier League with just one game to play if they beat Villa at the Etihad Stadium.
Manager Manuel Pellegrini said: "He couldn't recover 100 per cent from his groin problem, so he is not in the squad list."
Aguero, who scored his 28th goal of the campign before leaving the field in the 3-2 win at Goodison Park, has missed 18 of City's last 31 games with various leg muscle injuries.
The 25-year-old, however, has not yet been ruled out of Sunday's season finale at home to West Ham.
Pellegrini said: "Maybe he can have some chances, we will see the way he improves during the week.
"It was not 100 per cent sure if he was completely fit for tomorrow, that is why I didn't want to have a risk with him, but we will see during the week if he can play on Sunday."
Pellegrini does not accept the claim of his Liverpool counterpart Brendan Rodgers that the race is now effectively over, even though the initiative is now clearly with City.
He said: "I really don't know what Brendan said. I only know we have two games and we have to win the game against Aston Villa.
"At the end of the week we will see which team has more points."
Pellegrini, speaking at a press conference to preview the visit of Villa, even claimed he did not watch Liverpool's dramatic late capitulation against Palace, when they conceded three times in the last 11 minutes.
When asked about the result, he said: "I feel it is just one result more in the Premier League.
"In the Premier League it is very difficult to win the games.
"You cannot be sure you are winning until the end, until the last minute."
Pellegrini sees the performance of Palace, who had already achieved their aim of avoiding relegation, as proof that there can be no room for complacency against Villa.
Paul Lambert's side are also now guaranteed to be in the top flight next season.
"Maybe Crystal Palace didn't have anything to fight for but they were a very strong team and I am sure Aston Villa will be a very strong team for us," said Pellegrini, whose side lost at Villa Park in September.
But Pellegrini does accept that Liverpool's latest slip, a week after they were beaten by Chelsea, could provide his players with extra motivation.
He said: "When Liverpool lost against Chelsea, of course there was a reaction in the team.
"Now they have a lot of trust in what we can do, also with a lot of responsibility.
"But I repeat, in the Premier League nobody knows who can win the game.
"We will try to do our best and the players are conscious that we depend just on these two games."