Weekend Review: Liverpool blow it
Our team of writers look at the talking points from another remarkable weekend of action in the Barclays Premier League.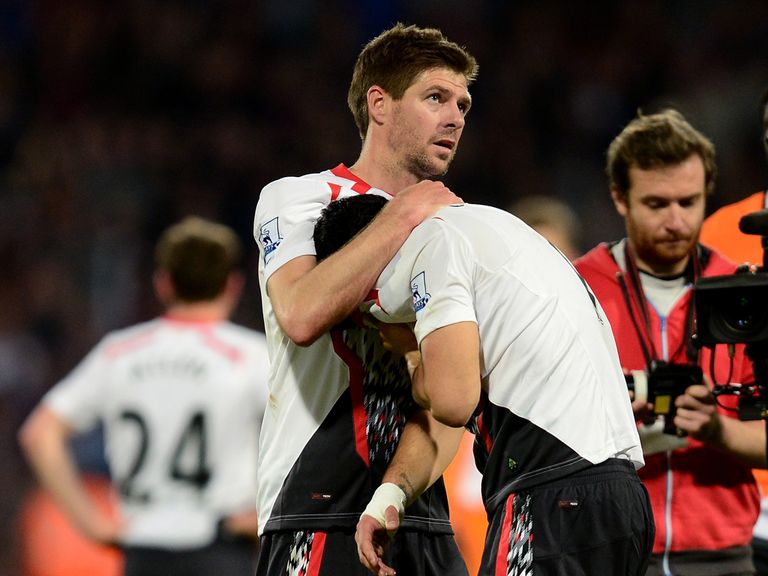 Manchester City's victory in a strange atmosphere at Goodison Park: the decisive move in the title race?
| Team | Score | Team |
| --- | --- | --- |
| C Palace | 3 - 3 | Liverpool |
| Arsenal | 1 - 0 | West Brom |
| Chelsea | 0 - 0 | Norwich |
| Everton | 2 - 3 | Man City |
| Swansea | 0 - 1 | Southampto |
| Stoke City | 4 - 1 | Fulham |
| A Villa | 3 - 1 | Hull City |
| Man Utd | 0 - 1 | Sunderland |
| Newcastle | 3 - 0 | Cardiff |
| West Ham | 2 - 0 | Tottenham |
Dave Tickner: It should be. It surely must be. But after the way this season's gone it would be foolish to believe there can't possibly be another twist to come. Manchester City should beat Aston Villa and West Ham at home, obviously, but Villa have won at Arsenal and drawn at Liverpool this season despite their unstinting commitment to mediocrity, so you just... never... know. Hard to escape an air of anti-climax, though. This is not meant as a dig to a Manchester City side who will be worthy winners and have played some genuinely sensational football. But there's no doubting they'll have rather fallen over the line. In the 12 games before the defeat to Chelsea, City took 34 points from a possible 36 and scored 40 goals. In the 12 games since Chelsea, they've taken 27 points and scored 28 goals. It's not calamitous, and it's perhaps unfair to judge them against their own dazzling best, but there is for me a sense of 'meh' about it. With LIverpool completing their tragicomic fall at Palace on Monday night, City will - harshly, perhaps - be remembered as the least worst rather than the best.
Matt Brocklebank: Will Manchester City now secure back-to-back home victories against Aston Villa and West Ham to claim the Barclays Premier League title? Of course they will. We've had surprises all season but this is where they end - West Ham and Villa have no major incentive and they're facing the most expensively-assembled team in the league, who need to win. Man City fans will claim they've never done anything easily, and in fairness they've almost made a mess of what was looking like a stroll in the park after the first half of the season, but their squad depth has ultimately shone through, with the likes of James Milner and Joleon Lescott just bit-part players. The three points from Goodison were massive, but so was the dominant display at Selhurst Park prior to that and in the end they're simply going to prove too strong.
David John: All things considered, it is. Manchester City certainly stepped up to the plate after a week of claiming they had the necessary guile and experience to win this titanic tussle for the Premier League that has gripped the nation over the last two months. The Toffees were no pushovers and have had a good record in the fixture recently but City were pretty convincing winners as they took the initiative once again ahead of Liverpool. City did not panic after going a goal down and that is one hallmark of all the top teams – stick to your gameplan and let the undoubted quality on the field shine yet again. They could not wish for two better fixtures to round off the season with Aston Villa and West Ham at home, two teams with nothing to play for who look considerably outclassed on paper anyway. It will be an almighty Horlicks if they blow this chance of regaining their crown.   
What key factors have led to Liverpool seemingly squandering such a strong position in the Barclays Premier League title race?
DT: Well the short answer is the defence, specifically individual errors. And a little bit of hubris. Brendan Rodgers is a gifted football manager, but is not a humble man. Liverpool allowed themselves to get distracted by goal difference on Monday night. It was always the longest of long shots that they would win the title by that method. Having experienced for themselves the stresses and strains of being on the verge of clinching the title, they should have been making sure they did what was necessary to pile that pressure on a Manchester City side whose form has not been bulletproof in recent weeks. At 3-0 up, you can just about forgive Liverpool chasing the goal difference dream. At 3-1, though, they should have killed the game. It's what champions do. Liverpool didn't. The Anfield side have still had a sensational season - which should not be forgotten - but targets change, ambitions shift. The stars aligned for the Reds this season; the startling form of Suarez and Sturridge, the lack of European football, the flawed squads of Manchester City and Chelsea, Manchester United choosing the Chosen One, Arsenal being Arsenal, Tottenham being Tottenham. All those will likely be different next season (apart from the last two, which will never change ever). Liverpool have achieved their objectives this season, but they have likely blown a wonderful opportunity. It could be years before they get another like it.
MB: Enjoying a fantastic season is one thing, but getting across the line in front is another beast entirely. Liverpool were grabbing the ball from the back of the Crystal Palace net after going 3-0 up on Monday night, presumably with an eye on the goal difference gulf between themselves and Manchester City, but how quickly it all changed. The Reds have shown a real lack of experience in terms of getting the job done at the business end of this campaign and that partly has to be laid at the door of their manager. Their entertaining, free-flowing football has been a joy to watch this term but they looked extremely leggy towards full-time at Selhurst Park and their defensive frailties were ruthlessly exposed late on. Granted, they missed chances to make it four or five before the Palace resurgence but that's missing the point as shutting the home side out should have been their priority after gaining the upper hand in such an important match.
DJ: Liverpool have entertained all season a lack of defensive solidity has ultimately come back to haunt them. As the goals have flowed from SAS at one end, they have shipped them at the other far too frequently for a team in their position. The verve they display to take command of a game has to be applauded but that ability to shut-up shop and suffocate an opponent in the final 20 minutes has seemed beyond the grasp of Brendan Rodgers and his side down the stretch. The warning signs were there against both Manchester City and Norwich when they escaped with 3-2 wins but any lesson was not learned. The nadir came as they cantered into a 3-0 lead at Crystal Palace so it was no surprise to see Luis Suarez in tears as they trudged off the pitch at a barely believable 3-3. The title is not completely gone as we stand but if Manuel Pellegrini's side deliver six points at home to Aston Villa and West Ham then the post-mortem of where it all went wrong on Merseyside is going to take up a great deal of the summer.   
Cardiff and Fulham are gone, with Norwich all but certain to join them. What went wrong for that trio?
DT: Easy and often glib to pin on-field failings on boardroom antics, but in Cardiff's case it's undoubtedly true. Fulham's season has been shambolic and provides further evidence that changing manager only works if you've got the right replacement lined up. Norwich spent £20million in the summer and have seen a pitiful return on their investment. For all three, the season has been one of upheaval and change and confusion. In a desperately weak Premier League season, it's hard to argue that any of the three can consider themselves unfortunate.
MB: I don't think Fulham got the wrong man - not second time anyway. Felix Magath was just the type of manager required when the Fulham board opted to chance well-regarded coach Rene Meulensteen, and I firmly believe that is what has cost them. Timing was critical for Norwich, too, as they surely left it too late to replace Chris Hughton, who was on the brink for months yet remained at the helm until it was all but over. Cardiff's squad seriously lacked strength and while the whole Malky Mackay business left a sour taste in the mouth, it's not hard to aruge they'd still be preparing for Championship football next season had he stayed.
DJ: You would think that all three teams had a sufficient talent base to survive in the top flight but all have taken similar routes that leave them in the bottom three. Presuming Norwich do go down, the most obvious comparison is that the trio end the campaign with different managers to last August. Cardiff fans will perhaps feel the most aggrieved as the rift between Malchy Mackay and Vincent Tan led to the former being ousted despite the fact he had made a promising start in the top flight. Although it is hard to be dogmatic, if the Scot had remained I think the Bluebirds would have survived quite comfortably. Fulham seemed to give themselves enough time by appointing Felix Magath after Martin Jol was shown the door but he has seemingly failed to gel with his new players and resorted to some rather strange team selections. The axe was also hanging over Chris Hughton after failing to get the best out of some expensive Norwich signings and a late move to replace him left caretaker boss Neil Adams with an extremely hot potato. It is tough for owners in terms of whether to stick or twist if the team is struggling but if you get the right man it can make all the difference – just ask Crystal Palace.
Another home defeat for Manchester United, resurgent Sunderland the latest to storm the Old Trafford fortress. New boss, same as the old boss?
DT: A sensational result for Manchester United. While highlighting that the problems at the club and in the squad always ran deeper than one man's admittedly major faillings, it should hasten the appointment of a proper manager with the experience and calibre to restore United to where they need to be and stop dead the sentimental and naive push to hand Giggsy Wiggsy the reins because he's been at the club for ages and is able to wear a suit. The other massive bonus for United is that this result will likely keep them out of next season's Europa League as they look to go back among the top four.
MB: It wasn't long into David Moyes' reign that I claimed a change had to be made if United wanted to retain Champions League football and it was clear that that was his minimum required when appointed given the timing of his dismissal. Giggs taking over for the remainder of the season while a new man was organised made perfect sense but it's no great surprise that an in-form Sunderland could go to Old Trafford and give as good as they got as they had something to fight for, whereas half the United side won't be there next term. Next term will be a whole lot different if Van Gaal is in charge, especially with no European distractions.
DJ: It is difficult as humans not to react in the short term to what we have just witnessed. After the euphoria of a win over Norwich to herald the Ryan Giggs era, were were quick to crown him the new supremo. It was obvious that the reaction would immediately go in the other direction following the loss to an in-form Black Cats. David Moyes has to carry the can for the shambles that has been the Manchester United season but this is a team that has lost the vast majority of its aura over the past nine months and more and more teams just don't experience that fear factor anymore. They have struggled to find any sort of consistent form with a clutch of older players past their best backed up by others who are out of form or lack their usual swagger. Giggs may still be the solution but whoever takes over has a real task ahead to right the ship and get things going in the direction we have become used to with Manchester United.