David Moyes: Reaction
We take a look at some of the reaction to David Moyes' sacking by Manchester United.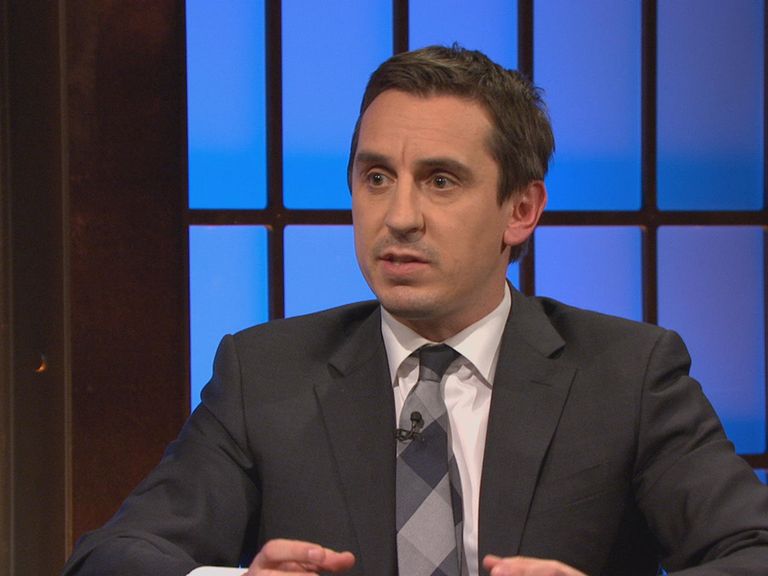 Gary Neville, former United defender (to Sky Sports News)
The players have to take massive responsibility. They're the ones out on the football pitch. I never once during my 17, 18 year career at United turned around after a game and thought 'you lost us that game, boss'. It's always the players.
Players have to take responsibility and accountability in football but the fact of the matter is you don't go and sack 24 players. Those players are not as bad as they've been showing. They've got great care for United, they love the club - the ones I know - they're desperate to do well for the club but they've completely lost confidence and belief. That's ultimately what's cost David Moyes.
These were players that were champions nine months ago and the decline has been surprising to say the least. To go from first to third or fourth may be acceptable in a transition season but to go to seventh...And I have to say watching them at Goodison Park on Sunday and against Liverpool three weeks ago, they were just absolutely flat, there was nothing in them. And to me that's the last thing that can happen as a United player.
They have to take responsibility but ultimately the manager always takes responsibility because he's the one that's seen to have to drag a performance out of the players.
I believe in managers being given time," he said. "I think they should be allowed to complete their work. The idea of giving people three and four and six-year contracts and then getting rid of them after 10 months is something that's foreign to me.
However, there's no disguising that the football this season has been poor and the results have been poor. As a fan I've not enjoyed watching it. I'm sure David Moyes himself hasn't enjoyed watching it and I can't think of many Man United fans who would have enjoyed watching it, either.
The performances have got worse and worse. There was a little pick-me-up before Christmas when you thought there might be a little bit of a run but in the last month or two the performances have deteriorated. Olympiakos, Liverpool and Everton were particularly low points.
It's something I don't like about the modern game, the fact managers get sacked every 12 months. It doesn't matter whether it's my club, which is Manchester United, or any other club. And I'll continue to defend that position because my full belief there's a lack of decency in the way football managers get dealt with.
They're so much in the firing line. I accept it's a pressurised job and they get well paid for it but there's a way of decency of dealing with people. Football managers now just get tossed around, chucked about, disregarded, rubbished - decent men, good men seem to get thrown away. That's not just David Moyes that's all through football. They're always the scapegoats.
Jamie Carragher, former England and Liverpool defender (to Sky Sports News)
Ryan Giggs won't have experienced this before but if anyone knows the Manchester United way, he's probably the only player who was there at the very start with Sir Alex Ferguson.
He's taken his coaching badges and obviously wants to be a manager. The days of somebody going from being a player into a big job like that has changed but Giggs, what a great player, knows the club inside out, and if there was any player you were going to look at to take over it would be Ryan Giggs.
If he has a great end to the season, who knows? But I imagine they'd bring another manager in and try to keep Ryan Giggs as part of the coaching structure.
People will say he (Moyes) wasn't up to the job and these seven or eight months have been terrible for him.
But he did a great job at Everton, he did a great job at Preston and he'll come back as a manager. He will get a job somewhere. He may go abroad or get a job in the Premier League but I'm sure he'll come back.
Dwight Yorke, former United striker (to Sky Sports News)
I know there's a lot of people speculating that they need somebody with big experience out there that has managed a club at the very top level but we are talking about a continuity, something like what Sir Alex Ferguson did.
There is never going to be someone like Sir Alex Ferguson but what we're given here (with interim boss Ryan Giggs) is a young manager who is looking to break in.
We thought that David Moyes had those skills of going into Manchester United with the experience that he had for 11 years being at Everton and the wonderful job that he'd done but he hasn't been able to turn things over at Manchester United.
I think for togetherness and getting the results and playing a certain way, a brand of football that is more eye-catching, the Man United way, I feel that Ryan Giggs is the right person.
Carlo Ancelotti, Real Madrid manager 
I feel sorry for David Moyes, but that's the life of a football coach, sometimes it doesn't go well for you and you are sacked. I'm sure Moyes is going to get another team and another opportunity, but I always feel bad when a coach is sacked. I am a little surprised because Manchester United don't normally do this.
Gary Lineker, former England striker (on Twitter)
Wish David Moyes all the very best. He's a good man and a good manager, just not the right fit for Manchester United.

Joey Barton, former England midfielder (on Twitter)
Still think Moyes is a good manager. Maybe too much too soon. Fergie was always a tough act to follow. Surely Van Gaal is the logical choice?
Sean Bones, Manchester United Supporters' Trust (to Sky Sports News)
Obviously it is wrong to brief journalists the day before and not speak to the manager himself. Manchester United has a lot of style and class and we don't do things that way and to me this is typical behaviour of the Glazer family. We do things with style, class and dignity.
I'm not saying he should have stayed in the job. It was a risky decision when they appointed him as he was not proven at the highest level. But that decision was ultimately down to the Glazer family. They may have spoken to Sir Alex and other people within the club but if it was the wrong decision it was the Glazer family's decision.