Wembley will have to wait - bosses
Rival managers Arsene Wenger and Steve Bruce refused to look ahead to next month's FA Cup final following Arsenal and Hull's Easter Sunday dress rehearsal.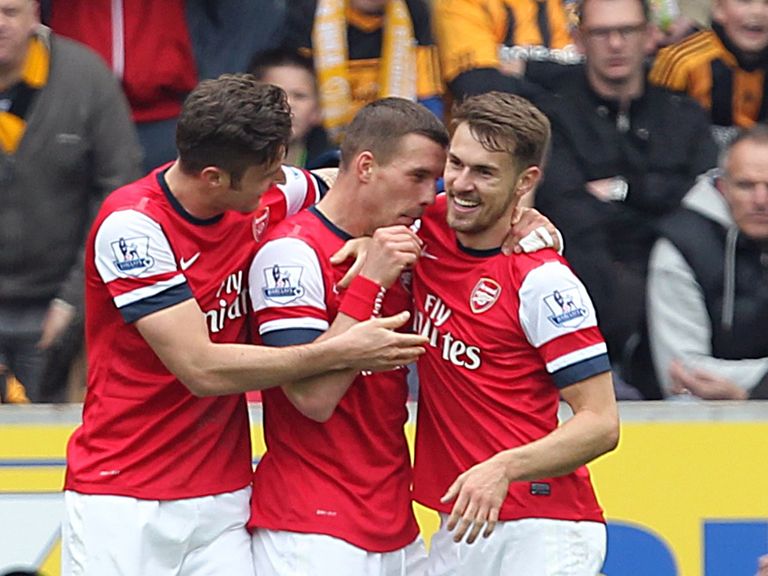 The two teams will meet at Wembley on May 17 after Arsenal saw off Championship side Wigan on penalties in their semi-final while Hull dramatically beat League One outfit Sheffield United 5-3.
There was Barclays Premier League business to attend to first, though, and the Gunners prevailed 3-0 in East Yorkshire thanks to Aaron Ramsey's classy opener and Lukas Podolski's double.
Wenger dismissed any thoughts of the high-profile rematch, and focused instead on retaining his side's slender advantage over Everton in the race for fourth place.
He said: "What is important is that we finish as strongly as we can in the Premier League. After that, the cup final will be completely different.
"We knew we had to win today, we had that kind of pressure.
"I think after the Wigan game, you could already see (in Tuesday's 3-1 win) against West Ham there was something better in our game and today there was much more oil in the engine again."
Ramsey shone in his first Premier League start since Boxing Day, while Mesut Ozil completed an effective, occasionally probing hour as he returned from a five-week absence.
Wenger said: "We were having problems scoring goals away from home and (Ramsey) and Ozil give us a cutting edge in the final third that makes us much more dangerous.
"Ozil has always the timing of the pass, the incisiveness of his passing helps you turn quickly from defence to offence."
While Wenger is focused on the top four, City boss Bruce is desperate to finally set aside the threat of relegation.
The 14th-placed Tigers are six points clear of the bottom three, of whom Cardiff and Fulham have only three games to play while Sunderland, a point further adrift, have four.
And Bruce, who felt his side should have been awarded a free-kick in the build-up to Arsenal's second goal, said: "I'm not really interested in Wembley just yet. We've got to stay in this league.
"We've got to concentrate on the next few games and make sure we get over the line, because we haven't done it yet.
"I always said if you get 10 wins (as Hull have), that's usually enough. It still might be, but it's too close for comfort.
"We've seen some unbelievable results at the weekend, it's concertinaed it.
"We're coming to the run-in and we've got a bit of a cushion - I'd rather be in our position than six of the others.
"We've got to see it through now. We've got a big name next week at Fulham and then we go to (15th-placed Aston) Villa, so all to play for."