No let up for Potters - Hughes
Mark Hughes has warned his Stoke players there can be no relaxation now they have done enough to be sure of Barclays Premier League football next season.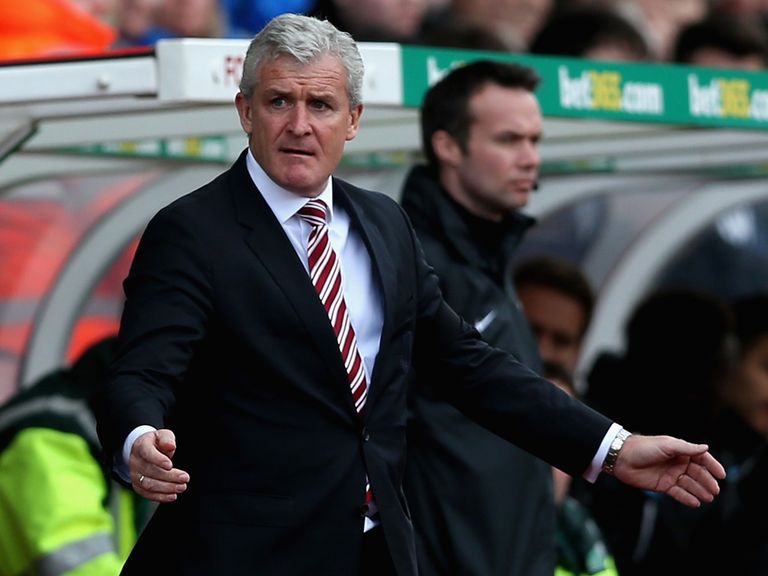 Last weekend's 1-0 win over Newcastle left the Potters 13 points clear of the relegation battle but as they prepare for Saturday's trip to a team still deep in the mire - Cardiff
- Hughes has demanded his team maintain the momentum which assured them of safety.
Stoke are 10th in the table, and if they can hold on to that position or even improve it it will be their highest ever finish in the Premier League, with former manager Tony Pulis and his Crystal Palace side those putting on the pressure behind.
"We haven't allowed the season to drift to its conclusion, and we aren't going to allow that to happen," Hughes said. "We are chasing targets that we have set ourselves, and if we can reach them then it will have been a very good season for us.
"Achieving one or two things that the club haven't done before would be fantastic. We won't sit here and pat ourselves on the back because we have had a good run of results because we have achieved nothing yet."
Cardiff reignited their survival hopes with a 1-0 away win at Southampton at the weekend, leaving them three points behind Norwich and the promise of safety.
"They will be buoyed by their recent win at Southampton and they will be determined to build upon that," Hughes said. "They are very much involved in a relegation fight so they are desperate to register maximum points on Saturday.
"Back to back wins can do wonders for you, so a lot of the emphasis for them this week would be to make sure they follow up last weekend's victory with another against ourselves.
"It will be important for us not to allow them to gain a foothold on the game because if they do that then we will be under pressure.
"We want to assert ourselves on them and try to take the game away from them. We are playing well and we are picking up points so it is a fixture we are all looking forward to."
Charlie Adam should be available for the match after an operation on his broken nose earlier in the week, but Matthew Etherington remains out while the match is probably too soon for Oussama Assaidi.
"Charlie had an operation earlier in the week and that went well so he will be available to us," Hughes said.
"He may look like the phantom of the opera with his mask on, but he is able to feature for us."