Can cunning Foxes survive?
Nick Miller assesses the prospects of Leicester City after booking their ticket to the Barclays Premier League.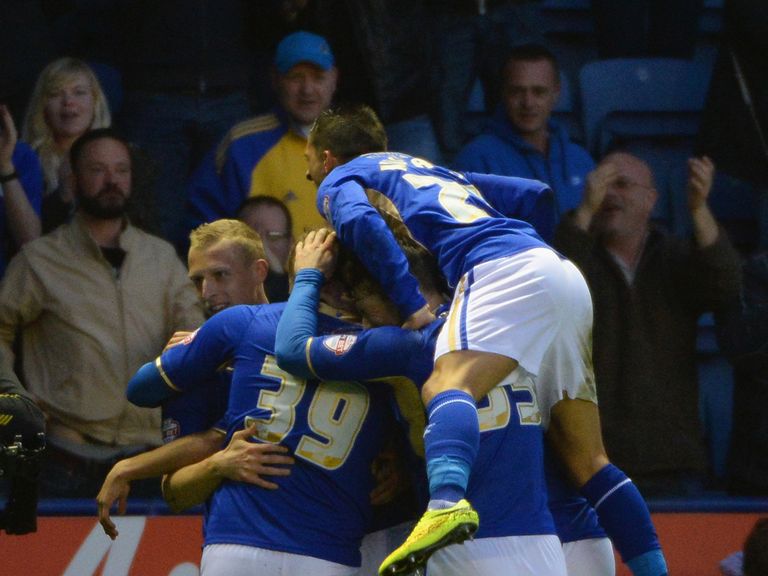 Should they beat QPR and Burnley lose at Blackpool this weekend, Leicester will be crowned as winners of the Championship.
However, even if it doesn't happen over Easter, Nigel Pearson's side will be elevated to the Premier League as champions at some point, and as their promotion was sealed with a full month of the season to spare, thoughts have naturally turned to how they will fare in the top flight next season.
At present, it looks like Pearson will continue the policy that has been so successful this term, specifically to largely trust the players he already has at his disposal, rather than spend big on new talent.
"We've got to go into it with a clear vision of how we want to approach the season," Pearson said recently.
"We're well down the line in terms of how we go about improving the squad but we have the nucleus of a very good side here anyway...
"The type of player and the quality has to be right but it's going to be about adding to what we've got. It's not about changing the fundamental make-up of the squad, it'll be about trying to complement what we already have to make us competitive."
Leicester's cash-splashing days under Sven Goran Eriksson when current owner Vichai Srivaddhanaprabha arrived back in 2010 seem to largely be over, and Pearson has built the best team in the Championship this season by improving and wringing every last drop of talent from the squad he already had.
Following their disappointing 2012/13 season in which they first scraped into then crashed out of the play-offs, it looked doubtful whether players like Jamie Vardy and Danny Drinkwater would be good enough to form the heart of a promotion-winning team, but this season those two in particular have improved to be two of the most important in the side.
However, quite obviously the step-up in quality from second to top tier is huge, so Pearson will have to choose which players he keeps and which he discards/replaces very carefully, but he is quite right when he says that Leicester have the nucleus of a strong team.
Wes Morgan has been one of the Championship's better defenders for some years, Drinkwater will keep the midfield ticking over nicely, Anthony Knockeart will be inconsistent but should provide enough moments of quality to be dangerous at the top level, while David Nugent has matured into a much cannier player since his previous spells in the Premier League.
Jamie Vardy has improved so much this season that he could quite conceivably do so again next season, Liam Moore is a defender who shows huge promise while Riyad Mahrez has impressed since arriving in January.
However, Pearson will have to add judiciously, and while many will clamour for a big name striker to arrive, history shows that a good defence is the best way for a promoted side to stay in the Premier League. Crystal Palace's season turned around after Tony Pulis tightened up their backline and Hull have conceded fewer goals than Liverpool, while Cardiff, the only one of the three promoted sides to still be in real trouble, have the second-worst defence in the Premier League.
A new forward to complement Nugent, Vardy and Chris Wood will be useful, but Pearson should focus on beefing up the defence. A new left-back is a must, with Paul Konchesky on the wane and Jeffrey Schlupp too attacking and positionally flighty to really be trusted in big games, while at least one central defender to play alongside Morgan should be recruited.
Pearson might also be well advised to bring in a solid, experienced goalkeeper as well. Kasper Schmeichel has generally done well in the Leicester goal, and indeed was linked with clubs as illustrious as AC Milan earlier in the season (although that might have been the work of a giddy agent trying to gain some traction during contract negotiations), but he is prone to errors, most notably when he donated a goal to Doncaster earlier in the season by dropping the ball into the net.
The Premier League will expose such errors harshly, and Pearson must surely consider recruiting someone at the very least as a back-up should something go awry, and if not to compete with Schmeichel for the starting spot.
There is no 'right' way for a team to go about staying in the Premier League, but there are plenty of wrong ones. Pearson has built a team that has left the Championship trailing this season, but he must step carefully if he is to turn it into one that can compete with the elite.
---
As ever, the race to get into the Championship playoffs is turning into a madcap bundle, with several teams trying to time their late-season surges into the top six and ride their form right into the Premier League.
Derby and QPR's spots in the end of season jamboree of nerves look safe, so there are two places up for grabs and a gaggle of teams are jostling for position, like commuters trying to cram themselves onto a busy train at rush hour.
Nottingham Forest's horrendous 12-match winless run has basically ruled them out, but anyone above them in the table still has a shot, meaning there are six clubs vying for two places.
Wigan, currently in fifth place, three points ahead of seventh and with a game in hand, look favourites to take one of them, but only a fool would predict which of Reading, Brighton, Ipswich, Bournemouth and possibly Blackburn will grab the final slot.
"I'm always talking about it with my team-mates, it is the craziest league I've ever been in," Reading's Royston Drenthe said recently.
He is not wrong, and as the final weeks of the season approach, the Championship is set to provide yet more evidence, if such evidence was needed, of its utter insanity.