Weekend review: Reds in charge
Our football panel reflect on the weekend's action, including Liverpool taking centre stage in the title race.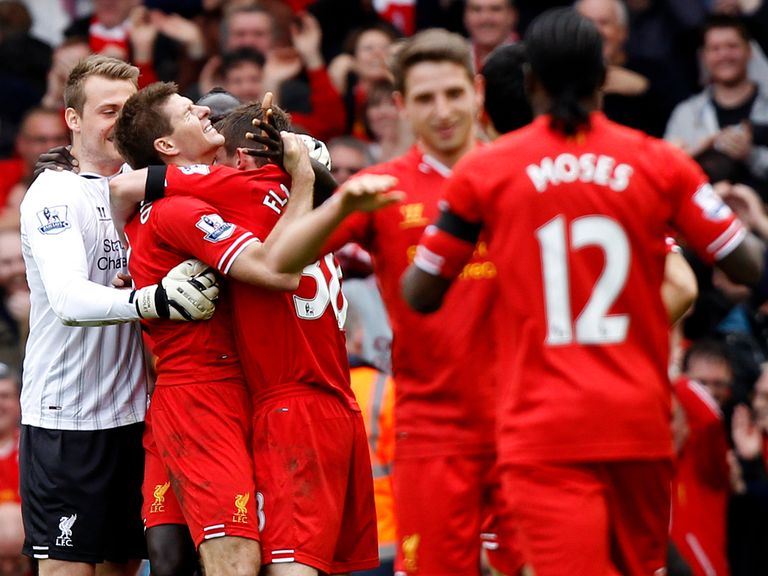 Liverpool are in pole position for the title following the 3-2 victory over Manchester City. Can City or Chelsea do anything to stop the Reds?
Simon Crawford: Momentum is so crucial at this stage of the season, whether you are at the top or at the bottom, and Liverpool are the Premier League's form team with that dramatic win over City making it 10 victories on the spin. Just four games left for the Reds and if they win them all then they win the title, regardless of what other teams do. However, that is a big ask. Chelsea still have to go to Anfield so they can still have a massive say on where the title ends up. But their task is made much more difficult by the fact that the Liverpool clash is sandwiched between their two-legged Champions League semi-final with Atletico Madrid. They have the squad to cope with three huge games in the space of a week - but are they good enough to win them all? City have those two games in and all they can do is win them to keep up the pressure and hope Liverpool do slip up. But I think Brendan Rodgers' side showed so much resolve and determination in beating City that they have conquered a lot of demons and the title is now theirs to lose.
Nick Hext: Chelsea can definitely do something! They can beat Liverpool at Anfield in a couple of weeks to put Manchester City in the mathematical driving seat - presuming that is City win their two games in hand. City also have a very tricky clash at Everton to contend with so it's by no means certain they take maximum points until the end of the campaign. Chelsea also have the Champions League semi-final against Atletico Madrid to think about - both legs sandwiching the trip to Anfield - so Liverpool are very much in charge. The Reds showed great tenacity to recover from throwing away a 2-0 lead to win on Sunday and that bodes well for the final run-in. Trips to Norwich and Crystal Palace could provide a few hairy moments though as the survival race rolls on.
David John: For the first time this year the Reds are odds-on for the title with their destiny in their own hands. What was impressive about Liverpool's win over Manchester City was the fact they did not fold after blowing a two-goal lead. City had all the momentum at the time yet they not only held on they had the belief to go looking for a third and the victory. Both City and Chelsea will be hoping that pressure of the situation is going to lead to a false step or two on Merseyside while Chelsea will have a chance at the end of the month to try and throw a spanner in the works with a visit to Anfield. Brendan Rodgers will need a bit of a rejig with Jordan Henderson suspended for three games after a silly late red card and his leadership will be key to getting his team across the line in what has been a magnificent season.
Hull will face Arsenal in the FA Cup final. Any chance of an upset from the Tigers?
SC: The cup has been full of upsets this season so why can't there be another one? Wigan proved that last season when they beat Manchester City against all the odds. Arsenal hardly marched into the final, needing a penalty shoot-out to get past the Latics. If the Gunners fail to clinch a top-four spot this season, which now looks increasingly likely with Everton is such superb form, then the pressure to win the cup and salvage the season will be enormous - I say salvage the season, but even winning the FA Cup won't be enough in the minds of many fans if they don't have Champions League football to look forward next season. Hull will go to Wembley with nothing to lose and everything to gain. It's all set up for them and remember the last time Arsenal were in a Wembley final? They lost 2-1 to Birmingham City in the 2011 Carling Cup final and they will be constantly reminded of that in the build up, as will the fact they have not won a trophy for nine years. Will they cope with the pressure? I would not be surprised if their season completely went off the rails.
NH: There is if Arsenal play like they did against Wigan. It was pretty lacklustre stuff from the Gunners and all credit goes to Wigan for the way they once again performed against more-fancied opposition. Arsenal are Sky Bet's 2/7 favourites to lift FA Cup and that isn't a price that appeals to me. That's not to say Arsene Wenger won't end his trophy drought. Rather it can't be considered a foregone conclusion. Hull are missing Nikica Jelavic and Shane Long when they play in the competition but goals weren't a problem in the 5-3 victory over Sheffield United. Better is needed at the back but I reckon we are set for a very interesting match when the sides go back to Wembley.
DJ: Of course there is. It would be much less of a shock than Wigan rolling over Manchester City 12 months ago as Steve Bruce's men have plenty in their favour. They play the classic underdog role this year and have the added bonus of being able to play on any nerves Arsenal will have as they try and end their particular trophy drought. Steve Bruce has plenty of Wembley final experience from his playing days and I would not put it beyond them in a one-off situation to pull this one off against the superior quality of the Gunners.
Let's stay on the subject of Arsenal. Was Arsene Wenger a penalty shoot-out defeat away from losing his job?
SC: In a word - yes! Wenger MUST deliver something this season, whether that be a top-four finish or a trophy. His trump card has always been the fact that he has led the Gunners to a Champions League place, but that is far from being a certainty this season with Everton having now overtaken them. And as I've said earlier, if they finish outside of the top four would even winning the FA Cup appease the fans? I accept the fact Arsenal have been hard-hit by injuries this season, but for me the club has become stale and spirit is lacking. Maybe it is time for a change ... no matter what happens.
NH: No but there will be serious, serious questions for him to answer if Arsenal miss out on the top four. Everton are the side in form and just keep on winning to throw the pressure on the Gunners. Winning the FA Cup and finishing in the top four will be great for Wenger and give him security to continue his tenure in charge. Missing out on yet another trophy and dropping to the Europa League will have the opposite effect. It would be a real diversion away from the recent off-field behaviour at the Emirates if the board act in haste at the end of the season. Expect more headlines over the summer and the questions to continue for a while yet.
DJ: If not, he was certainly on some very thin ice. I am a big fan of Wenger and his thoughtful approach to the game but I just don't know what his next move would have been after another season with the cupboard still bare since 2005. Arsenal's position in the top four as well is under serious threat from an excellent Everton team so even the safe-haven of delivering a place in the Champions League for next season could be in doubt. I did fear for Arsenal in the shoot-out but thanks to some ropey efforts from Wigan, the Gunners steeled themselves sufficiently to progress to the final. This could be the catalyst for a positive end to the campaign which will keep Wenger in situ in north London.
The survival battle took more twists and turns on Saturday. Can Norwich do anything in their horrific run-in to avoid relegation?
SC: It was Norwich City's 'cup final' at Fulham on Saturday and they blew it. Victory would just about have kept them up in my view as it would have demoralised the Cottagers and I think Sunderland and Cardiff have already bitten the dust. Now they have Liverpool on Saturday who have put five goals past them in each of the last three meetings so you can't see them getting anything there. Then it's trips to Manchester United and Chelsea before a home game with Arsenal. The only glimmer of hope is that United haven't got that much to play for, Chelsea could be distracted by the Champions League or be out of the title race by then and Arsenal might also have little to play for on the final day. It's slim pickings I'm afraid but ultimately Norwich only have themselves to blame for getting themselves into such a precarious position.
NH: You can see the full run-ins of the contenders further down this page and it doesn't make pretty reading for Norwich. We could have seen the last points arrive at Carrow Road in this season's Premier League and if that's the case it will be goodbye to the Canaries. The decision to sack Chris Hughton was made too late if they'd already lost faith in him and defeat at Fulham makes it almost mission impossible. Neil Adams does have the backing of the fans but more than that is required when your 'easiest' looking match is a trip to Manchester United. I reckon Fulham will take advantage and Felix Magath will be the happiest man in town. That is until his players report back for a very tough pre-season!
DJ: Norwich's players looked shattered after losing to fellow battlers Fulham at the weekend, giving the impression they expected that was their last chance for three points with Liverpool, Manchester United, Chelsea and Arsenal left to face. That is 12 points to play for and I doubt you would find too many people predicting them getting any return never mind the half-a-dozen points they are likely to need. It all comes down to psychology at this stage for the Canaries. They are a Premier League outfit - at the moment - and will have to believe they can go out and compete against four intimidating sides that still very much have something to play for at the time of writing. I wonder if you offered them four points now they would take it and cross their fingers?
TITLE/TOP 4
LIVERPOOL (Pld 34 Pts 77 GD +51)
Apr 20 - Norwich A
Apr 27 - Chelsea H
May 5 - Crystal Palace A
May 11 - Newcastle H
CHELSEA (Pld 34 Pts 75 GD +42)
Apr 19 - Sunderland H
Apr 27 - Liverpool A
May 4 - Norwich H
May 11 - Cardiff A
MANCHESTER CITY (Pld 32 Pts 70 GD +54)
Apr 16 - Sunderland H
Apr 21 - West Brom H
Apr 27 - Crystal Palace A
May 3 - Everton A
May 7 - Aston Villa H
May 11 - West Ham H
EVERTON (Pld 33 Pts 66 GD +22)
Apr 16 - Crystal Palace H
Apr 20 - Manchester United H
Apr 26 - Southampton A
May 3 - Manchester City H
May 11 - Hull A
ARSENAL (Pld 33 Pts 64 GD +16)
Apr 15 - West Ham H
Apr 19 - Hull A
Apr 28 - Newcastle H
May 4 - West Brom H
May 11 - Norwich A
Chelsea are still in the Champions League, while Arsenal are still in the FA Cup.
RELEGATION
SUNDERLAND (Pld 32 Pts 25 GD -25)
Apr 16 - Manchester City A
Apr 19 - Chelsea A
Apr 27 - Cardiff H
May 3 - Manchester United A
May 7 - West Brom H
May 11 - Swansea H
CARDIFF (Pld 34 Pts 29 GD -34)
Apr 19 - Stoke H
Apr 27 - Sunderland A
May 3 - Newcastle A
May 11 - Chelsea H
FULHAM (Pld 34 Pts 30 GD -40)
Apr 19 - Tottenham A
Apr 26 - Hull H
May 3 - Stoke A
May 11 - Crystal Palace H
NORWICH (Pld 34 Pts 32 GD -27)
Apr 20 - Liverpool H
Apr 26 - Manchester United A
May 4 - Chelsea A
May 11 - Arsenal H
WEST BROM (Pld 33 Pts 33 GD -11)
Apr 21 - Manchester City A
Apr 26 - West Ham H
May 4 - Arsenal A
May 7 - Sunderland A
May 11 - Stoke H

SWANSEA (Pld 34 Pts 33 GD -5)
Apr 19 - Newcastle A
Apr 26 - Aston Villa H
May 3 - Southampton H
May 11 - Sunderland A
ASTON VILLA (Pld 33 Pts 34 GD -14)
Apr 19 - Southampton H
Apr 26 - Swansea A
May 3 - Hull H
May 7 - Manchester City A
May 11 - Tottenham A
HULL (Pld 33 Pts 36 GD -6)
Apr 19 - Arsenal H
Apr 26 - Fulham A
May 3 - Aston Villa A
May 6 - Manchester United A
May 11 - Everton H
CRYSTAL PALACE (Pld 33 Pts 37 GD -15)
Apr 16 - Everton A
Apr 19 - West Ham A
Apr 27 - Manchester City H
May 5 - Liverpool H
May 11 - Fulham A
WEST HAM (Pld 33 Pts 37 GD -7)
Apr 15 - Arsenal A
Apr 19 - Crystal Palace H
Apr 26 - West Brom A
May 3 - Tottenham H
May 11 - Manchester City A
Hull are still in the FA Cup.
---
New Sky Bet customers: Free matched bet up to £30
---