Mourinho's Swansea focus
Chelsea face Swansea on Sunday with Jose Mourinho determined to focus on the Barclays Premier League when anticipation is building towards the Champions League semi-final with Atletico Madrid.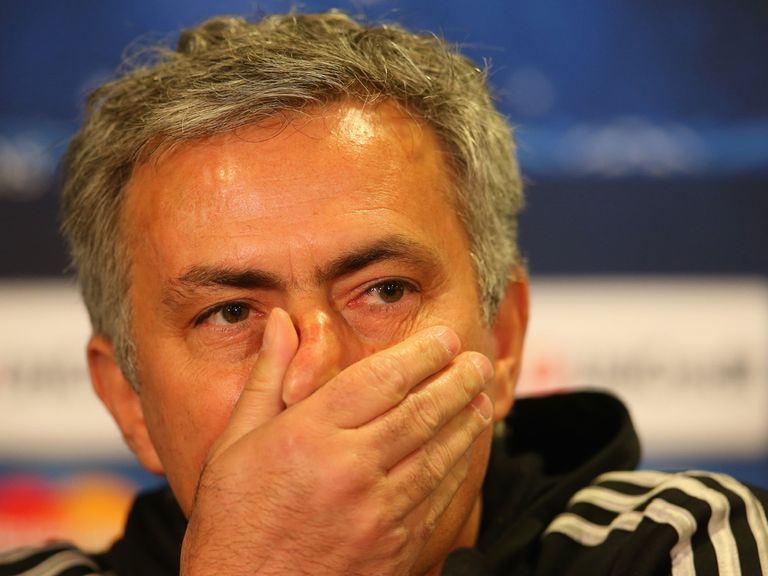 Mourinho decided not to hold his weekly media conference in expectation of questions related to Friday's Champions League draw, drawing his players' focus away from the Liberty Stadium clash.
Mourinho wrote off Chelsea's Premier League title hopes after the loss at Crystal Palace, but with Liverpool and Manchester City locking horns at Anfield on Sunday, the Swansea match represents an opportunity.
Chief executive Ron Gourlay told chelseafc.com: "If someone said to me at the start of the season that with five weeks to go, we are still in the Champions League semi-final and in the shake-up for the Premier League, I would have taken that. This is what we work for all season."
Gourlay added on Sky Sports News: "Everyone says we've got to strengthen the team but we have a fantastic team.
"We keep hearing we're not strong enough but we have a fantastic pool of players and a great manager.
"Everyone's pushing in the same direction."
Mourinho has questioned the quality of his strikers, although the little used Demba Ba netted the decisive goal in Tuesday's quarter-final win over Paris St Germain.
Mourinho wants to recruit a 'killer' goalscorer this summer, something which will require a major outlay from Chelsea.
Gourlay added: "If the right players are available to strengthen the team we'll look at it - but that's at the end of the season."
Mourinho has demonstrated his tactical nous and man-management this week against PSG and now must do so again to arrest Chelsea's three-match losing streak away from home.
The first loss was a controversial 1-0 defeat at Aston Villa which saw Mourinho sent to the stands after approaching referee Chris Foy.
Mourinho attended a personal hearing on Wednesday following an improper conduct charge, but a day later the Portuguese was fined £8,000 and warned as to his future conduct by the Football Association.
It is understood Mourinho is unhappy with the verdict and is waiting for the independent regulatory commission's written reasons before deciding how to respond and whether to appeal against the ruling.
Gourlay added: "Jose's got my absolute support with this, but I think it's only right to see the written response from FA, then we'll move on from there."
Chelsea have five games remaining in the Premier League and there are expected to be twists and turns in the title race to come.
The Blues, the last remaining English team in Europe for a third successive season, go to Anfield between legs of the Champions League semi-finals.
The proximity of the April 22 first leg in Madrid means Chelsea's home match with Sunderland has been brought forward from April 20 to April 19, with a 17:30 kick-off.
Ba could be given a first Premier League start since October at Swansea, but Eden Hazard is likely to miss out a first return to the Liberty Stadium since he was sent off for kicking a ball boy during the Capital One Cup semi-final in January 2013.
Hazard suffered a calf injury in the first half of the defeat of PSG.
Mohamed Salah and Nemanja Matic are available after being ineligible in Champions League competition, while midfielder Ramires is back from a three-match domestic ban following his dismissal at Villa Park.