Poyet puts on brave face
Sunderland head coach Gus Poyet has told his players to be brave as they attempt to launch an unlikely bid for Barclays Premier League survival.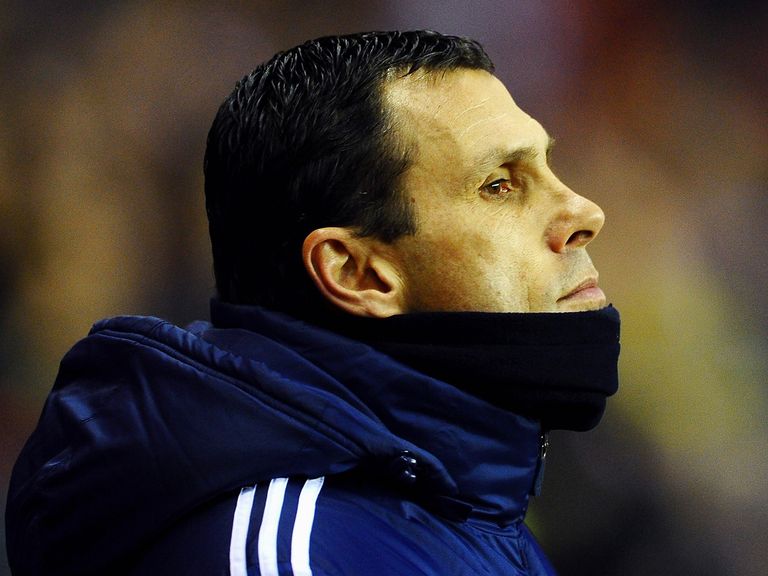 The Black Cats slumped to the foot of the table after a disastrous few days last weekend which saw Fulham, West Brom and Crystal Palace all win before they were thrashed 5-1 at Tottenham on Monday evening.
Poyet's men host Champions League-chasing Everton on Saturday now seven points adrift of safety and knowing their two games in hand will count for little if they do not manufacture a significant improvement in form.
The 46-year-old Uruguayan admitted after the debacle at White Hart Lane that his side would need a miracle to stay up, and had called upon his players to stand up and be counted in the club's hour of need.
Poyet said: "We try, we try to be brave. We have played games away from home against top teams and we have left one up front and we did okay; against Liverpool, we left two all the time and we did better; and against Spurs, we left two and we were terrible.
"That's shows you that it doesn't matter too much sometimes, all the plans and all the things because it depends what happens on the pitch in 90 minutes, how we cope with situations, how we pass the ball, how we defend.
"But maybe that word, being 'brave' is one of the biggest ones in this situations."
Poyet finds himself in a largely unaccustomed position having enjoyed a successful playing career and an encouraging managerial baptism at Brighton before being handed his big chance on Wearside.
While he arrived at the Stadium of Light with his eyes open - the club had taken just one point from the first 21 on offer the day he took over from Paolo Di Canio - he admits it is not a situation he relishes.
He said: "It's not nice, it's not enjoyable, but I knew it. When I got the job, I knew it.
"It was a big challenge, it was really, really difficult - people were saying even impossible - so we will see.
"I am still here until the last minute believing it is going to be a possibility. If somebody tells me the opposite, then we will see."
Sunderland may need to win as many as four of their remaining seven games to stand a chance of dragging themselves out of trouble, and given the fact that they have collected just a single point from the 15 they have contested since losing the Capital One Cup final to Manchester City on March 2, that would be no mean feat.
However, Poyet refused to employ hindsight when asked if they could have done without their cup runs.
He said: "I am not making opinions afterwards because it is too easy. I know how you are and if we lost against Kidderminster [in the FA Cup fourth round], you would have said to me it was terrible because I didn't play my best team against Kidderminster.
"Again, I can't win. You look at everything after it happens; I look at everything before it happens, that's my job."
Poyet, who has effectively ruled out striker Steven Fletcher for the rest of the campaign through injury and revealed that contract talks with both Jack Colback and Phil Bardsley have stalled, is instead concentrating solely on the task of getting the better of Roberto Martinez.
He said: "David Moyes left something special, and then a manager with a very special way of playing football and convincing people the way to play took over and gave them something different to enjoy as well.
"For the first season at that level, Roberto has been outstanding and I hope - apart from Saturday - he can make the top four, which is probably the aim, I don't think at the beginning of the season, but probably now."