Martinez keeping feet on the ground
Manager Roberto Martinez's dream of getting Everton into the Champions League moved closer to becoming reality with a 3-0 victory over Arsenal but he knows there are more twists to come this season.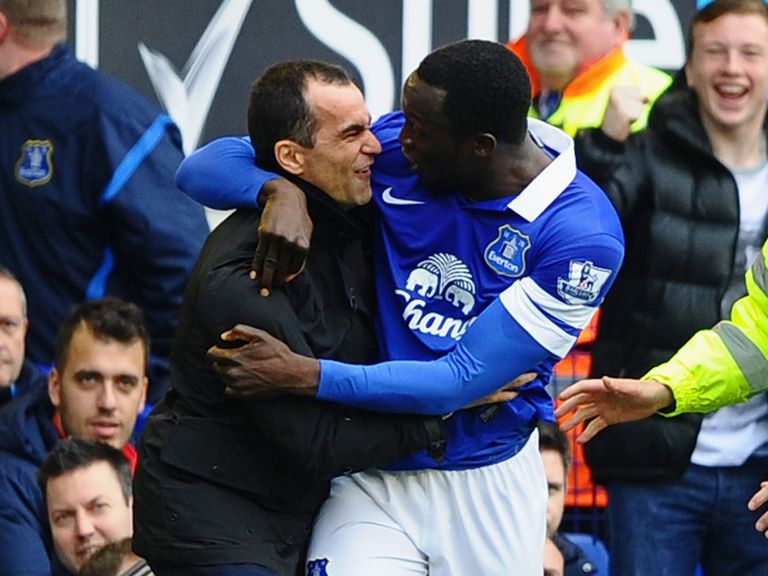 The Gunners were completely outplayed as Steven Naismith and Romelu Lukaku gave the hosts a first-half lead before former Toffees midfielder Mikel Arteta put through his own net after the break.
The victory equalled a club record six in succession in the league and moved Everton to within a point of their fourth-placed opponents, while they still have a match in hand at home to Crystal Palace.
"What is important is when you are a team you have to have an aim," said Martinez.
"It can be an easy aim or you can reach high and try to have a dream to follow.
"I always like to have a dream to follow. When it was Swansea it was to get into the Premier League, at Wigan it was to get into Europe and at club with the heritage of Everton it is to get into the Champions League.
"There is still a long, long way to go. Arsenal from now have 15 points to fight for and it is going to be a really tough battle.
"You expect Manchester United and Spurs to have a strong ending to the season.
"We need to be perfect now against Sunderland (next weekend) - that is a real challenge.
"Can we be flexible enough to adapt now until the end of the season?"
Arsenal manager Arsene Wenger knows his side have to start playing better if they are to extend their 16-season residence in Europe's elite club competition.
"I am absolutely 100 per cent determined to fight to make the top four but it will be difficult," said the Frenchman.
"We have still a programme that is feasible but we have to first focus on the quality of our performances before we dream of places.
"Let's get back to playing better than that. Our performance was not convincing, not defensively, not offensively.
"We had a lot of the ball and were not really dangerous. At the moment we lack a bit of confidence to be dangerous and lack penetration as well.
"You feel from outside that the penetration and incisiveness of our games is missing.
"Everton were better and deserved to win. It was a very disappointing result and a very disappointing performance.
"We have to regroup and get back to basics.
"The fight is very open and is depending not only on us. Everton are in a strong position but we have confronted that before and it is how we respond."
---
New Sky Bet customers: Free matched bet up to £30
---