Naismith learning new tricks
For Everton forward Steven Naismith, every day is a school day under manager Roberto Martinez.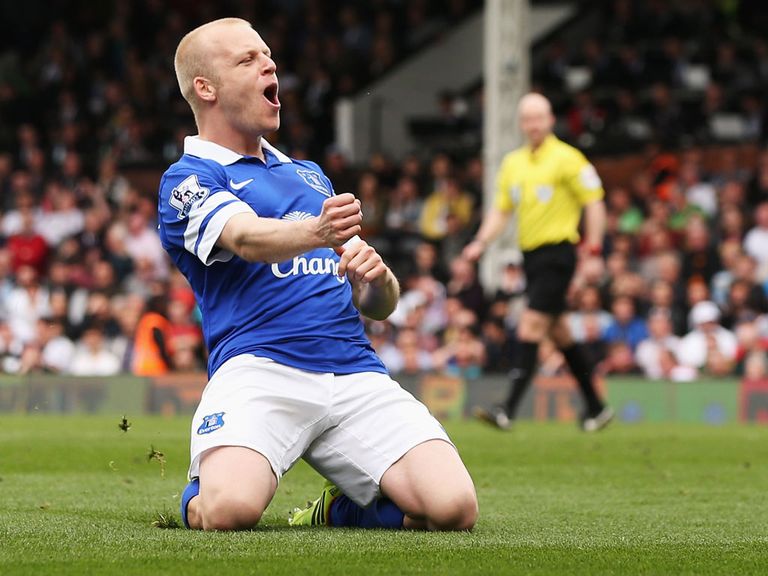 The 27-year-old may have played more than 250 senior matches and 28 internationals for Scotland, but he admits he is learning more than ever thanks to the guidance of the Spaniard.
It has even got to the stage where Naismith is doing "homework" when watching matches on television, just in case his manager should ask him a question about it the next day.
"He has opened my eyes to a totally new way of playing football," Naismith told Press Association Sport.
"I am really interested in it, so when he does talk to you about things which may have happened in a game the night before it will be something you have learned off him in terms of watching to see how teams work.
"He will say 'did you notice this?' and it is not something you just say 'oh aye' just for the sake of it, you have a conversation with him.
"It is kind of being like at school, you are learning all the time.
"Sometimes you find yourself watching games and you think 'the manager might come and talk to me about this' so you end up taking note of what's happening."
Naismith came off the bench at Fulham at half-time last weekend to turn the game, creating one goal and scoring another, and he admitted afterwards he had watched the first half carefully to see where he could make an impact.
That is something else which he has learned to do over time.
"It's funny because there are so many different aspects to being on the bench - from being peed off you're not playing to just thinking so many different things that your mind could not be on working out how you can improve the team," he added.
"Nowadays it is a squad game and the few games I have come on and had a good impact you understand that it is about the squad and the manager has made that clear here.
"As I've got older I have learned to watch where I'm likely to come on and you do pick up things and see things that happen.
"I definitely pick up things like how I can get a chance on goal or cause problems to the other team's defence: styles of play, the formations - so much goes on in games that you can capitalise on these things."
Naismith has made just seven league starts (compared to 17 substitute appearances this season) but has scored three goals and every one of those has been in an Everton victory.
In 34 appearances last season he scored only four goals in total and in 29 games in all competitions this campaign he has seven, but it is all-round influence which had been most effective.
"With it being more expansive, there is more freedom given to the forward players and something which has changed for me is I've played more centrally, which for me is the ideal position to play as I feel most comfortable in," said the Scot.
"You get more confidence from that when you feel comfortable."
Everton host Arsenal on Sunday in what is being billed a Champions League qualification decider, with the Toffees just four points behind their fourth-placed opponents with a match in hand.
Naismith made 15 appearances in the Champions League for Rangers - a total surpassed by only Aiden McGeady, Steven Pienaar and Arouna Kone in the current squad - but insists he never believed leaving Scotland meant leaving Europe's elite club competition behind.
"It is definitely a harder task (in England) but there was definitely a belief within the squad we could do it," he added.
"Maybe our chances last season fell away quicker than this season but there is a real belief in the squad and we've given ourselves a great chance and that is what drives us.
"I don't think we ever gave up but we were getting to last chance saloon in terms of the games coming up so we knew we had to go on a good run of form.
"The team with points in the bag are always the team who are favourites; you can speculate on the games left but points are crucial.
"But it is so close and we have a game in hand so we have to be professional and get the results."