Barca 'angry' at transfer ban
Barcelona president Josep Maria Bartomeu claims his club are the victims of a "grave injustice" after being handed a year-long transfer ban by FIFA for breaching the governing body's rules on the transfer of players aged under 18.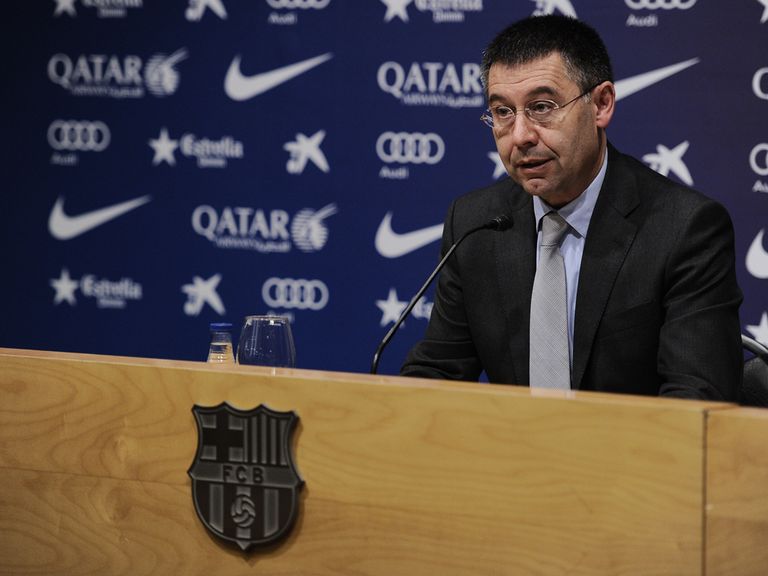 The Spanish champions were sanctioned on Wednesday by FIFA's disciplinary committee for breaking the rules in the case of 10 under-18 players, and have been punished with a transfer embargo covering two transfer windows and a fine of 450,000 Swiss francs (£305,000).
Barca subsequently announced they would be appealing against the ruling to FIFA and, if necessary, would then take their fight to the Court of Arbitration for Sport (CAS).
The Catalan giants also defended their actions in a 14-point statement on Wednesday night, and on Thursday Bartomeu held a press conference to further explain Barca's stance.
Speaking to fcbarcelona.com, the president said: "We're angry because we think we're the victims of a grave injustice. It's an excessive measure.
"We have 10 days in which to appeal and we will first notify the appeal committee in writing within the first three days. If necessary, we will go to CAS.
"We must protect children and prevent them from being used as commodities by unscrupulous people who do not seek the best for their future, but instead for their own economic benefit.
"That (the exploitation) is not the case at this club."
The sanctions have highlighted the practices of clubs scouring the world for young talent and taking children from their home countries in defiance of FIFA's rules.
FIFA only allows international youth transfers when one of three situations apply: the player's parents have moved country for their own, non-related reasons; the move takes place within the European Union if a player is aged between 16 and 18; or the player's home is less than 50 kilometres from the national border being crossed.
Barca currently have a trio of youth players from South Korea, including much sought-after 15-year-old striker Lee Seung-woo, plus other players from Africa.
In a statement published on their official website on Thursday, Barca said FIFA had on February 5, 2013, sought specific information concerning Lee's registration.
But by November 26, 2013, FIFA had requested information relating to a total of 37 Barca players and two days later reached a decision on the sanction announced on Wednesday.
Bartomeu, who is waiting to talk directly to FIFA president Sepp Blatter, revealed his surprise that a decision four months ago had not been communicated until now.
"We have had dialogue with FIFA since November," he said. "Following this sanction, the body has been asking for information about our youngsters.
"I'll talk to Blatter, who is travelling. A phone call is pending, but I have talked to the Secretary General (Jerome Valcke) of FIFA, who also considers the punishment to be excessive.
"We have the necessary arguments that will get this sanction lifted. We will fight against this punishment to the very end with our legal teams."
Barca on Thursday published a full history of communications between FIFA and the club concerning the registration of under-age players - communications spanning the last 14 months.
The history revealed that, out of a total of 37 players investigated, FIFA considered that nine did not fulfil the conditions laid out in the Rules for Transfer of Players.
Due to appeals rules, Barca should be able to bring in players this summer, including the arrivals of Croatian Alen Halilovic, who turns 18 in June, and Borussia Monchengladbach keeper Marc-Andre ter Stegen, who has been heavily linked with a move to the Nou Camp.
---
New Sky Bet customers: Free matched bet up to £30
---