Costa injury worry for Atletico
Atletico Madrid star Diego Costa is a doubt for Tuesday's Champions League quarter-final with Barcelona after limping out of training with a thigh problem.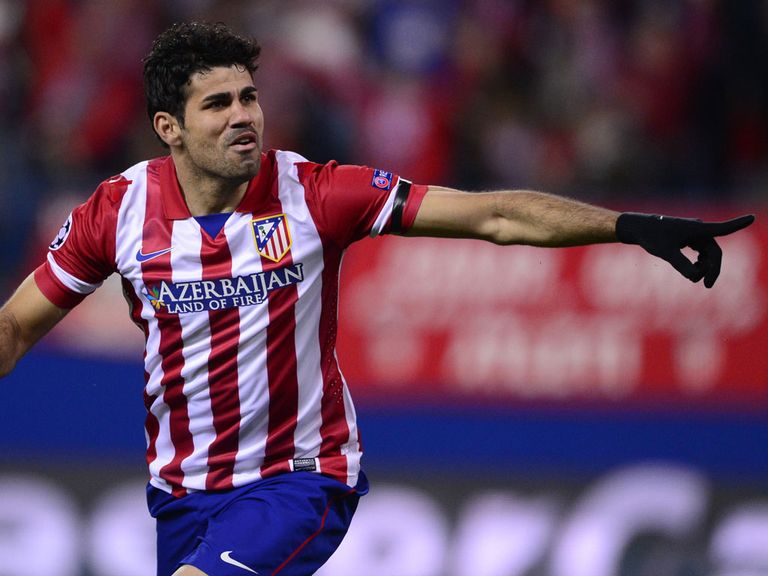 Alarm bells were going off when Costa retired from Atletico's training session at the Nou Camp on Monday evening just five minutes after it had begun, accompanied by the club's physiotherapist and complaining of discomfort in his right thigh.
Manager Diego Simeone then said it was "unlikely" his star striker would play in Tuesday's first leg.
"The medics will evaluate his condition but I reckon it is unlikely that he'll play tomorrow," he said.
Costa was taken off towards the end of Atletico's 2-1 win at Athletic Bilbao on Saturday with a similar complaint.
At the time, Simeone said: "If Costa is fit he'll play, if he is not, he won't."
Simeone had earlier spoken about how Costa is as decisive for his team as Lionel Messi is at Barcelona.
Barcelona stand between the Los Rojiblancos and a first European Cup semi-final place since 1974, and all the pre-match talk has been of Costa - even more so following Monday evening's development.
It could all be a case of mind games ahead of a tie which sees Primera Division leaders Atletico play their first quarter-final tie since Simeone lined up for Atleti against Ajax in 1997.
Costa, who has scored 32 goals in 34 games across all competitions this season, is crucial to their hopes of beating Barcelona, who have made it to the semi-finals in each of the last six seasons.
Barca defender Dani Alves insisted before the game that his team would not just be paying attention to Costa, praising Atletico's strength as a group, but Simeone had no shame in admitting the striker's value to his team, as mixed messages over his condition won the day.
"Cristiano Ronaldo, Messi and Diego Costa, each in their own way, are completely transcendental," Simeone said.
"Tomorrow's game will be a meeting of two players in great form. Diego keeps growing every day as a player, while Messi is showing that the two months of rest he took to arrive in good shape for the World Cup have served him well."
Atletico's ability to stay in a title race with two teams that have far superior wage bills has been one of the more remarkable stories in European football this season, not to mention the ease with which they topped their Champions League group and then saw off AC Milan in the last 16, beating the seven-time European Cup winners 5-1 on aggregate.
But for Simeone, it is easy to explain: "We have a marvellous group of players, with which we have been able to build a real team which keeps growing from one day to the next," he said. "It's just down to work, it couldn't be more simple."
His prediction of Tuesday's match game was not complex either.
He added: "Their game is based on having the ball and ours on having space. We'll find out who is stronger in this game."
The Argentinian coach was also cynical of Barcelona boss and compatriot Gerardo Martino's claims that the Catalans would treat the first leg with caution, mindful that "the game will be played over 180 minutes".
"Barca can say what they like, they will want to decide the game tomorrow," said Simeone.
Atletico midfielder Tiago Mendes, meanwhile, remarked that his team were the neutral's favourite, repeating comments he had made previously that Atletico were "the Robin Hood of football", alluding to the difference in their wage bill and that of the clubs they are competing with in Spain and in the Champions League.
"I think that we have our own identity. It is very easy for people to identify with us, also because in society we are living through a period of crisis and we are fighting in the Champions League with a much lower budget," said the former Chelsea man.
"I think that we have our own identity. That is where the similarity between Robin Hood and our team comes from."
The Portuguese admitted that Barcelona, having won the tournament in 2009 and 2011, have superior experience in Europe's elite competition than Atleti, but insisted his team, which under Simeone has won the Europa League, the European Super Cup and Spain's Copa del Rey, had the necessary mentality to compete in the big occasions.
"We have a team full of players that know what it is to play in finals," he said. "That's why this team is so confident. We are prepared."
While Costa is an injury doubt, Atletico will certainly be without midfielder Raul Garcia, who is suspended, plus injured defender Javier Manquillo.
---
New Sky Bet customers: Free matched bet up to £30
---