Pulis targets team effort
Tony Pulis is hoping his Crystal Palace team can be greater than the sum of its parts to pick up a result against Barclays Premier League leaders Chelsea on Saturday.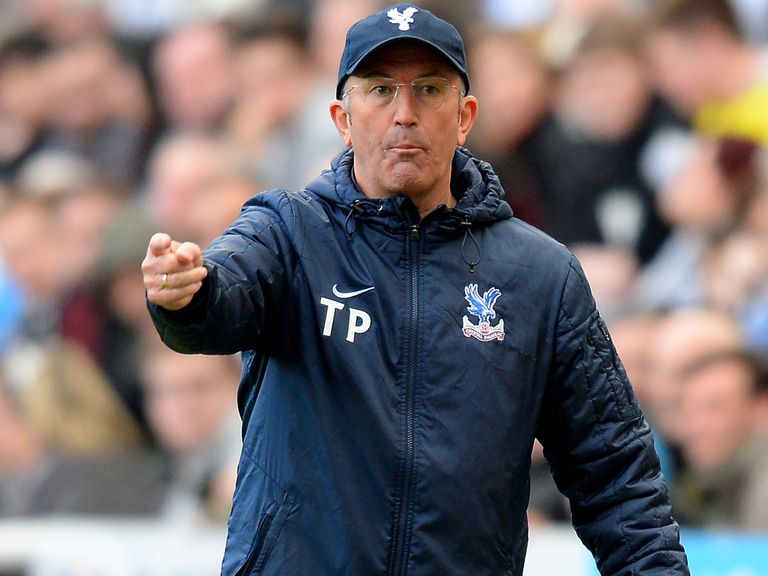 The Eagles sit 17th in the table and are just three points clear of the relegation zone, with Jose Mourinho's Blues visiting Selhurst Park having thrashed Arsenal 6-0 last weekend.
Former Stoke boss Pulis admitted Chelsea have better players than he has at his disposal but believes a strong team ethos can lead to them springing a surprise.
"If you're looking at the balance of the two clubs and what they have and haven't got it is a very uneven contest," he said.
"But football is a funny old game, if we set ourselves up well and give everything we possibly can, you never know.
"If you put our players up against their players individually I don't think there are many of our players who would get into their team.
"But collectively, as a group and as a team, if you are working together and putting things in place you can make it difficult for them."
Chelsea hit six last Saturday and also put four past Tottenham earlier in the month, whereas Palace are finding goals difficult to come by as the season enters its most crucial stage.
With just one goal in their last five games, coupled with the fact strikers Marouane Chamakh and Dwight Gayle are missing through injury, Pulis wants his side to be more ruthless in front of goal - while also being strong at the back.
"They have got some outstanding players," he said.
"There is no doubt that we will have to defend well but we also have to be a threat going forward and when we get our chances we are going to have to start taking them.
"We have talked about it this week with the players, when we get in there we need to start hitting the target, there are a lot of occasions when we get in there and snatch at things.
"You need a little bit of luck along the way but you need players who are going to relish the challenge and the players have got to do that."
Palace went down to a hard-fought 2-1 defeat at Stamford Bridge in December in Pulis' first away game in charge of the club.
Having pushed Chelsea further than a lot of other visitors to west London so far this season many would expect Pulis to take great confidence from that performance going into the reverse fixture.
But the Welshman does not think the two games can be compared, with Palace under increased scrutiny to pick up much-needed points to maintain their Premier League status.
"That was then - there are never two games that are ever similar," he added.
"Games are always different and they are playing under a little bit more pressure now. We hit a level and the expectations then rise so they have to handle that. I'm sure they will do that."