Martinez: Ban difficult for Pardew
Everton manager Roberto Martinez believes Alan Pardew's touchline ban will have personally hurt his Newcastle counterpart more than it has his team.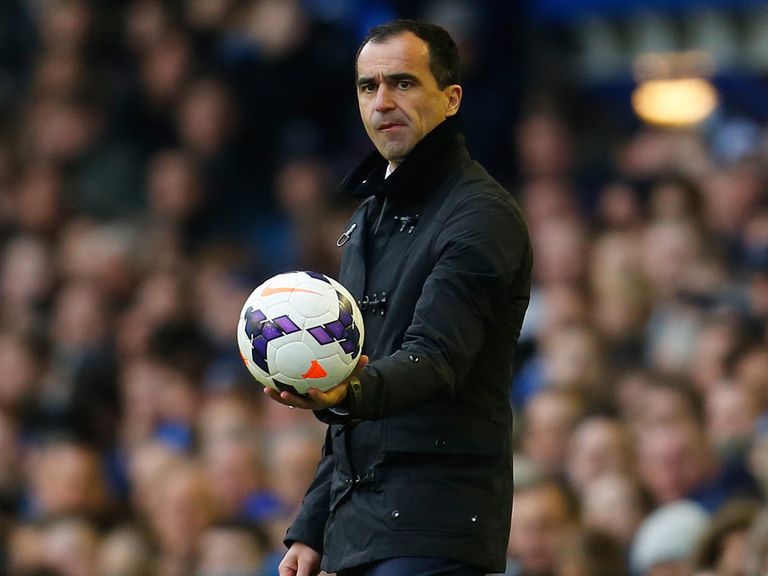 While the Spaniard will take up his trademark virtually motionless arms-folded stance in the technical area at St James' Park on Tuesday night, Pardew will be watching at a distance via a television feed.
The Newcastle manager serves the third and final instalment of his stadium ban - a further four games were suspended - imposed after his head-butt on Hull's David Meyler.
In his absence, the Magpies have lost at bottom side Fulham and scraped a last-minute 1-0 win over struggling Crystal Palace on Saturday.
"It must be difficult. I cannot even think how you can cope with that frustration of not being able to help the team and trying to read the game from the sideline," said Martinez.
"That is when you have to rely on your team and your staff and Newcastle have done a great job so far, which shows the quality they have as all the work they have done previously is counting now they are manager-free.
"It is important for a manager to be there. I can only imagine being banned from the stadium is as big a punishment as you can get as a manager because you can't really help your team.
"That must be a frustrating feeling having done all the work during the week to prepare your team."
Martinez rarely sits down as he observes every match from the touchline and regularly offers advice to players and tinkers with the tactics.
Even more rare is the sight of the Spaniard showing signs of frustration, but he admits different managers all have their individual way of dealing with the challenges 90 minutes pose.
He remains calm throughout as he wants to put on a display of confidence for his players while remaining in control to be able to adapt to the tactical nuances each game poses.
"Every manager brings his own genetics into that," said the Toffees boss.
"There are managers who want to be just as composed as they can so you can make good decisions by trying to help the players and reading the game.
"Others are more emotional so it is not a general rule. It is important, if you want to help the players, you need to be emotion-free to make the right calls."
He admits, however, his micro-management from the sidelines is not beneficial for all his players and that is why he encourages them to take responsibility for themselves.
"In a different way it affects every player," he said.
"The more experienced you are the more you find out what works for you and it has less of an influence. But as a young player you need a little bit more direction, and when you are learning the game it has a big influence.
"What is important as a player is you need to listen to the manager as you have to play your part as a team.
"Once a player is on the pitch it is down to him to be able to enjoy his football and make his own decisions and that is the way we want the game to be played.
"At Everton it is about allowing the players to enjoy the game and their talent.
"As a manager it is important you need to be able to give the team instructions in games that are very tactical."
Everton have not won away from home in the league since beating Swansea on December 22 and Martinez admits that form has to change if they are to maintain their challenge for European football.
He has a late decision to make on whether to recall fit-again defender Phil Jagielka after a four-match absence.
"It is not a frustration. It is important we learn from it and we assess it," Martinez said.
"When you have to face four of the top five sides away from home it will be difficult, but looking at the performances they were encouraging and brave.
"It will allow us to develop into a team who can go anywhere in the league and win.
"We have been able to get the points at home, and now it is very important we get as many we can in the final nine games of the season.
"We need to try to get a very good performance because the away-points return in the last four or five has been disappointing."
---
New Sky Bet customers: Free matched bet up to £30
---