Solskjaer admires Liverpool style
Cardiff boss Ole Gunnar Solskjaer has lauded title-chasing Liverpool and their acclaimed attacking style of football.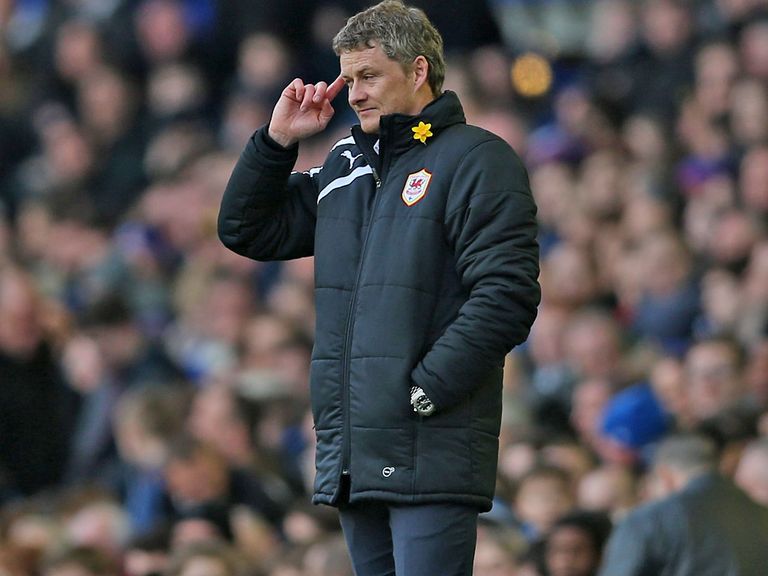 Solskjaer's relegation-threatened team are next up for Steven Gerrard, Luis Suarez and company, with Liverpool arriving in Wales as red-hot favourites to keep their winning run going and increasing a prolific goal tally.
Liverpool's 3-0 away victory over Solskjaer's former club Manchester United last weekend underlined their Barclays Premier League title credentials.
And Cardiff must now find a way of stopping the Reds, even if current league form suggests only one winner on Saturday.
"They have got every opportunity (to win the league)," Solskjaer said.
"They are in a good position. They have been fantastic the last nine or 10 games, definitely. There are four - Chelsea, (Manchester) City, Liverpool, Arsenal. They all can win it.
"The (Liverpool) front-three have pace, power, movement, and I would say Liverpool might be one of the best counter-attacking teams in Europe at the moment.
"The way they suck teams in and just break on them. They run at every opportunity, so you have got to be aware of that.
"I admire the football they play. Direct, counter-attacking football, with quick pace, and every opportunity the ball goes in behind. They have scored so many goals.
"You sit back and look at the best teams in Europe and England, and at the moment Liverpool are in great form."
While Liverpool will look to continue keeping the heat on leaders Chelsea, Cardiff find themselves scrapping for anything they get in an attempt to stave off a quickfire Championship return.
Currently one place above the drop zone and with results not going their way, games are beginning to run out.
"If we can get something from this game, you would look at it as a point more than maybe people expected," Solskjaer added.
"We might have to play teams like Liverpool and get something if we are going to stay in the Premier League.
"We've got Liverpool. What a terrific opportunity to get something from a game that 99.9 per cent of the world don't think we are going to get anything from."
Cardiff have taken heart from their performance in last Saturday's agonising 2-1 injury time defeat at Everton, but Solskjaer knows it is points that count.
"The performance (at Everton) was a boost," he said.
"Of course, the lads were disappointed Their heads were down when I went into the dressing room, but you don't allow them to be down after that kind of performance.
"We have got different agendas. We need to get out of the bottom three, they (Liverpool) think they can win the league, no doubt about that.
"I have been in that situation myself. I know Brendan (Rodgers) is talking about they don't talk about winning the league. Of course they think about it. Players start talking, they start thinking.
"For us, our agenda is to get the points we need. In a game like Liverpool we have got nothing to lose. We are at home. We have done it against (Manchester) City, we have drawn with United.
"We want to be a banana skin, yes, definitely. We are in a position we more or less expected. I am not sure if they (Liverpool) expected to be in this position to be able to win the league with eight or so games to go.
"You have got to make it a competitive game. The footballers they have they can outplay any team. You have got to get all the little details right in a game, like this one, and have a bit of luck."
---
New Sky Bet customers: Free matched bet up to £30
---