Weekend review: Pardew to go?
Our football team answer the latest questions, including on whether Newcastle should continue to back Alan Pardew.
Premier League. Click here to bet.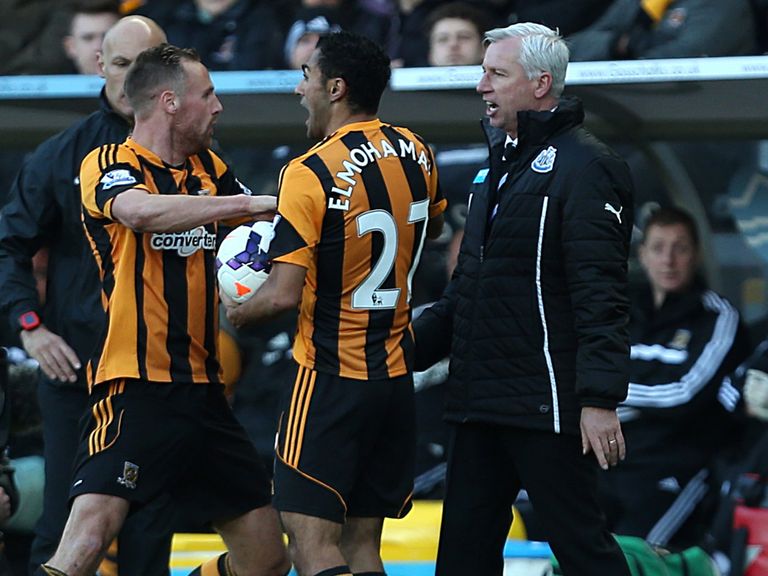 Should Newcastle have sacked Alan Pardew after his headbutt on David Meyler at Hull or are they right to stand by their man after giving him a substantial fine?
Ben Coley (Sportinglife.com): This is a difficult question to answer but first and foremost let's be clear - it was a deplorable act by a manager who is swiftly gaining an unwanted reputation for being, for want of a better word, classless. Yes it's easy to cast judgement from afar but he's paid a great deal of money to do his job and part of that is to represent Newcastle in the best possible way. On several occasions just this season he has failed to do that and in that respect, perhaps they should've sacked him. Credit must go to the club for dishing out a pretty hefty fine and making their position immediately clear and it's to be hoped that Pardew sees this is a lifeline and changes the way he behaves. It's a faint hope.
Chris Hammer (Sportinglife.com): When we started our Weekend Review feature several weeks back, I don't think anyone would have expected a question like this to ever arise! Unless you've played in some particularly rough Sunday Leagues over the years when scuffles may involve hot-headed managers, this kind of incident simply doesn't happen in football so it was no surprise to see the images of Alan Pardew's 'forward head movement' towards David Meyler getting splashed over the newspapers on Sunday morning. In my view, that's 'all' it was rather than a proper headbutt attack but nevertheless a punishment must - and will - be served. Newcastle acted very swiftly to not only condemn their manager's actions but also hand him a more than hefty enough fine and I think it's fair to leave it at that as well as accepting whatever the Football Association decide. Pardew obviously can't come away from this situation with any credit but at least his apologies did seem completely sincere and admitted he needs to calm down on the touchline in future. What more can he do or say? If he'd tried to excuse his behaviour or laugh it off with a lack of remorse then maybe a sacking would be deserved - but I think his reaction probably was enough to keep him in the job. I'm sure not all fans, pundits or members of the press are quite as forgiving as me but let's not forget nobody was even hurt or verbally offended here.
Nick Hext (Sportinglife.com): Newcastle could have sacked him - but all moral issues aside - it wouldn't have done any good to the club's fortunes. Rightly or wrongly a football manager is judged on results alone and whether he's a nice chap or not doesn't have much bearing on his employment. There aren't too many bosses who get sacked for issues outside of wins and losses, that is unless a club is looking for an excuse to get rid of the man in charge. Newcastle did the right thing by handing Pardew a hefty fine before Saturday night was out and that was a good move to show the outside world they've taken the situation seriously. That leaves the Magpies chief needing to get his behaviour sorted and the bad news for Mrs Pardew is she will most likely have her husband stewing over this on Saturday afternoons while he serves a stadium ban. Steve Evans and Paul Ince have received such a punishment in the Football League and it seems inconceivable to me that the FA don't act in a similar fashion because of this incident.
David John (Sportinglife.com): The obvious place to start really after the Toon boss produced another moment of madness on the touchline. I applaud the fact he came out and immediately apologised for his actions rather than try and fob everyone off by either denying it was a headbutt or producing some half-baked excuse. As we stand, Newcastle are standing by him but the clear problem going forward will be for Pardew trying to maintain discipline among his players having set such a terrible example. If he has the support of the dressing room then there is a chance things may eventually blow over after the FA have their say - but my feeling is that Pardew ultimately may well be shown the door for the sake of the club as a whole.
Will Pardew go next? Get the latest odds!
Luis Suarez produced another sensational performance as Liverpool won at Southampton on Saturday evening. Is there anyone else who has come close to him in the running for the Premier League's top player this season?
BC: No. Suarez is in a league of his own at present and in light of my views on Pardew, I have to give the Uruguayan praise for an apparent change in attitude. There's no doubt in my mind that the support given to him by Liverpool - while at times questionable - has played a big part in his form and that of course has had a knock-on effect on Daniel Sturridge. Perhaps Sergio Aguero would've been up there with Suarez granted an injury-free season and there are several players performing exceptionally well who don't get as much praise as they should, but there's no doubt about who the best and most effective player in the Premier League is.
CH: As a total neutral (I unfortunately support Bolton), there's no player I've enjoyed watching more this season than Luis Suarez and unless you're an overly biased Chelsea or Manchester City fan rooting for Eden Hazard or Yaya Toure respectively, I think it's safe to assume the majority of the country will unanimously agree he's been top of the class by a long way. That's of course taking nothing away from Hazard and Toure, who have both been class acts this term, but Suarez's consistent scintillating form has enabled Liverpool to sustain an unlikely title challenge as well as give them a golden chance of returning to the Champions League. The quality and number of goals scored is one thing but his exceptional work rate and overwhelming passion for the shirt has clearly lifted his team-mates to an extra level throughout the campaign and that's why I believe he's also more influential than any other player around at the moment. In terms of the actual player of the year awards, not even a season-ending injury could affect his chances of cleaning up considering that voting must begin soon. But even it didn't, he's simply too far ahead anyway for the other challengers to catch up.
NH: No. Suarez has been streets ahead of any other player when you look at the season as a whole, although he clearly wasn't the top performer in the first eight games! I thought Aaron Ramsey was fantastic for the first half of the season but his progress has been hit by injuries for the last few months and we all know Suarez has been sensational in that time. There are plenty of players from all the way down the Premier League who have been absolutely vital for their clubs - for my money Chelsea playmaker Eden Hazard, Everton midfielder Gareth Barry, Southampton talisman Adam Lallana, Hull defender Curtis Davies and Cardiff goalkeeper David Marshall fit this description - but nobody has delivered quite as many memorable moments and top performances as Suarez.
DJ: Luis Suarez's season has been little short of remarkable considering he was banned for the opening six games and may not have even remained at Anfield such was his antagonistic view of the English game. But once he got his attitude right he has made hay and has been the key factor in making Liverpool not only the top scorers in the division but also very viable title contenders despite Brendan Rogers continually trying to play that down. Suarez's goals have been vital but he has managed to raise the game of those around him with Daniel Sturridge, Philippe Coutinho and Jordan Henderson among those thriving this season. He deserves all the credit that comes his way and perhaps only Yaya Toure at Manchester City has as much influence.
Back Luis Suarez at 10/1 to win the 2014 Ballon d'Or!
Manchester City battled back from 1-0 down to beat Sunderland in the Capital One Cup final. Does the taste of success now give them the edge in the title race?
BC: That's possible, and I certainly think it'll serve them well should they reach the FA Cup final, but ultimately I wouldn't expect Sunday's win to have much of an impact on the title race. Indeed there's probably reason for Chelsea to be encouraged by a game which saw City require a pair of wonder-strikes to edge ahead and they were no doubt flattered to beat Sunderland by two. Speaking of Gus Poyet's side, perversely this defeat could really spur them on as the battle to survive hots up and I for one hope they manage it, because Poyet has done very well in difficult circumstances and survival would prove that battling on three fronts is manageable even for smaller squads. Newcastle, take note.
CH: I'm not sure winning the League Cup as many expected against lowly opposition gives them an extra edge in the title race - it merely prevented a psychological blow which would have been inflicted by a shock defeat. That said, Manuel Pellegrini has his first trophy in the bag as City boss at the first attempt and they're now just 100/30 for a domestic treble which I really fancy them to pull off. Considering I backed them to win the quadruple just before the first leg defeat against Barcelona in the Champions League, City fans reading this could be forgiven for worrying that I've put the kiss of death on them yet again but on that last occasion I quite simply - and foolishly - underestimated the Spanish giants. Domestically, it's fair to say only the winner of Arsenal v Everton stand in their way of a potential FA Cup triumph while the title race could well have lost one of the so called bigger horses following fading Arsenal's defeat at Stoke. Sure, Pellegrini's side now trail leaders Chelsea by six points - albeit with two games in hand - but an anticipated European exit will ease their fixture list somewhat, leaving them to focus virtually all their efforts on reeling in Jose Mourinho's men, whose striker issues could yet see them stumble down the home straight.
NH: I'm not sure it gives them the edge but it certainly doesn't too any harm to win a trophy, although I'm not sure Birmingham fans will agree after they were relegated following League Cup success. City are six points behind Premier League leaders Chelsea with two games in hand but I would be very surprised if they don't end up top on goal difference following those matches at home to Aston Villa and Sunderland. The return of Sergio Aguero was actually the most important aspect of Sunday's game with regards to the title race. The Argentina striker needs to stay injury-free for the remainder of the campaign if Manuel Pellegrini's men are to finish at the summit and he's the one world-class forward they have in their arsenal. Vincent Kompany and Yaya Toure are the lynchpins in defence and midfielder and the same goes for Aguero in attack. Eden Dzeko and even the impressive Alvaro Negredo just don't provide the same menace.
| Team | Versus | Team |
| --- | --- | --- |
| West Brom | v | Man Utd |
| Cardiff | v | Fulham |
| C Palace | v | Southampto |
| Norwich | v | Stoke City |
| Chelsea | v | Tottenham |
DJ: It seems logical to think that a result like this will be a positive for Manuel Pellegrini's side although they were heavily favoured to beat Sunderland and unwanted questions would certainly have been asked if they had slipped up. The fact they came from a goal down as well is a big positive although we have to remember this is virtually the team that took the title two season ago and know how to deal with the pressure of getting results in the closing weeks of the campaign. The tricky part is that they will have to win both their games in hand to get back level with Chelsea if the latter don't slip up and I always feel that points in the bag are more important as the fixtures pile up. City are still alive on three fronts and will have to draw on all their experience if they are going to bring home the top prize domestically.
Back Manchester City at 11/8 to win the Premier League!
We have some international friendlies to enjoy in midweek. Is there any player currently in England's squad or looking on from the outside who can net a surprise place in Roy Hodgson's first XI for the opening World Cup game against Italy?
BC: Another difficult one, but Sky Bet go 3/1 about Alex Oxlade-Chamberlin starting against Italy and that piques my interest. In the absence of Theo Walcott, England need someone who can get in behind the opposition and Oxlade-Chamberlin looks a top-class performer in the making. I'm far from certain he fits into Roy's method but he'd be in my team and is a much better player than 6/4 shot Andros Townsend.
CH: Two players certainly mounting a late charge to be involved in England's opening World Cup clash - even if from off the bench - are Liverpool duo Raheem Sterling and Jordan Henderson so I'd expect them both to seize the opportunity to impress against Denmark. Sterling in particular has thrust himself back in the reckoning having played a key role in his side's relentless attacking performances, scoring twice in the 5-1 demolition of Arsenal last month and again in their 3-0 triumph at Southampton on Saturday, although he does face stiff competition from the likes of Alex Oxlade-Chamberlain and Andros Townsend for a starting spot. Many questioned Henderson's value to Liverpool after initially struggling for form following his big-money move from Sunderland back in 2011 but nobody can doubt the clear contribution he's now made to the Anfield club this season and has deservedly earned a crack at showing the England boss what he can do this week. The 23-year-old will probably only start against Italy in Brazil if injuries hit Steven Gerrard, Frank Lampard, Jack Wilshere and possibly even Tom Cleverley, but if he keeps producing the goods in Liverpool's title quest then he'll be a more than capable replacement this summer.
NH: I've looked at Sky Bet's England World Cup squad and to start against Italy markets to get a full list of contenders for this question. In terms of starting that first match against the Italians, you can get 11/8 for Michael Carrick to be in the first XI and I don't think that's a bad shout as I'd expect a three-man central midfield with the Manchester United man sitting just in front of the defence. A longer price is the 9/1 about Adam Lallana starting. The Southampton midfielder has clearly impressed Roy Hodgson this season and is performing much more consistently than Andros Townsend. As an outsider for the squad, I'll pick out Jon Flanagan (16/1) to step in if Kyle Walker or Glen Johnson miss out through injury.
DJ: I doubt Roy Hodgson will go too much from his tried and tested regulars for an opener like Italy at the World Cup so it will be interesting to see who and for how long some of the new boys get a run out in midweek against Denmark. It was Andros Townsend who got everyone chatting at the end of 2013 but his prospects seem to have cooled off a bit as he continues to make his comeback from injury. Of the up-and-comers on the fringe of the squad, I could certainly see Jordan Henderson making an impact if given a chance in Brazil while I have always been a big fan of Jay Rodriguez although he would come under more of a wild card heading to make the cut for the final 23.
Check out the England World Cup squad betting!
Let us hear your views on the thoughts of our panel. What do you think about the weekend's action? Email us at editorial@sportinglife.com. The best comments will be used in our football clockwatch.
---
New Sky Bet customers: Free matched bet up to £30
---