Wenger: Ozil will be fine
Arsene Wenger will not allow record signing Mesut Ozil to shoulder the burden for Arsenal's Barclays Premier League title drive.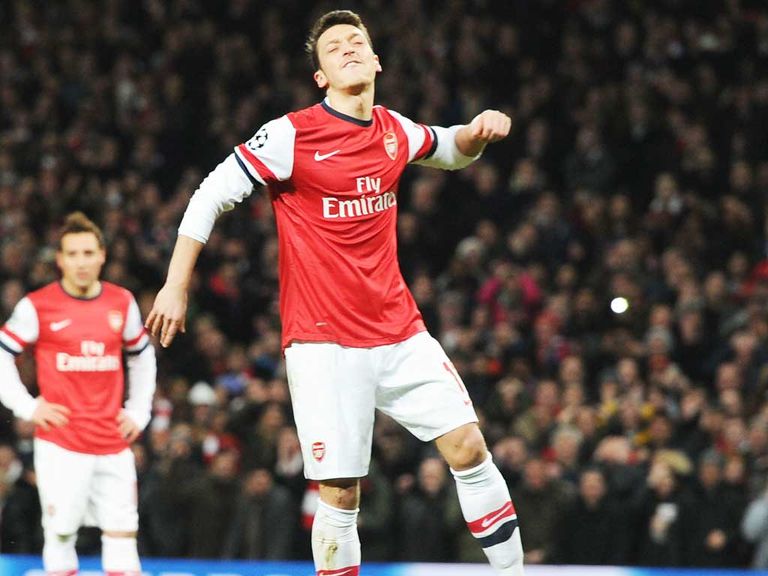 Arsenal boss Wenger has backed Germany playmaker Ozil to blast back to top form thanks to a two-day break to clear his head after missing a crucial penalty against Bayern Munich in the first leg of their Champions League last-16 tie.
Fit-again Ozil will return to action after hip trouble in Saturday's league trip to Stoke, where the Gunners will look to build on their 4-1 mauling of Sunderland last weekend.
Admitting Ozil has struggled to adapt to the relentless Premier League pressure, Wenger said kid-gloves management will get the best from his £42.5million man.
"It is difficult for him mentally to be confronted with that pressure every three days and in every single competition," Wenger said. "But he will adapt.
"Maybe he feels that (record signing tag) a bit in a different way than I do.
"I just want him to enjoy it and play well.
"He has gone a little bit through a difficult time. It can happen to anybody.
"So have others in the past, and so I don't worry about Ozil."
Arsenal sit second in the league just one point shy of leaders Chelsea, with only four points separating the top four.
Wenger believes 25-year-old Ozil must not heap pressure upon himself to act as Arsenal's constant talisman.
"He shouldn't do that. It's down to the performance of the team," the Frenchman said. "I never tell him, 'You have to win us the game'.
"He's all right. He loves to play. You give him a ball, he's happy. That's the most important thing. And he has the quality, so I don't worry.
"We have the experience to do that: you have always to be behind your players. The best way is to show him support."
Arsenal and Manchester United face uphill battles to qualify for the Champions League quarter-finals, having both suffered 2-0 defeats in their respective last-16 first legs.
Wenger still believes the Premier League is the best domestic league in the world, and claimed that could account for the recent European setbacks.
"I maintain that, despite the results," he said. "Because it is the most levelled league.
"There is not the difference if you take the difference of quality - for example, between Bayern and the rest of the league.
"You have Bayern, Dortmund, then after a big gap. Dortmund this year is not so much there because they had many injuries.
"I feel just you can go to Cardiff, anybody, and lose.
"Spain was a good league as well. But this season I think the English league is the most difficult.
"Maybe as well we pay a little bit the price for that.
"Of course when we play against Bayern you cannot say it is a comparison of the two leagues. It is a comparison of the two teams who want to do well in Europe, and Bayern is a top team in Europe."
---
New Sky Bet customers: Free matched bet up to £30
---