Monk: Stoke bigger than derby
Head coach Garry Monk has told his Swansea players Wednesday's trip to Stoke is a more important game than Saturday's south Wales derby.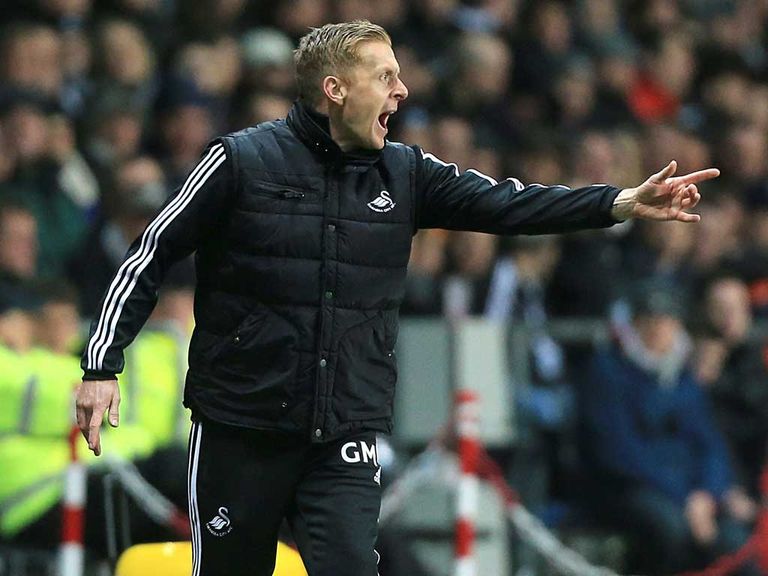 Monk's tenure in charge following Michael Laudrup's sacking could hardly have started better, as the Swans eased to a handsome 3-0 win over near-neighbours Cardiff.
The result moved the Swans four points clear of the bottom three, and into the top half of the Premier League table.
But there is little time to dwell on the derby triumph with a trip to the Britannia Stadium - where Swansea have lost on their two Premier League visits - looming.
And Monk admits the application his side show against the Potters will tell him more than the one-off atmosphere of a derby.
"Last weekend was Cardiff, the big rivals, but if anything the game at Stoke is even bigger," he said.
"We managed to do the first part of the job right against Cardiff and this is probably the most important game out of the two in terms of continuing that momentum and making sure it isn't just a one-off.
"You always worry after a massive game like that with everything that was on it, if mentally it takes it out of the players for the next game, especially when there is such a short space of time.
"But, looking at them in training, they know their job, know they have to remain focused and need to win the points."
Swansea's previous visits to face the Potters both ended in 2-0 defeats, with Peter Crouch netting three of the four goals conceded.
Monk admits the 6ft 7in former England international can be difficult to stop, particularly for a Swansea side lacking in height, but he plans to limit his effectiveness this time round.
"Peter Crouch has been an international player at the very highest level and has made a long career in the Premier League," he said.
"There are a number of players up there with massive experience in this league. That's what you come up against week-in, week-out.
"What can you do to stop him? Get a ladder or chop his legs off!
"If the delivery of the ball is right you can't stop him. There is nothing you can do if the ball is properly put in.
"But there are bits and bobs you can do to make it difficult for him. Make sure there are no free headers, limit the space for him to work in.
"We will be doing all we can to try to limit his strengths."
While Monk is now in charge of the first team, he is still operating under his playing contract, and did not receive a win bonus after beating Cardiff. But the 34-year-old is happy for those issues to be sorted in due course.
He said: "I saw the chairman (Huw Jenkins) quickly after the game on Saturday and he said 'well done'.
"Then I saw him at the training ground briefly on Monday. I still don't know how long I'll be in charge - I'll just get on with it.
"I didn't get the win bonus after Cardiff - I'll have to sort that out. Maybe I can cut a deal with the players.
"In all seriousness, I haven't focused on it at all and I haven't even had a chance to think about that.
"My agent will sit down with Huw at some stage and sort out all that stuff - it's not a concern to be honest."
---
New Sky Bet customers: Free matched bet up to £30
---