Pellegrini hits back at Mourinho
Manchester City manager Manuel Pellegrini has returned fire on his Chelsea counterpart Jose Mourinho.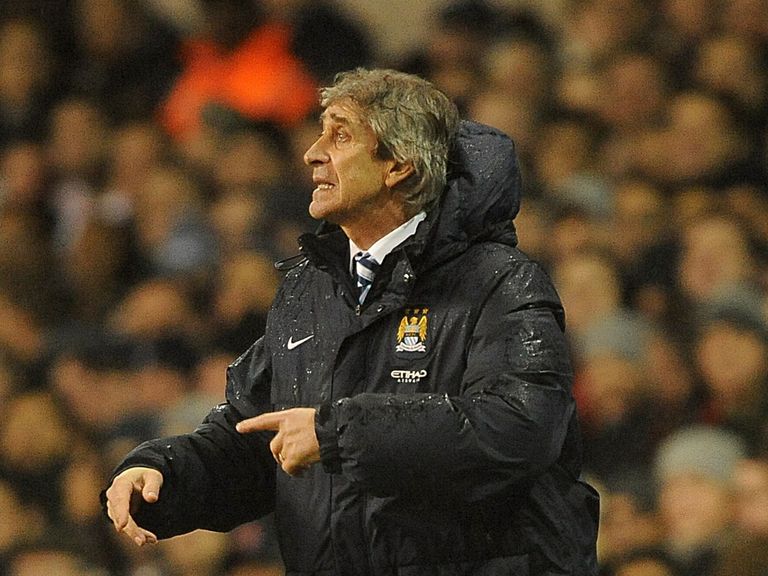 Pellegrini has pointedly refused in recent weeks to engage in a war of words with the Stamford Bridge boss, despite an apparent series of barbed comments aimed at City from the Portuguese.
That changed as the Chilean met press to preview this weekend's game at Norwich, when City will look to bounce back from Monday's Barclays Premier League loss to the Londoners.
Prior to that defeat Mourinho had claimed City were "lucky" because many crucial refereeing decisions had gone in their favour.
In January City did benefit from Newcastle controversially having a goal disallowed and a penalty decision at Tottenham, when Danny Rose was sent off.
But Pellegrini, whose perceived rivalry with the Chelsea manager dates back to when Mourinho succeeded him at Real Madrid in 2010, denies they were fortunate.
He also remembers that Chelsea have had their share of luck in this regard, notably when they salvaged a late draw at home to West Brom in November from a contentious penalty.
Pellegrini said: "The only time a referee has come out and apologised about an important mistake is in the Chelsea-Hull (actually West Brom) game - the penalty in the 93rd or 94th minute. That's given them two points more.
"So it's very easy to every week say what you think is better for you.
"There's a famous sentence, 'Lie, lie, but some things always remain'."
With that remark, Pellegrini appeared to be referring to a Spanish variation of the saying that if enough mud is thrown, some will stick.
Pellegrini was certainly adamant that Mourinho was wrong in his assertions.
He said: "If we are talking about the penalty and sending-off at Tottenham - everyone said Rose touched the ball with his right foot but before that, with his left leg, he tackles (Edin) Dzeko. It was a penalty.
"After that we did score four more goals, but before that we'd had six clear chances. It's not like in that moment, with the decision, the game changed.
"The other decision at Newcastle - the referees at the beginning of the season said that would be offside.
"But we scored another goal more - it was not a goal that decided the match."
Mourinho also claimed that some clubs appeared to have a "dodgy" attitude towards financial fair play - a comment that was interpreted as a veiled attack on City.
After his side's 1-0 win at the Etihad Stadium, which lifted them level with second-placed City in the table, Mourinho also played down their title chances.
He claimed Chelsea were only the "little horse" of the three in the race for the crown, behind City and Arsenal.
Pellegrini brushed off that suggestion by pointing out that Chelsea have been one of the one of heaviest spenders of recent times.
He said: "Maybe it is a small horse if the manager thinks like that. It can be a little horse, but very rich.
"This is the team that has spent most money in the last 10 years, is the team that spent most money this year and the team that spent the most money in the transfer window. So, little - but rich."
Chelsea have now beaten City twice this season and Pellegrini does not see how the Londoners can be regarded as anything other than strong challengers.
The 60-year-old said: "He has shown in the last two games (against us) he has a strong team with some great players.
"I think it will be very close with Chelsea and Arsenal. Arsenal are the favourites because they have two points lead in the table."
City take on Chelsea again next weekend in the FA Cup fifth round.
That match comes just three days before City's first Champions League meeting with Barcelona, while Chelsea do not play their next game in the European competition until the following week.
Pellegrini said: "It is important to give importance to the cup, but maybe at this moment I have to decide which game will be more important.
"Maybe it's Barcelona and maybe we will put an alternative team out against Chelsea."
---
New Sky Bet customers: Free matched bet up to £30
---