Consortium remain keen on Leeds
The British and Irish-based consortium Together Leeds has vowed to continue the fight to take control of Leeds and has urged current owners Gulf Finance House Capital to consider their offer for the club.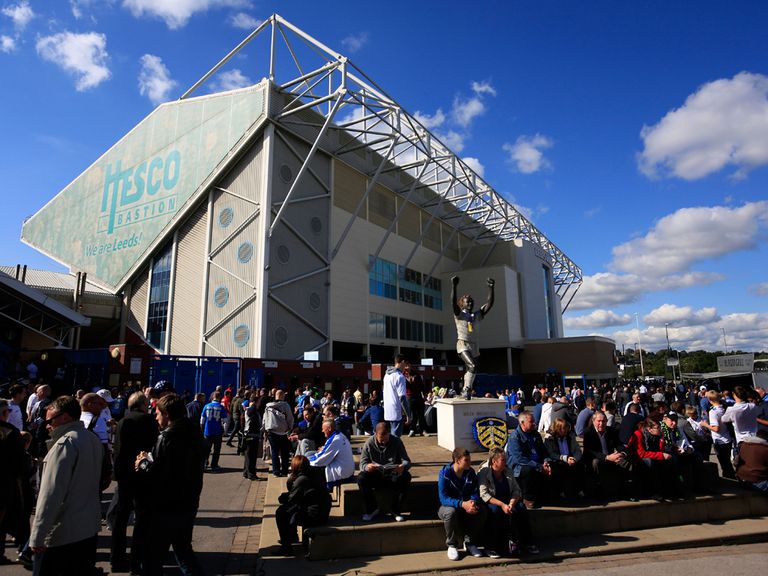 Earlier on Wednesday evening another consortium, Sport Capital - led by Andrew Flowers, the managing director of the club's main sponsors Enterprise Insurance - pulled out of a joint-takeover bid with Together Leeds.
The two parties had united earlier this week in a last-ditch attempt to prise the club from the grasp of Italian businessman Massimo Cellino, who remains in the box-seat having agreed a reported £25million deal for 75 per cent of the club's shares on Friday.
But Together Leeds, headed by former Manchester United International director Mike Farnan, remain committed to convincing Bahrain-based investment firm GFH Capital that selling to controversial Cagliari owner Cellino, convicted of fraud and who has an outstanding charge of embezzlement, which he denies, hanging over him, is not the answer to the club's financial problems.
Together Leeds said in a statement: "We have watched the events of the last week with considerable interest.
"We remain committed to delivering a fully-funded, sustainable, long-term plan, to rebuild Leeds United FC and restore it to its rightful place in English football.
"We have assembled a team of highly-regarded individuals and advisors who have substantial reputations in football and are ready to move quickly to resolve all outstanding issues.
"We have reached out to GFH with every intention of demonstrating that this is a bid backed by credible Leeds, Yorkshire and footballing people that offers them an acceptable solution and the club and its supporters a dynamic future.
"The commitment and determination shown by Andrew Flowers has made us more determined not to walk away.
"Together our group can and will deliver a vision that has at its heart the club we all cherish.
"In the best interests of Leeds United, our offer of constructive dialogue will remain open.
"We now await GFH's response and will look forward to finding a constructive, embracing solution to ensure that the distractions of this prolonged uncertainty can be put behind the club and the focus return to football.''
Together Leeds was left carrying the fading hopes of those vehemently opposed to Cellino pushing through his deal when Flowers withdrew from the joint bid earlier on Wednesday evening.
Flowers, who issued a winding-up petition against Leeds 24 hours after the collapse of Sport Capital's independent takeover attempt on Thursday, claimed GFH Capital's pending deal with Massimo was a "fire-sale" and was "superficially attractive".
Flowers said in a statement: "The emergence of Mr Cellino's bid, and the nature of the transaction, seems to have crystallised the attitudes of both GFH and the Leeds United board, enabling them to dispose of the club with no consideration for its ultimate security and wellbeing.
"In effect, it is a 'fire-sale' transaction, which is not in the interests of Leeds United, its players, staff or loyal supporters."
Cellino, who has sacked 36 managers in 20 years since taking ownership of Serie A club Cagliari in 1992, agreed a deal with current owners Gulf Finance House Capital on Friday, but nothing has yet been signed.
Anti-Cellino opposition is hoping the 57-year-old 'King of Corn' - he made his fortune in the agricultural industry - would not pass the Football League's "owners and directors test".
But Cellino's two previous convictions for fraud, in 1996 and 2001, are spent under English law and the outstanding charge of embezzlement he is to contest will not count against him as the Football League would consider him "innocent until proven guilty".
The Italian himself however, would admit his introduction to English football has so far been a public relations disaster.
His botched bid to sack manager Brian McDermott last Friday and replace him with friend and former Middlesbrough defender Gianluca Festa has triggered a series of farcical events.
Cellino was barricaded inside Elland Road by furious fans on Friday night in protest at the treatment of their manager, who stayed away from Saturday's 5-1 win against Huddersfield only to return to work as normal the following Monday.
The teamsheet for the Huddersfield game, it was alleged, had been mysteriously changed before kick-off and then changed back again by Nigel Gibbs, who took charge in McDermott's absence, while attempts to sign midfielder Andrea Tabanelli on loan from Cagliari and several other Italian players before the transfer deadline were thwarted as there was no-one left at the club to sanction the deals.
---
New Sky Bet customers: Free matched bet up to £30
---