Charlton leads Eusebio tributes
Sir Bobby Charlton led the tributes to former Portugal and Benfica striker Eusebio, who has died at the age of 71.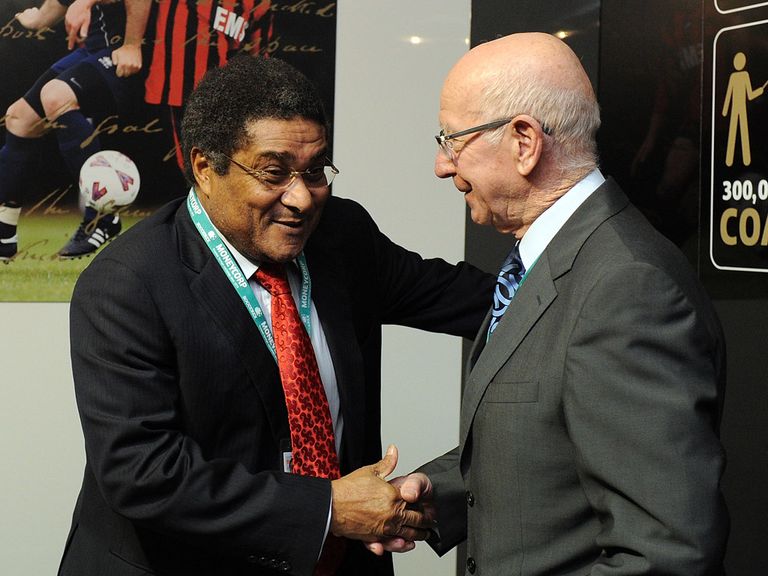 Nicknamed the Black Panther, Eusebio was regarded as one of the best players of all time and helped Portugal to third place at the 1966 World Cup, finishing as top scorer in the tournament with nine goals.
The Mozambique-born striker made his name at club level with Benfica, winning 11 league titles during a 15-year spell there and two Golden Boot awards as Europe's leading goalscorer.
He also notched 41 goals in 64 appearances for Portugal.
Charlton faced Eusebio in two of the greatest days of his own career, the 1966 World Cup semi-final, when England defeated Portugal at Wembley, and the 1968 European Cup final when United overcame Benfica in extra-time at the same venue.
The latter game is remembered for Eusebio applauding United goalkeeper Alex Stepney after a brilliant save that ensured the game went into the additional period, where United eventually won 4-1.
As ambassadors for their respective clubs, the pair crossed paths regularly, forging a bond that endured until Eusebio's death was confirmed on Sunday morning at the age of 71.
"Without doubt, Eusebio was one of the finest players I ever had the privilege to play against," said Charlton.
"Not only that, he was a true sportsman, as he proved in applauding Alex Stepney for his save in the European Cup final.
"His goals record, for Benfica and overall, is incredible and stands the test of time.
"I met him on numerous occasions after our playing careers had finished and he always represented both his club and his country in exemplary fashion.
"I feel proud to have been both an opponent and friend and am saddened to hear of his passing.
"My thoughts and prayers are with his family at this difficult time."
Chelsea manager Jose Mourinho labelled Eusebio "immortal".
Mourinho, speaking ahead of his side's FA Cup third round victory at Derby, said he was more than a footballer in Portugal and his feats will never be forgotten.
"He's unique in our country," he told BT Sport.
"He's one of the greatest in the history of football, but for our country he's much more than that.
"Irreplaceable - his place in the history of Portuguese football, but more than that in the history of our country.
"He's a man that doesn't belong to Benfica, doesn't belong to a club, he belongs to a country and I prefer to say that people like him are immortal, because their history and their legacy remains forever.
"So of course I'm very sad, especially my assistant Silvino [Louro] because Eusebio was his coach for a long time, but I'm not so sad because I really feel that he's immortal for our country."
Benfica were unable to confirm details of Eusebio's death but reports in Portugal say he died of a cardiac arrest in the early hours of Sunday morning. He had been in poor health for some time and was hospitalised during Euro 2012 after suffering a heart scare in Poland.
Benfica fans were offered the chance to pay their final respects to the player at the Estadio da Luz.
"Eusebio's body will be brought to the stadium later today and all fans will be able to say goodbye," a club spokesman told Press Association Sport on Sunday morning.
Real Madrid confirmed they will hold a minute's silence at the Bernabeu ahead of Monday's league clash with Celta Vigo and that their players will wear black armbands in respect to Eusebio, with coach Carlo Ancelotti paying his respects in his pre-match press conference.
"It's very sad news," he said.
"We want to send our best wishes to his family and his friends."
Current Portugal captain Cristiano Ronaldo and record cap-holder Luis Figo took to Twitter to remember the star.
"The king! Great loss for all of us! The greatest!," wrote Figo, who retired in 2009 with a national record of 127 caps to his name, while current Portugal captain Ronaldo wrote: "Always eternal £Eusebio, rest in peace."
Football Association chairman Greg Dyke also paid his respects and compared the striker to modern-day equivalents Ronaldo and Lionel Messi.
"Every generation has great footballers," he told BBC News.
"He was clearly a world-class footballer who scored an awful lot of goals. He had a level of natural talent that most players don't have. He was the [Messi] or Ronaldo of his time."
Current and former professionals from across the globe also mourned the loss, with Chelsea striker Samuel Eto'o calling Eusebio an "exceptional man".
"Africa, Portugal, the WORLD just experienced a great lost. Eusebio was not only a tremendous player..but also a exceptional man. RIP big bro," he wrote on Twitter.
Fellow Chelsea forward Fernando Torres wrote: "RIP Eusebio. One of the all time greatest. £legend £eusebio £respect", while two-time world footballer of the year Ruud Gullit said: "A great footballer left us and I want to say thanks to Eusebio for all his greatness and beautiful football moments he gave us."
Former Manchester United goalkeeper Peter Schmeichel praised the work Eusebio had done for the sport since hanging up his boots, writing on Twitter: "Sad news that Eusebio has passed away, he was a true legend, a fantastic ambassador to football, a gentleman to the core. R.I.P. Sir."