Group of death awaits England
Full details of Friday's draw for the 2014 World Cup finals in Brazil, as England end up in Group D with Uruguay, Costa Rica and Italy.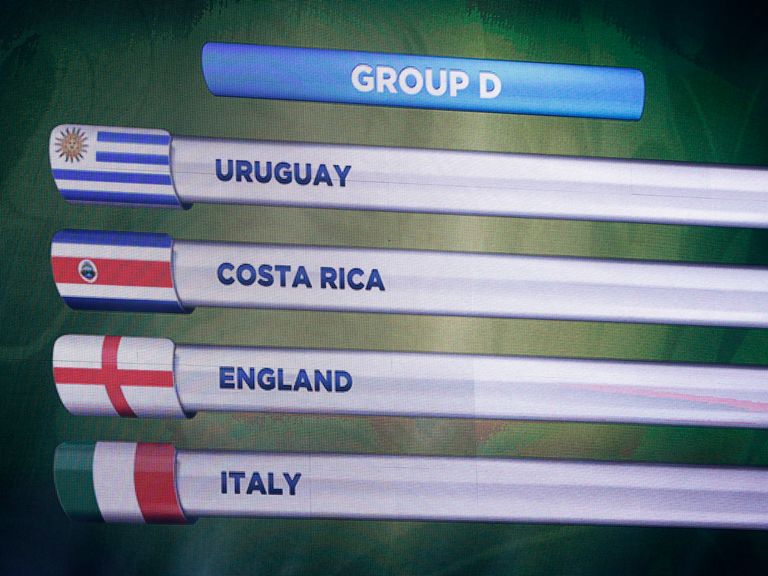 Roy Hodgson is still putting his £10 on England to win the World Cup, but Football Association chairman Greg Dyke clearly thinks the team have no chance of getting out of their "group of death".
After 45 minutes of dancing, hyperbole and tributes to Nelson Mandela, a host of former World Cup stars selected the groups for next year's tournament - and for England fans it did not make comfortable viewing.
Italy, Uruguay and Costa Rica will be England's opponents at the World Cup.
One bookmaker lengthened England's odds to 40-1 from 25-1 and FA chairman Dyke appeared to dismiss the Three Lions' chances of progression.
Dyke, who wants England to win the 2022 World Cup, slid his index finger across his throat after England were placed in Group D.
---
Check out the full World Cup match schedule
---
He did not say a word to either Hodgson or Alex Horne, who were sat either side of him, but he did not need to.
The message from the gesture was clear - England are doomed.
Italy have won the World Cup four times and little over 12 months ago they knocked England out of Euro 2012.
Costa Rica may be World Cup minnows, but Uruguay have won the competition twice while their current side contains Edinson Cavani and Luis Suarez.
It is not only the calibre of opposition that will trouble England next summer. They will have to play their opening game in Manaus - the sweaty jungle city where humidity levels exceed 80 per cent.
Officials from the Italian and Costa Rican delegations described it as "the group of death".
That phrase is wheeled out at almost every draw, but in this instance, it seems very apt for England.
Still, Hodgson does not believe that D stands for death.
The England boss said before the draw that he would stake £10 on the Three Lions winning the tournament, and when asked if he still would do so, he said: "Why not? It's a tough group but we're not the only team that's in a tough group.
"I can't deny that it's not the group we would have plucked out for ourselves.
"I'm glad they (other managers) do all the nominating of names for the type of group it is. I'll just call it Group D.
"I think its going to be very tough. If it is a group what is being named, you'd think it's our presence in it that contributes to that. People are not going to be rubbing their hands with joy because they've got to play England."
Club England managing director Adrian Bevington said there was "a lot of banter" among the England delegation about Dyke's gesture, but said the FA chairman "felt the draw could've been a lot more difficult".
England will begin their World Cup campaign on June 14 against Italy in Manaus before they face Uruguay in Sao Paulo five days later. Their final group game takes place in Belo Horizonte - where England lost to the USA in 1950 - against Costa Rica.
Should England make it through they will face one of either Colombia, Greece, Ivory Coast or Japan. A quarter-final with either Spain or Brazil could then be on the cards - again in the heat of the north.
Hodgson highlighted Manaus as the worst possible venue earlier this week, but he does have two factors that will work in his favour.
Italy, as fellow Europeans, will also struggle to play in Manaus while the 9pm kick-off time means the temperature will drop to around 23 degrees centigrade.
FIFA is understood to be unwilling to relocate the game. Broadcasters may want the game to take place earlier, but England do not want that to happen.
"That's something for TV and FIFA and we have no control over it," Bevington added.
"But playing at 9pm in Manaus is clearly helpful from our side and from a football point of view.
"We can't deny that it's better to play in Manaus later in the day."
---
Updated World Cup outright betting markets
---
England are expected to fly to Manaus two days before the Italy game so they can become accustomed to the conditions.
England's director of team operations Michelle Farrer has already been dispatched to Manaus to check out conditions there.
England will clock up around 4,500 miles during the group stages.
The fact that they are playing in the southern city of Belo Horizonte does mean, at least, that they will be able to base themselves in Rio as they had wanted to.
Regardless of the where they play and at what time, there is no doubt that England are taking on A-grade opposition.
"Suarez is a top-class player and I came up against Cavani with Liverpool against Napoli," Hodgson said.
"I rate [Italy's] Mario Balotelli and Andrea Pirlo and lots of other players highly too."
Meanwhile world champions Spain will face Holland, the side they beat in the 2010 final, in their first game of a tough-looking Group B along with Chile and Australia.
However the toughest looks to be Group G where Germany are up against Portugal, Ghana and the United States.
Hosts Brazil will play Croatia in the opening match of the World Cup in Sao Paulo while Mexico and Cameroon are the other sides in Group A.
England have a daunting challenge in Group D against seeds Uruguay, Italy and Costa Rica.
Group E looks the easiest, where France will be up against Switzerland, Ecuador and Honduras, while in Group F Lionel Messi and Argentina are up against Nigeria, Iran and debutants Bosnia-Herzegovina.
Group C looks finally balanced where Colombia, Ivory Coast, Japan and Greece are together, while Group H will feature Belgium, Russia, Algeria and South Korea.
Full Draw
GROUP A
A1 Brazil
A2 Croatia
A3 Mexico
A4 Cameroon
GROUP B
B1 Spain
B2 Holland
B3 Chile
B4 Australia
GROUP C
C1 Colombia
C2 Greece
C3 Ivory Coast
C4 Japan
GROUP D
D1 Uruguay
D2 Costa Rica
D3 England
D4 Italy
GROUP E
E1 Switzerland
E2 Ecuador
E3 France
E4 Honduras
GROUP F
F1 Argentina
F2 Bosnia Herzegovina
F3 Iran
F4 Nigeria
GROUP G
G1 Germany
G2 Portugal
G3 Ghana
G4 USA
GROUP H
H1 Belgium
H2 Algeria
H3 Russia
H4 Korea Republic
---
New Sky Bet customers: Free £30 matched bet
---