Ed Chamberlin: Treasured memories
Sky Sports presenter Ed Chamberlin looks back at an extraordinary few days in the Premier League.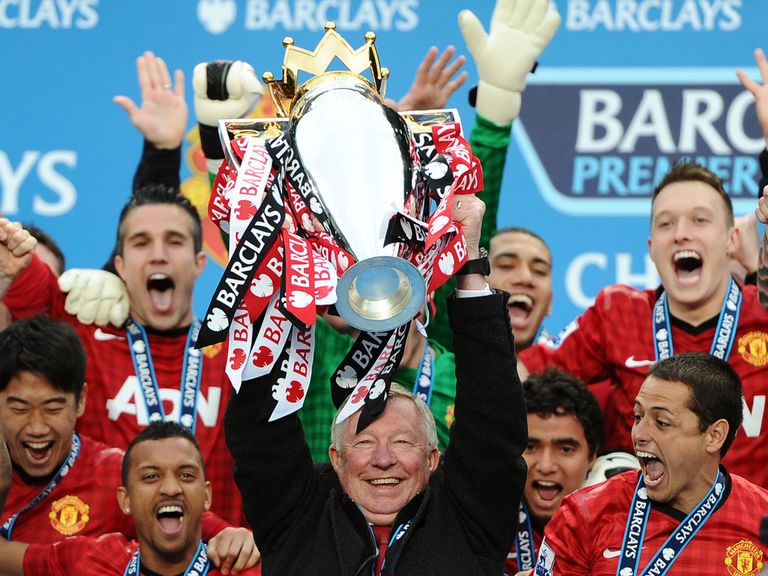 There have been many memorable moments in my presenting career at Sky Sports but I don't think anything will beat the experience of presenting at Old Trafford last Sunday when we said farewell to this country's greatest ever manager, Sir Alex Ferguson.
On the field I doubt anything will match the drama of the final day last season, which culminated in Martin Tyler's iconic "Aguerooooooo" commentary when City won the title - but in terms of atmosphere and emotion then last weekend was a unique experience.
My personal highlight was walking on to the pitch after Sir Alex's speech. Coming out of the tunnel to a sea of red and a wall of noise was a once-in-a-lifetime moment.
Presenting the last hour of Super Sunday on the field next to the podium in front of 76,000 people, interviewing the likes of Ryan Giggs, Robin van Persie, Bryan Robson, Steve Bruce and Phil Jones was a major challenge.
It was so loud that I could barely hear the instructions from my producer or director so I just had to improvise and go for it.
The adrenalin was pumping and I did not even notice the fact that it was pouring with rain and the four of us were getting soaked.
It was an honour to be at Old Trafford and a huge privilege to present the show. It was an emotional day from start to finish and what summed it up to me was seeing the three Manchester United legends alongside me, Peter Schmeichel, Dwight Yorke and Gary Neville, all filming on their mobile phones the moment Sir Alex emerged out of the tunnel and through the guard of honour.
Another thing I shall always remember was asking Gary what would be going through his great friend Paul Scholes' mind before his final match at Old Trafford after 24 years at the club.
Gary's reply: "Get home and have a chinese ..." Priceless!
What a contrasting week it's been in Manchester because while the reds have been celebrating, the blue side has had to endure an FA Cup Final defeat and a managerial sacking.
Roberto Mancini's dismissal completed the most extraordinary news week I can remember.
The producers at Sky Sports News must have been flat out with Sir Alex's farewell, all the drama in the play-offs, Stiliyan Petrov's retirement, Wayne Rooney's transfer request, clubs sacking managers, Wigan's relegation and more.
I sense this is only the start too as we are set for a mad summer of movement in the Premier League.
Before all that I've got a busy week as I'm hosting the Chelsea, Southampton and League Managers Association awards nights.
It was a great evening at St Mary's on Tuesday.
It was an honour to give the player of the season award to Morgan Schneiderlin, who I have often talked about in this column this season.
The young Frenchman has enjoyed a superb campaign and I joked with him about how he could soon become an English resident.
I think I also became the first person to interview Southampton manager Mauricio Pochettino in English.
He spoke eloquently about how much he loves Premier League football and its fans, plus laughed about being re-united with Michael Owen at St Mary's on Sunday after 'that tackle' in Sapporo during the 2002 World Cup in japan.
I will be at St James' Park this weekend for Super Sunday.
The final day can't possibly match the drama of the finale last season, but the North London shoot out for the final Champions League place should still be pretty dramatic.
Arsenal have finished above Tottenham in all 16 previous seasons under Arsene Wenger and qualified for the Champions League every time.
Could that run come to an end?
| Team | Versus | Team |
| --- | --- | --- |
| Chelsea | v | Everton |
| Liverpool | v | QPR |
| Man City | v | Norwich |
| Newcastle | v | Arsenal |
| Southampto | v | Stoke City |
| Swansea | v | Fulham |
| Tottenham | v | Sunderland |
| West Brom | v | Man Utd |
| West Ham | v | Reading |
| Wigan | v | A Villa |
Sky Bet think that's unlikely as they have Arsenal as a 4/11 shot to secure the final Champions League berth, with Spurs at 2/1.
Only twice in Premier League history has the team occupying the final Champions League position going into the final day failed to hold their position (Arsenal overtook Tottenham in 2005-06 and Newcastle overtook Liverpool in 1996-97).
Arsenal will qualify for next season's Champions League with a win over Newcastle, or if Tottenham fail to beat Sunderland.
Arsenal can even finish third and secure automatic entry into next season's group stage if they win and Chelsea lose to Everton, or if they win and Chelsea draw, and Arsenal overtake Chelsea's goal difference in the process.
It could all get very complicated!
It should definitely be a fascinating afternoon with stories guaranteed in the other eight Premier League matches.
I hope you can join us from 2pm on Sky Sports 1HD.
I was pleased and relieved to see Liber Nauticus win the Musidora at York on Wednesday. As my regular readers will know I have pinned my summer hopes on the filly.
She wasn't strikingly impressive but Ryan Moore suggested she's the type to only ever do just enough.
It was only Liber Nauticus' third start and I'm hopeful there's plenty of improvement to come for Epsom.
It's been a fascinating week at the Giro d'Italia.
As feared the terrain has proved too steep for Team Sky's Bradley Wiggins and he's struggled even more on wet descents.
Pure courage has kept him in the hunt but I fear he will struggle in the high mountains so it looks as though Vincenzo Nibali will finally get the monkey off his back in a Grand Tour.
---
Click here for completely free £10 bet with Sky Bet
---