Mata urges against complacency
Juan Mata has warned Chelsea of the dangers of Basle and complacency as the Blues bid to reach a European final for a second successive season.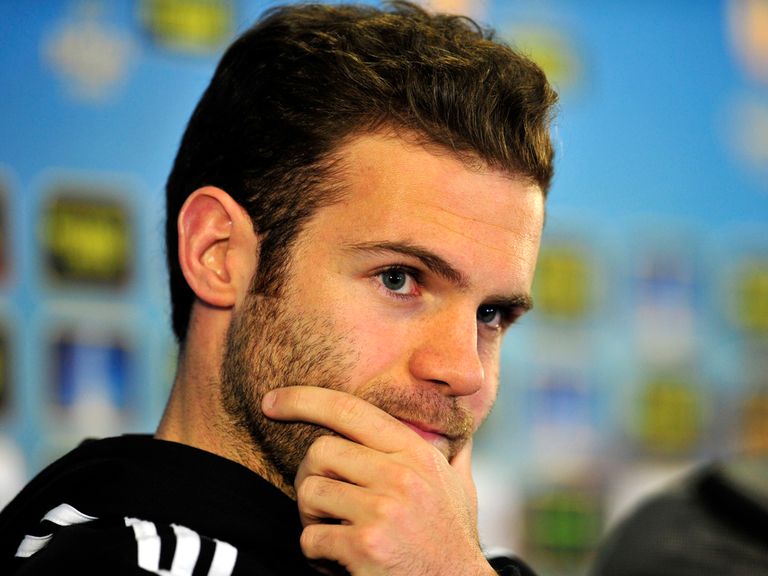 David Luiz's stoppage-time free-kick in Switzerland last week earned Chelsea, last season's Champions League winners, a 2-1 first-leg advantage in their Europa League semi-final with the Swiss champions ahead of Thursday's return at Stamford Bridge.
"It's going to be a dangerous game," Mata said.
"Even though we have two goals away, a great result, it's that kind of game that can be very risky.
"If we don't go into the game thinking about winning, thinking about defending well, thinking about trying to win again, it's going to be difficult.
"We still know we have to fight if we're going to be in the final.
"We got a great result in Switzerland, but now we have to play another 90 minutes and I'm sure they're not going to give up.
"They're a team who try until the end. It will be tough, for sure."
Basle have recorded numerous upsets en route to their first European semi-final, advancing at the expense of Zenit St Petersburg and Tottenham, and have proven their ability to surprise.
The winners will face either Fenerbahce or Benfica in the May 15 final in Amsterdam and Chelsea interim boss Rafael Benitez is taking nothing for granted despite his side's commanding position.
"We have an opportunity, but my concern is we'll be thinking we're in the final - it's not the case," Benitez said.
"We'll play against a very good team, a team that has scored goals away, so everybody has to realise it will be tough, it will be difficult.
"I think they will come trying to score. They did it against Tottenham.
"I'm sure they will be offensive, they will push. They will try to score because it's the only way for them to qualify.
"I am concerned, but I'm not afraid. We know it's a dangerous team.
"We're so close to the final we have to be really focused, concentrated and not make mistakes. I have a lot of confidence in my players."
Benitez does not intend to think too far ahead, meaning Luiz is among those who could play despite the fact if he receives a yellow card he would be suspended and miss the final.
Ashley Cole is banned on Thursday, while his fellow left-back Ryan Bertrand and midfielders John Obi Mikel and Ramires, who came off midway through the first half of Sunday's win over Swansea with a dead leg, are also on yellow cards.
Frank Lampard, who requires one goal to equal Bobby Tambling's club goalscoring record of 202, is in line to start, as is John Terry.
If the captain does play, it will be his third successive start for the first time in 2013.
Chelsea's task is complicated by the need to qualify for next season's Champions League through the Barclays Premier League.
Currently the Blues sit third ahead of Sunday's match at champions Manchester United and next week's crucial London derby with Tottenham, who sit three points behind in fifth.
Mata said: "Our aims have to be winning this trophy and obviously being in the Champions League next season.
"Chelsea is a club which deserves to be in the Champions League every season.
"We can do it. If we play like we've been playing, all together, I think we can do both."
Chelsea began the season in contention for seven trophies; the Europa League is the unexpected eighth.
Since Chelsea suffered the ignominy of becoming the first holders to exit the Champions League at the group stage, Mata says the focus has been on the second-tier European competition.
"Every time I watch a game on the TV from the Champions League I think it's a shame," he said.
"But, on the other hand, I'd rather be positive and think we have the chance to win another trophy, as we did last season.
"Now we have another chance."
Ahead of Chelsea's fourth semi-final of the season - they lost to Swansea in the Capital One Cup, Manchester City in the FA Cup and were beaten in the Club World Cup final by Corinthians - Mata is determined to complete the season with silverware.
"For the team and for the club it's very important to have the chance to be in another European final," Mata said.
"After winning the Champions League last season we have the chance to be in another final, trying to win another trophy, which will be new for the club.
"It means a lot for the club, for the supporters, for the players."
---
Get £120 from your free £10 bet with Sky Bet if Oscar scores a brace
---