Mancini explains dip in intensity
Manchester City boss Roberto Mancini concedes last season's dramatic title success may have had a draining effect on his side.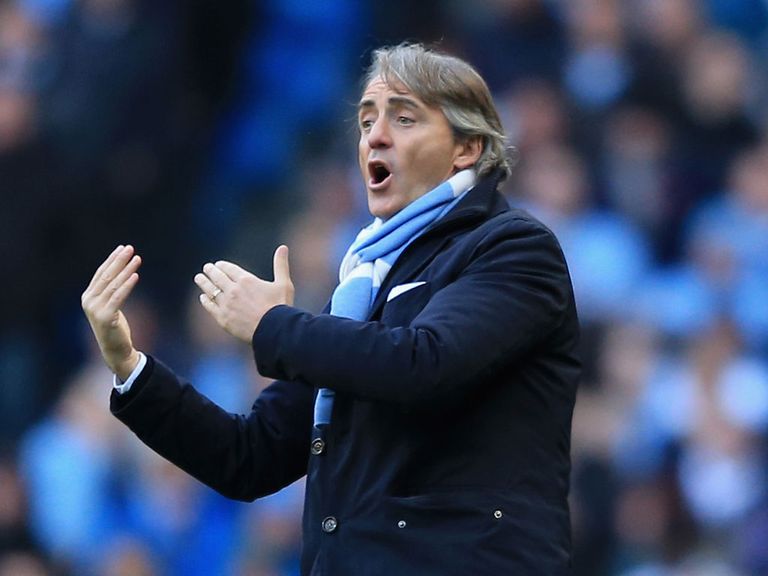 City seemingly threw away their hopes of winning the Barclays Premier League a year ago, only to produce a remarkable late charge to snatch the crown from Manchester United's grasp.
This season they have struggled to match the intensity of that glorious campaign and their hopes of retaining their crown seem remote.
Mancini does not put that down to any collective lack of desire on the part of his players, but accepts intensity could have dropped.
The Italian said: "I think the players always play 100 per cent.
"I don't think they play just 50 per cent, but this can happen with a team like us, that for 40-odd years didn't win a title.
"The year after a team wins a title, it could be that you don't play like when you won the championship, without the same intensity. Maybe you think, 'Okay we are strong, it's enough to play'.
"This can be normal, but I think the players always play at 100 per cent because they want to win the title.
"Until now, I think United have been better than us, but I think the only difference is that we didn't score enough goals."
With City faltering in their title defence, and with a second successive Champions League failure still fresh in the memory, speculation over Mancini's future has been rife.
The Italian has dismissed this on a number of occasions and expressed confidence in his position, based on his record of delivering FA Cup success in 2011 and the Premier League last year.
He has also said finishing runners-up this year would be far from disastrous, particularly with the club still involved in the FA Cup, but that does not mean he intends to settle for it.
The 48-year-old said: "We should do our best. We don't know if we can finish in first place, second place or third place.
"We have 12 games and we should do our best from now to the end.
"Then at the end of the season we will see what's happened.
"If you ask me if I'm happy to finish in second place, I would not be happy.
"I would be disappointed, but we have 12 games and we can't think that it's finished now."
The odds on City winning the title lengthened considerably after a damaging defeat at Southampton a fortnight ago.
They now face a critical match against third-placed Chelsea at the Etihad Stadium, in which defeat would not only hammer another nail into their challenge, but bring their position in second under threat.
Mancini is aware of the difficulties but his side did pull off a vital win over the Londoners under considerable pressure at home last March.
City had already started to fall behind United and faced another damaging loss after conceding on the hour but fought back to win 2-1 win a late winner from Samir Nasri.
He said: "It was important but it's always difficult. They're a good team and have good players.
"They have had some problems but it's always difficult against them."
Nasri's form this season was the subject of strong criticism from Mancini in an explosive interview this weekend.
The Frenchman is not the only player to have under-performed this term as City have struggled to replicate last season's standards.
Goalkeeper Joe Hart came under fire after his display at Southampton and he is expected to return to the side after sitting out last week's FA Cup win over Leeds.
Mancini said: "I love Joe. Two years ago when no-one wanted him in goal instead of Shay (Given) I put him in because I trusted him and was sure he was a good goalkeeper.
"But sometimes it's difficult for a goalkeeper. He can do a mistake and if they do they can let in a goal - but we trust Joe 100 per cent."
---
Get £100 from your free £10 bet with Sky Bet if Nasri scores first
---